"Waiting In Line At The Drugstore" by James Thomas Jackson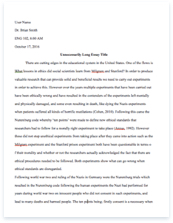 The whole doc is available only for registered users
A limited time offer! Get a custom sample essay written according to your requirements urgent 3h delivery guaranteed
Order Now
While reading "Waiting In Line At The Drugstore" by James Thomas Jackson, I was filled with utter disgust. I knew that the discrimination and racism in the 1930s was dreadful, but this was unthinkably repugnant. Jackson paints such a vivid picture with his harrowingly descriptive words that I couldn't help but feel empathetic and share his strong resentment towards the "whites".
Throughout the story, he expresses how he feels discomfort being in the presence of whites, who are racist and discriminate against him. He explicitly states that he "hates" being "confronted with rows of white folks," which I think shows that he is quite a bit of a racist himself, and that he is undoubtedly proud of being a black man. This is made quite apparent when he takes the recommendations of what books to read from his elderly friend in the ghetto, which comprises of mainly black authors.
Also, I believe "A fly, no; but an uppity nigger, in a minute." carries a lot of weight. Not only does it explicitly show the extent of the discrimination that was going on in that day and age, but it also explains his cruel bitterness towards the whites. Jackson saw that the whites regarded them as less than humans, or insects even, and this has caused him to have a huge amount of distrust towards them, which I believe still remains unresolved to this day.
Resentment, anger, fear of being beaten: these were all feelings Jackson felt towards the whites in the drugstore, and yet he continued to return day after day, choosing to stand "conspicuously" near the counter. This shows that he also has a rebellious side to him, refusing to be put in his place by their stares. Deep down, he wanted to make the whites feel just as uncomfortable as he did, even if it was just for a short while; he wants them to feel the uneasiness that he feels, every time he sets foot in the drugstore.
Nearing the end of the article, he states that the waitresses start expressing graciousness towards him, something he didn't understand. But at that time, he was still black. So what has changed? Did the waitresses suddenly start being nicer to all the blacks? I don't think so. In my opinion, once he was more well-read, he held himself with a higher regard, and didn't feel as inferior or uncomfortable around the whites as he used to, and the waitresses probably sensed that, too. They started seeing him more as a human being after he escaped the stereotype of all blacks being uneducated and only worked clerical jobs, which in turn led to fairer treatment, and that really is a great example of how education truly is a great equalizer.
Related Topics