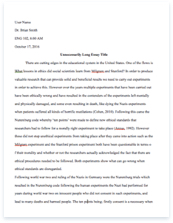 The whole doc is available only for registered users
A limited time offer! Get a custom sample essay written according to your requirements urgent 3h delivery guaranteed
Order Now
My personal learning style is visual. A visual learner learn best by seeing information, in which the learners learn more efficiently by using images, pictures, colors, and maps to organize information and communicate with others. This has been true to me my entire life as I have always learned more efficiently by using images, pictures, colors, and maps. Some strategies recommended for this style are Use color, layout, and spatial organization in your associations, and use many 'visual words' in your assertions. Examples include see, picture, perspective, visual, and map. A good example of learning through this style is in order for me to learn my math, I have to review the example's in the book, watch our math video's and observe the examples the instructer writes on the board.
How I might utilize my own learning style to study for my test is to re-write my notes, watch the videos, and make sure i review every day for atleast an hour and a half. Here are some examples of steps i take to prepare for a test, since i'm a visual learner Look at the person who is explaning the lesson. I study independently, rather than in a group. I take notes in class; recopy to recall information. Highlight information. Make flash cards for vocabulary words (words on one side, definitions on the other), math facts, and other important information. Use a homework recording book. Check off assignments when complete, and cross off when turned in. in my oppinion learning what your learning style is can deffenantly help you excell in class.
In conclution i have realized that after i found out what my learning style was i have been a better student and indevidual. Realizing how i learn has made me more organized at home, work and school. After learning how visual learners learn i feel better prepaired to go to the next math class after this. People may have diffrent learning styles and techqnics, but witchever you use make sure it's best suted for you.
Related Topics