Understanding Organisations And The Role Of HR Argumentative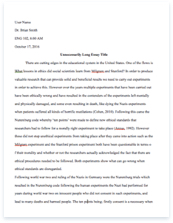 The whole doc is available only for registered users
Pages: 16
Word count: 3931
Category: Ethics
A limited time offer! Get a custom sample essay written according to your requirements urgent 3h delivery guaranteed
Order Now
Assignment
A new manager is starting in the organisation shortly. I have been asked to provide a written briefing note for this new – starter so that he can gain some understanding of the organisation in preparation for his start. Below is a summary of information that will give the new starter a chance to gain some understanding of the organisation and what we do and how we operate. CRANSWICK plc as an example for the purpose of this assignment A list of what the organisation produces or the services that it offers to its customers Cranswick is one of the largest food producers in Britain with products spanning retail shelves and restaurant menu's across the country and internationally. We continue to build a winning business by staying true to a simple ethos; authentically made British food, without compromise.
We take the skills of artisans, and with a dedication to the crafts perfected over generations, make great, tasty food for everyone to enjoy. It may take a little longer, but as with all quality products, time is a key ingredient and an investment worth making. Our long-term growth strategy is focused on consolidating existing market positions, developing new products channels in our core UK food market and growing our international operations and customer base. Growth will continue to be driven by organic initiatives and targeted acquisitions. FARM
As one of the largest producers in the country, with farms across Yorkshire and East Anglia we guarantee the quality of the pork we produce, because we nurture our pigs from birth. With an emphasis on animal welfare, supplying under the RSPCA 'Freedom Food' farm assurance scheme for free range, outdoor bred and reared pork, we offer our customers a genuine connection to the food they buy from us. PRODUCE
We have continually invested in our production facilities; to remain state-of-the-art you must consistently embrace technology and innovation. Our award winning estate offers cutting edge production and a pioneering approach to product development whilst remaining cost effective and retaining the highest possible food standards. Our skilled workforce benefit from a culture of ongoing training and development, maximising our cutting edge facilities and maintaining the levels of service our customers demand. PACKAGE
Cranswick strive to package food with efficiency without compromising quality, utilising new techniques and production values to ensure freshness and flavour. As part of an ongoing program of sustained investment in our production facilities, our packaging operations are consistently regarded as the bench mark for the industry, embracing technological advancements and environmental concerns.
SUPPLY
Our customer is at the centre of everything we do. By putting the customer first we work tirelessly to surpass their expectations in terms of supply – from food production, packaging and finally through to our comprehensive logistics offer – guaranteeing a seamless end-to-end service. Our account management, production and administrative teams understand the pressures of retail and food service, providing a customer centric approach to every aspect of our business. From the farm to the fork, Cranswick leads the field.
Range of products
Fresh Pork
Cranswick's position as one of the leading suppliers of primary and value added pork to UK retail and foodservice has been hard won in competitive and challenging markets both in the UK, and internationally. Through scalable investment and commitment to farming, we offer customers a genuine connection to the food they buy from us, guaranteeing the provenance and welfare of our pigs, offering assurance and integrity to all of our products. By building a network of progressive partners in Yorkshire and East Anglia we have developed a sustainable approach to pork production, supplying under the RSPCA 'Freedom Food' farm assurance scheme for free range, outdoor bred and reared pork. Investment in state-of-the-art technology allows us to set the pace in efficient pork processing, whilst maintaining a culture of skill and quality. We've pioneered extensive breeding programmes to deliver speciality and named breed products, and we're continually striving to improve our market-leading range.
Gourmet Sausages
With hundreds of bespoke gourmet recipes, from Italian sausages with red wine and fennel, to American inspired hotdogs, we create a range of outstanding flavours. All pork is hand trimmed by our expert butchers to ensure a consistent finish. By only using small batch production and gently mincing and blending our sausage filling, we replicate the original techniques that were used in the Simply Sausage shops. Our locally sourced fresh chunky ingredients, specialist seasonings and gently minced whole cuts of pork deliver a succulent meaty bite. Our hands-on approach to manufacturing means we can produce a wide selection of items, from sausage swirls, through to individually wrapped pigs in blankets for the festive season and, more recently, gourmet British burgers.
Bacon and Gammon
Cranswick works with some of the country's leading experts to deliver, great-tasting British bacon. We believe that putting the best in means you get the best out. Our mission to get better bacon onto supermarket shelves resulted in a partnership with artisan butcher Jack Scaife in 2004. We've since invested in state-of-the-art production facilities in Yorkshire to cope with increased demand, which is overseen to this day by Jack Scaife's master butcher, Chris Battle. In 2008 we teamed up with speciality curers Woodall's, a family business from Cumbria with roots going back to 1828. We use traditional curing and smoking methods with historic family recipes to create a unique flavour.
Cooked Meats
While ham is our top selling product, our offering extends to a variety of British meats, including sirloin beef and traditional roasted Norfolk turkey crown. We also work closely with our customers to develop new and exciting products to cater for their changing tastes. Recently we've created an exceptional range of slow cooked meats ranging from Mexican pulled pork, to British joints that can be cooked in an hour. Continental Fine Foods
Over the years we built expertise and our product selection now encompasses continental meats, olives and antipasti, pâté, continental cheeses, cooked meats, pizza toppings and fresh Italian pasta. From our sites in Manchester we manufacture and distribute foods from Europe, using packaging formats and flavour combinations that allow the British consumer to enjoy and savour the tastes of the continent. Handmade Pastry
From Malton, North Yorkshire we craft a wide range of traditional and contemporary British pastry, from sausage rolls and deep filled pies through to quiches and open tarts. Fresh and local are our guiding principles and our position as a leading meat producer, along with longstanding partnerships with local farmers means our food is always of the highest quality.
Sandwiches
The Sandwich Factory is dedicated to the manufacture of gourmet sandwiches and food on the go, providing bespoke products to the retail and food service sectors. From exclusive quality salad ranges to a variety of hot sandwiches, we offer a wide range of foods from our market-leading facility. An identification of the main customers
Cranswick supplies finished products to the major UK retailers, restaurant groups, and food service customers and also supplies raw material to other manufacturers. Many of the Group's customers consider Cranswick to be their key supplier or category champion and a preferred partner on key technical initiative projects. Senior members of the Cranswick technical team are active within the wider industry and participate in technical committees at the BMPA, BPEX and the Provisions Trade Federation (PTF). Cranswick is committed to working with its retail customers to ensure clear informative labelling of the products it manufactures so that consumers can make an informed purchase choice based on clearly stated origin, authenticity, provenance, nutrition and allergen declarations.
The purpose and goals of the organisation.
Our overall strategic aim is to create long-term value for our Shareholders, customers and other stakeholders. We will do this by focusing primarily on the growing quality end of the markets in which we operate and by establishing meaningful and long-lasting relationships with our major customers. This will be achieved through a combination of product development and high service levels. We will continue to invest in quality facilities and the latest equipment so that we operate as efficiently as possible and to provide a safe and secure working environment for our employees. Our long-term growth strategy is focused on consolidating existing market positions, developing new products channels in our core UK food market and growing our international operations and customer base. Growth will continue to be driven by organic initiatives and targeted acquisitions.
The markets in which we operate are competitive both in terms of pricing from fellow suppliers and the retail environment in general. The UK food retail market is known to be amongst the most competitive in the world. Despite this, Cranswick has a long record of increasing sales and profits through a combination of investing in modern efficient factories, developing a range of quality products and making value-added acquisitions.
An analysis of external factors and their impact on the business activities of an organisation.
What is PESTLE Analysis?
PESTLE stands for – Political, Economic, Sociological, Technological, Legal, Environmental. A management method that examines the effect that events or influences from outside may have on the performance of a company or organization. The PESTLE analysis tool is one of many used to help managers identify their market positioning and strengths.
As a leading UK food producer, the Group faces a variety of risks and uncertainties. Operating in a highly competitive industry, it is critical
that the Group identifies, assesses and prioritises its risks. This, along with the development of appropriate mitigating actions, enables the Group to achieve its strategic objectives and protect its reputation. The Group has a formal risk management process in place, which is embedded within the business to support the identification and effective management of risks across the Group. It is regularly reviewed and updated for changes within the Group, industry and wider economy.
Strategic risks
Consumer demand
Deterioration in the economy may adversely affect the activity levels of consumers and the Group's immediate customers, leading to a fall in demand for the Group's products and ultimately lower profitability and cash flow.
Competitor activity
The Group trades in highly competitive markets which tend to operate without long-term contracts. Product innovation and changing consumer trends provide a constant challenge to the future success of the Group and its ability to compete effectively.
Environmental matters
The industry is subject to a range of UK and EU legislation. Environmental standards are being tightened on a regular basis and require increasing levels of investment. Compliance imposes costs and prolonged failure to comply could materially affect the Group`s ability to operate.
Reliance on key customers
A significant proportion of the Group's revenues are generated from a small number of major grocery retail customers. Loss of all or part of the Group's business with one or more of these customers would adversely impact on the Group's financial performance.
Supplier standards
Cranswick is reliant upon its suppliers meeting the Group`s high quality and welfare standards. Failure on their part could lead to customer complaints and reputational damage.
Technology
The Group is increasingly reliant on both IT and operational technology and operations could be significantly impacted if these systems are not well maintained and updated on regular basis.
Business integration
The Group has grown by acquisition as well as organically, and faces the challenge of integrating new businesses into Cranswick Group and achieving operational targets.
Health & Safety
A breach of Health & Safety regulations would leave the Group exposed to reputational damage and regulatory penalties.
Ethical Management
Good employee working conditions are core to Cranswick`s values however poor practice in this area could lead to prosecution, industrial action and adverse media attention.
Staff recruitment and retention
The success of the Group is dependent on attracting and retaining high quality senior management and staff.
Access to workforce
The Group experiences periods of heightened demand, and has the potential to experience mass absence due to sickness. Without flexibility in the workforce, customer orders may not be fulfilled.
Granting of credit and recoverability of debt
The majority of sales are made to major UK retailers and practically all sales, to these and other customers, are made on credit terms. Granting of credit to inappropriate parties or failure to collect debts on a timely basis could leave the Group exposed to losses.
Business acquisitions
Business may be acquired based on inaccurate information, unachievable forecasts or without appropriate consideration being given to the terms of purchase.
Pricing and availability of raw materials
The major exposure the Group has to pricing and availability of raw materials is in relation to pig meat. An increase in raw material input costs, pig feed prices or a lack of availability of pig meat would adversely impact on the Group's profitability.
Financial risks
The Group is exposed to interest rate risk on borrowings and foreign currency risk on purchases particularly of charcuterie products from the European Union. In addition the Group needs access to funding for current business and future growth. Businesses may be also acquired based on inaccurate information, unachievable forecasts or without appropriate consideration being given to the terms of the purchase.
Operational risks
As a food producer, the Group is subject to the risks of product and/or raw material contamination and potential health related industry wide food scares and issues. Such incidents may lead to product recall costs, reputational damage and regulatory penalties. A breach of food safety or health and safety standards, legislation or ethical standards may lead to reputational damage and regulatory penalties including restrictions on operations, damages or fines. An infection or disease outbreak may result in the loss of livestock, or the inability to move animals freely, impacting on the supply of raw materials into the Group's abattoirs.
The structure of the organisation and explanation of how these different functions work together within the organisation to optimise performance.
Board of Directors provides leadership of the Company and Group and during the year met to direct and control the overall strategy and operating performance of the Group. It is collectively responsible and accountable to shareholders for the long-term success of the Company. To enable them to carry out these responsibilities all Directors have full and timely access to all relevant information and the Board has held meetings at various operating sites so that the Directors can review the operations of those particular sites. All Directors have allocated sufficient time to the Company to discharge their responsibilities effectively.
Board agendas are set by the Chairman in consultation with the Chief Executive and with the assistance from the Company Secretary. The Company Secretary maintains a twelve month rolling programme of agenda items to ensure that all matters reserved for the Board and other key issues are considered at the appropriate time. The Directors have also reviewed the financial statements and taken as a whole consider them to be fair, balanced and understandable and provide the information for shareholders to assess the Company's performance, business model and strategy. The Audit Committee provide guidance to the Board to assist it in reaching this conclusion.
Board of Directors:
Chairman
Chief Executive
Finance Director
Sales and Marketing Director
Commercial Director
Standing agenda items included:
reports from the Chief Executive, Finance Director and the Sales and Marketing Director;
annual strategy review;
reports from the Chairs of the Audit, Remuneration and Nomination Committees;
risk and risk management;
health and safety reports;
approval of the quarterly trading updates, half year and year end reports;
approval of major capital expenditure proposals; and
review of the Group's finance requirements.
The Chairman was responsible for:
setting the Board agenda;
the leadership of the Board and ensuring its effectiveness on all aspects of its role; ensuring all Directors were able to maximise their contributions to the Board; providing strategic insight from his long business experience in the industry and with the Company; providing a sounding board for the Chief Executive on key business decisions and challenging proposals where appropriate; and meeting with major Shareholders on governance matters and being an alternate point of contact for Shareholders on other matters.
The Chief Executive was responsible for:
the day-to-day management of the Group's business;
leading the business and the rest of the management team in accordance with the strategy agreed by the Board; leading the development of the Group's strategy with input from the rest of the Board; leading the management team in the implementation of the Group's strategy including new build decisions; and bringing matters of particular significance or risk to the Chairman for discussion and consideration by the Board if appropriate.
An identification of the culture of the organisation and 2 ways this affects operations.
Organizational culture includes an organization's expectations, experiences, philosophy, and values that hold it together, and is expressed in its self-image, inner workings, interactions with the outside world, and future expectations. It is based on shared attitudes, beliefs, customs, and written and unwritten rules that have been developed over time and are considered valid. Also called corporate culture, it's shown in: the ways the organization conducts its business, treats its employees, customers, and the wider community, the extent to which freedom is allowed in decision making, developing new ideas, and personal expression, how power and information flow through its hierarchy, how committed employees are towards collective objectives.
It affects the organization's productivity and performance, and provides guidelines on customer care and service, product quality and safety, attendance and punctuality, and concern for the environment. It also extends to production-methods, marketing and advertising practices, and to new product creation. Organizational culture is unique for every organization and one of the hardest things to change. Employee engagement is a fundamental element of Cranswick PLC's operational strategy in order to help our employee's to understand the link between their job role, and the purposes and objectives of the organisation. Employee engagement is a critical process in underpinning the overall profitability and performance of the business.
Employees at Cranswick are given a meaningful voice via the annual Staff Survey, through the Works Committee and with regular meetings with Directors of the business. We endeavour to ensure that staff are communicated with effectively or have role models with whom they can identify. Line Managers are trained to motivate, empower and support their teams. Our Employee Engagement strategy ensures that innovations are shared and recognised and relationships are developed constructively within the company. Staff Development lies at the core of our people plan. We are dedicated to training, developing and supporting colleagues to help take Cranswick into the future. We recognise that in order for our teams to develop, grow and succeed within the business, they need to be given the appropriate learning and training tools. Core training programmes include Graduate Development, First Line Manager training and a Talent Management programme, all of which sit alongside a suite of designated training modules to further develop the functional skills sets of our employees.
The Group understands the need to work with local communities and be a responsible neighbour. Throughout the year a number of employees have been engaged in physical challenges, raising money for their local and national charities. In addition charitable donations made by the Company at the various sites have totaled in excess of £16,000 in the year. We are committed to an Ethical code of practice which ensures the welfare and wellbeing of every individual that works for or within our business, and also throughout our supply chain. Cranswick plc is dedicated to behaving responsibly towards our workers and recognises the clear requirement to integrate ethical policies into the core business decisions that we make.
We understand that managing the needs of our workforce is an ongoing process that requires regular evaluation and scrutiny, to develop widespread workplace improvements. Practices affecting workers are assessed and audited both internally and externally on a regular basis and we are consistently looking to advance our working practices in line with Ethical developments. We are proud to openly communicate our Ethical Trading policies to our Workers, Customers and Suppliers in order to gain their buy-in to the principles of Ethical Trading, and ensure their importance is understood and adhered to by all parties. How 3 HR activities support the organisation`s strategy.
The Company seeks to integrate the benefits of people management into its culture and the Group Human Resources Manager ensures that these are consistently applied across all the sites. Through representation on the Equality and Human Rights Commission taskforce, Cranswick takes the lead in ensuring ethical business practices are developed at the highest level.
All of the Company's ethical processes are regularly audited internally and externally by third parties. Cranswick has been at the forefront of best practice in conducting annual ethical audits both at its own sites and those of its labour providers. Performance is judged against the Gangmasters (Licensing) Act 2004, the Ethical Trading Initiative and retailer expectations.
Encouraging the principles of equality and diversity are key to the successful and inclusive culture that lies at the heart of Cranswick. Regular training is provided for all employees, reiterating the importance of equal opportunities and best practice behaviours. HR managers have been trained in Equality and Diversity principles to roll these out to all middle and senior management teams.
The HR strategy includes corporate social responsibility (CSR) as part of its vision and values, and will implement a pattern of planned activities to ensure the attraction and retention of talented individuals who have key core skills that will aid the achievement of the long-term business goals and objectives. This in turn will enable improved performance across the Group.
All employment decisions, including recruitment and internal promotions, are based on merit, qualification and abilities and will not be influenced or affected by an employee's race, colour, nationality, religion, sex, marital status, family status, sexual orientation, disability or age. The business uses one employment law provider which provides the opportunity for HR teams and managers to refer to a single point of contact without any concerns relating to cost or legitimacy of information provided. This ensures consistent advice is given across the Group and centralises recording of data and training needs.
3 ways HR professionals support line managers and their staff. Some of the ways in which HR adds value to Line Managers include administrative services, professional advice, meeting recruitment needs in a timely manner, working with issues of motivation and engagement, providing learning solutions and helping employees develop as individuals. In return, HR has legitimate expectations. They will expect managers to play their agreed part in processes and procedures, and to see people management as a natural part of their role. Measures here includes: Service and advice – regular (six monthly) short surveys, response times. Recruitment – time to recruit, cost to recruit.
Motivation and engagement – trends in standard data such as labour turnover, engagement levels, absenteeism; analysis of causes behind each. Learning and development – investment levels, participation, effectiveness as appropriate on specific programmes. Personal development – individual dialogue.
Employees receive value from salaries, bonuses, policies, benefits, security, communications and training/development – items covered in a typical employment survey. Every employee has different perceptions of what is valuable to them personally, but we have to work with collective perceptions. There may be specific initiatives through the year that deserve a focused feedback evaluation to assess whether the intended value has been received.
Related Topics