Understanding Inclusive Learning and Teaching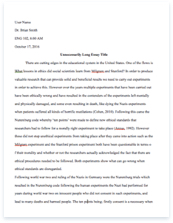 The whole doc is available only for registered users
A limited time offer! Get a custom sample essay written according to your requirements urgent 3h delivery guaranteed
Order Now
I am a strong believer of inclusive learning and teaching, as inclusive teaching refers to the creation of a learning environment which provides all students, regardless of their background and ability, with the opportunity to fulfil their own learning potential and support other students who may wish to learn from them. Within my experience and current work place I have found that using a wide variety of teaching strategies is essential, as my students needs and abilities are always varied. Out of all of the students that I have worked with, there have never been two the same and as a result my teaching style has to be adaptable in order for it to be effective.
1.1 Analyse learning and teaching strategies used in own specialism: Traditional teacher methods and practical hands on learning are as important as each other in choosing to teach and learn; one cannot exist without the other. Practical, theory and the constant development of attitude are vital to learning being allowed to happen within the learning environment. To do this the student must do more than just listen and watch. They must read, write, discuss, engage, problem solving and use hands on techniques.
Students must also develop their thinking mentality of analyse, apply and evaluate to all areas of work, as getting the students to do things gets the student to evaluate what they are doing and why. The use of these teaching strategies in the learning environment is vital because of its powerful impact on students learning for example; studies have shown that students prefer strategies promoting active learning to traditional talk and chalk methods: Penner. Jon. G 1984, many teachers cannot lecture.
1.2 Evaluate the effectiveness of approaches to learning and teaching in own specialist area in the meeting needs of learners: Each effective teacher should actively engage in self-reflection, exploring willingness to experiment with alternative approaches, instruction and motivational techniques. Sometimes a teaching style maybe needed when teaching certain specialisations and proficiencies. The listen and learn teaching environment can be enriched by adding visual aids, PowerPoint, film, short writing exercises, drawings and demonstrations followed by a whole class or group discussion. Research has also been demonstrated that if a teacher allows students to consolidate their notes by pausing three times for two minutes each during a lesson, students will learn significantly more information (Ruhl, Hughes, and Schloss 1987).
1.3 Evaluate aspects of inclusive learning: Inclusive learning is a well-known concept required in order to meet the needs of all learners, in particular the need for belonging as defined by Maslow. It has been given many definitions but can be broken down to mean teaching approaches that include the following factors as demonstrated by the writing of Gravells (2012):
– Involves all students
– Treats all students fairly
– Considers all students to be equal
– Without the direct or indirect exclusion of any learner
The learning needs of individuals can differ in their preferred learning styles and by using a blended learning approach it is possible to provide learning experiences that meet the learning needs of all members of the group. However, when considering inclusive learning and the need for belonging there are additional measures a teacher can take.
2.1 Analyse inclusive approaches to learning and teaching: Inclusive learning is about making sure that every learner in the classroom has their needs identified and met. It is about realising that every learner will have specific individual needs and it is the job of the teacher to accommodate the needs of all of their learners: 'Inclusion is seen to involve the identification and minimising of barriers to learning and participation' (Booth et al., 2000: 13).
One approach to inclusive learning is having additional support for the learners with additional educational needs (AEN). This can be in the form of a teaching assistant or in some more severe cases a care assistant.
Additional support can be used to do several things. The support a teaching assistant provides is to enable the learner to either do the same work the rest of the class is doing but with extra support with ideas, writing or just a general confidence boost. Teaching assistants can also be used to take the pupils with AEN as a separate group and do work that has been defined by the teacher. This is a way of enabling the learner to feel they have achieved and not worry about what the rest of the class thinks.
The use of the teaching assistant is vital for many learners. It enables the learner to achieve the academic levels they need and often exceed what they thought they could achieve. However, it could be argued that if a child is given too much individual support then they will learn to expect it and be reluctant to work without support. The other main area to focus on is differentiation. If a teacher is able to correctly identify the different levels and needs of their students and then differentiate accordingly then this is going to be one of the most effective ways of creating inclusive learning.
According to Chris Dickinson; differentiation is; 'A planned and on-going process of intervention in the classroom to maximise the potential of pupils based on their individual needs.'. In other words, 'Differentiation is about teachers trying to ensure that the right pupils get the right tasks.' (Ruth Sulton). We need to take responsibility for differentiation in our classes because: "The purpose of education for all children is the same: the goals are the same. But the help that individual children need in progressing towards them will be different." (Baroness Warnock).
2.2 Analyse how to select resources to meet the needs of learners: Resources can come in many forms and used in many ways, so it important to ensure that resources are accessible to all learners. Resources can help aid learning, so it is crucial to select resources that also meet the needs of the students. Where possible it is important to discuss with students what their needs are and what extra support they require in order for the session to be inclusive. Some students may not disclose their additional needs for a variety of reasons; therefore there are some steps you can take to ensure that students will still be able to participate.
For example, making sure that all resources that are word processed are written in 12 point text, and in an easy to read font, such as Arial, this will help students with the reading of text. Also, make sure that the text used on PowerPoint presentations is large enough to read from where students will be sitting. This will not help students that have severe difficulties in reading text; however it will eliminate some of the issues. By talking to students and finding out which resources and support they require in advance of the session, you are able to ensure that the session is inclusive before the course starts which will have a positive impact on the student and the learning that will take place.
2.3 Explain how to create assessment opportunities that meet the needs of learners: Assessment is essential to learning, as it allows you to see how your students are progressing, and will highlight any areas in which the students are struggling. Assessment is also essential when teaching an accredited course as there will be certain assessment criteria that students will have to meet to gain the qualification. By discussing the options with students you are making sure that the session is inclusive, as some students may decide to not part take in the course due to the written assessment methods. There are many different ways in which students can be assessed, and often there is flexibility when doing an accredited course for students to submit work or pieces of assessment in different ways.
It is important to find out from your students what and how they would prefer to be assessed, and where possible try to accommodate that. You may find that some learners are better at demonstrating rather than writing about topics. Where this is the case it may be possible for the student to have an observation or a recorded discussion of a topic rather than to write a written assignment. Without talking to your students about their additional support needs, for any assessment methods students may feel isolated or excluded which may affect their attendance or participation. Therefore when discussing assessment methods it is important to go through the options with students, to put their minds at rest and also to ensure you are providing a supportive and inclusive learning environment.
2.4 Review how to provide opportunities for leaners to practice their literacy, language, numeracy and ICT skills: There are many ways to embed ICT skills into a lesson, which will allow students to build on their skills. ICT can be used in most lessons and could include tasks such as typing up work into a Word document, or using Power Point to create a presentation to deliver to the rest of the group. Getting students to do a presentation will also embed language skills as well as ICT skills. Another way to embed ICT skills into a lesson is to get learners to do research on-line on a topic. In some lessons there may be a lack of ICT resources, in which case it may be more difficult to embed the skills; however you could make sure that you give a hand-out containing links to websites relevant to the lesson.
By providing links it will encourage students to access them in their own time; that way you can embed skills into your lesson without the ICT resources in the classroom. Numeracy skills can also be embedded in most lessons; it can be as simple as putting in a graph, bar chart, or pie chart into your presentation, or hand-out. This will allow the students to get used to seeing charts and could help them to understand how they work, by embedding numeracy skills into the lesson. Also you could use terms such as 50% rather than half, which again will allow the students to understand numerical terms better. Time keeping skills can also be embedded into a lesson by giving students timetables to show what time they start their lessons, and also by informing the students when to expect their break. Literacy skills can be embedded into the lessons in a number of ways; this could include getting the students to create posters or hand-outs.
You could also get students to read out or present their work to the rest of the group, which would embed both language and communication skills into the lesson. Also providing a print out of your Power Point (if you have one) is another way of embedding literacy and language skills, as students will be able to follow the Power Point at their own pace, and also gives students a resource they can take away. Literacy and language skills can also be embedded in lessons by getting students to take part in role play situations, or discussions on a certain topic (history of WW1). Language skills could be embedded into a session when starting a new topic or subject area by providing students with a glossary which will provide students with definitions of new terms (sea terms).
3.1 Explain how to engage and motivate learners in an inclusive learning environment: Looking at the fact that in 1926, John Dewey asked, "Why is it, in spite of the fact that teaching by pouring in, learning by passive absorption, are universally condemned, that they are still so entrenched in practice". It is hard to believe how history continues to repeat itself.
Motivation refers to the students willingness to engage in lessons and learning activities. For teachers, a major goal of lesson development is to identify motivational strategies that will encourage students to engage in classroom activities that meet specific educational objectives.
When students report high levels of motivation to learn, four factors are generally present:
– The opportunity to learn
– Facilitators who probe for student response
– Support for student learning through modelling
– Scaffolding and evaluation
Strategies that incorporate these factors will result in increased student motivation and involvement. Uguroglu and Walberg (1979) provide substantial evidence that motivation is consistently and positively related to educational achievement.
Active learning can be an effective and essential instructional component of the inclusive classroom. Students with special needs who are actively involved and engaged tend to learn more and faster. Hands-on interactive learning appeals to the senses and provides a reason to learn, promotes attention to task, and may lessen negative behaviours.
The ability to motivate students is fundamental in teaching and learning, and "it is a core virtue of educators who successfully differentiate instruction" (Tomlinson & Allan, 2000). Awareness of and respect for diversity, such as cultural differences, encourages teachers to invite the experiences, concerns, opinions, and perspectives of diverse students to be shared and valued in the learning process.
3.2 Explain how to establish ground rules with learners to promote respect for others: Ground rules can be agreed as a group or as a class, having a mutual agreement from the class helps establish and promote respect for each other, knowing what is intended from the class and taking responsibility for learning as individuals and as a group, as working as a team and respecting each other's opinions, and agreeing to disagree, however still respecting the other person's opinions. Discussing and agreeing ground rules with the class makes for transparency and openness with the class and individual awareness of this matter. Ideally it may resolve any animosity.
(Gravells and Simpson 2008, p.11 and 12) explains the reasoning behind ground rules:
Agreeing ground rules with learners: Under the new Professional Standards for Teachers, Tutors and Trainers in the Lifelong Learning Sector your aim will be to create a safe learning environment that promotes tolerance, respect and co-operation between your learners. One of the best ways of achieving this is to develop an agreement with your learners regarding ground rules. These are rules that should be agreed by, and followed by, all learners within your group. Involving your learners in the process encourages them to take responsibility and ownership for their own learning. Your learners will learn best in an environment in which they are able to participate, voice their opinions, ask questions and be actively involved in determining how they will learn.
Ground rules should be agreed by the whole group rather than imposed by the teacher. By showing an interest in their decisions, the teacher is communicating with the students that they are valued as individuals, who bring useful skills and knowledge to the lesson.
3.3 Review ways to give constructive feedback to motivate learners: Probably the most effective barrier to communication is the learner's lack of motivation.
Preparing to Teach in the Lifelong Learning Sector: Ann Gravells: "Providing feedback – informing the learners how they are progressing". (P.27)
"Constructive feedback doesn't just mean positive feedback… Negative feedback, if given carefully, can be very important and useful to the learner. Be specific about what could be improved and always state why… Most people need encouragement, to be told when they are doing something well and why". (P 86)
Ann Gravells refers to the "praise sandwich" (Ibid P86/87) – also known as the Praise-Criticism-Praise (PCP) technique. This means talking first about what a learner has done well, then going on to discussing points for improvement and then ending on another positive note. For example: During the debrief of a recent assessment I discussed with my student the progress they had made in terms of the '5 stages' towards the learning objectives for the lesson. I then asked them to reflect upon what they felt they needed to do to in order to move from point 4 (i.e. what level they were at then) to point 5 (objective achieved).
We then discussed what we would be moving on to during the next lesson on the assumption that they would achieve point 5 during that lesson. This was very motivating for my student to understand how confident we both were in the progression of their learning. By following the positive – negative – positive strategy, my student focussed more upon their achievements and the negative aspect of the feedback became constructive. Had we not started the feedback session with a positive aspect, my student would potentially have become so distracted by their 'failure' that they would not have heard nor acknowledge anything positive or constructive comments.
Related Topics