To what extent should the law recognise non-charitable purpose trusts?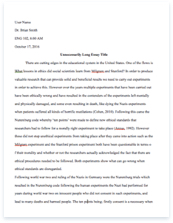 The whole doc is available only for registered users
A limited time offer! Get a custom sample essay written according to your requirements urgent 3h delivery guaranteed
Order Now
Non-charitable purpose trusts can be defined as 'private trusts intended to benefit purposes rather than beneficiaries' . If the certainty of object is not qualified, then the trust usually fails because it is 'administratively unworkable', this is often the case therefore for trusts which are merely established for a particular purpose rather than for a specified human beneficiary.
Purpose trusts have been established and largely defined in case law, namely Re Astor's Settlement Trust [1952] . An inter vivos trust was created by Lord Astor which had among its objects 'The maintenance of good understanding, sympathy and co-operation between nations, the preservation of the independence and integrity of newspapers, and the protection of newspapers from being absorbed by combines.' It can be seen that the trust has no human objects and is specifically for purposes and not individuals; 'A Trust to be valid must be for the benefit of individuals, which this is certainly not, or must be in the class of gifts for the benefit of the public which the courts in this country recognize as charitable in the legal as opposed to the popular sense of the term' . It was on these grounds that the trust failed.
There seem to be five main reasons given for invalidity of purpose trusts, namely:
– The "beneficiary principle"
– Uncertainty (in the sense of lack of certainty of intention);
– Impossibility (or impracticability in the administration of the trust);
– Perpetuity; and
– Public policy.
The essence of a trust is that it is an obligation concerning property which is enforceable in the courts which will control the trustees and, in rare cases, even carry out the trust. There must thus be beneficiaries who can apply to the court to enforce their rights. It follows that a trust must be created for the benefit of persons but not for a purpose unless that purpose is charitable, for a purpose can not sue, but if it be charitable the Attorney General may sue to enforce it. It is therefore the beneficiary principle which will often be the deciding factor in whether a case is successful as a purpose trust or not. The leading case for the theory is that of Morice v. Bishop of Durham . The testatrix in this case had bequeathed all her property to the Bishop of Durham upon trust for 'such objects of benevolence and liberality as the Bishop of Durham in his own discretion shall most approve of.' It was held that the trust was not charitable and could not stand as a private trust either because it had no specific beneficiaries and had been made purely for a purpose.
'Every other trust must have a definite object. There must be somebody in whose favour the Court can decree performance.' Sir William Grant MR. Administrative workability is also essential in that there is a certainty of who the trust is to benefit. Lord Eldon said this in Morice v Bishop of Durham: "As it is a maxim that the execution of a trust shall be under the control of the court it must be of such a nature that it can be under that control; so that the administration of it can be reviewed by the court, or the court itself can execute the trust: a trust, therefore, which in case of maladministration could be reformed and a due administration directed." It then follows that the trust must not be impossible to perform. A time limit as to the life span of the trust is also often necessary so as not to have it go on forever because it may not be in the public interest. Finally, if the purpose of the trust is capricious, useless, wasteful, harmful, illegal or otherwise contrary to public policy, it will obviously fail.
There are a number of exceptions to the invalidity of purpose trusts, however it is the general dislike of these trusts that have lead to them being recognised as 'troublesome, anomalous and aberrant' .: Re Endacott [1960] presented a gift to the parish council for "the purpose of providing some useful memorial to myself". Harman LJ at first instance refused to uphold such a trust and said 'these cases stand by themselves and ought not to be increased in number, nor indeed followed, except where one is exactly like another'. However, it was eventually held to be valid on the reasoning that it asses to and improved the fabric of the church.
A further exceptional case was that of Re Hooper [1932] in which it was held to be a valid purpose trust because it had been limited in perpetuity. Most instances of cases, known as the 'monument' cases, are found to be subject to rules of perpetuity and will therefore be valid. Trusts for the saying of masses are often also valid because there is a close religious link; Re Hetherington [1990] . Trusts for the maintenance of particular animals (such as in the case of Re Dean (1889)) may also be held valid because there is the ability to establish certainty of object, being the animals.
It is a general rule that the law does not recognise non-charitable purpose trusts and they are therefore often void. The question, however, is to what extent should the law recognise non-charitable purpose trusts. It is my contention that the law surrounding non-charitable purpose trusts should be viewed fairly narrowly. They are intentionally termed in the definitive way as being not charitable, it would therefore follow that they have more often than not been constructed as a charity trust however, it has not fulfilled the necessary criteria as set out by the courts and is therefore of no good or benefit to anyone.
There appear to be three conditions where the court would uphold a purpose trust;
1.The trust must be for a purpose which has been previously upheld by the court.
2.The trust must be limited in perpetuity. That is that it must not be able to go on indefinitely.
3.There must be someone who will execute the purpose trust.
In light of this, it can be said that in order to make future purpose trusts valid, statutory requirements could be introduced to set limits on purpose trusts and make it clear to the settlor what would be a valid purpose and what would not. Other jurisdictions such as Bermuda, the Cook Islands, the British Virgin Islands, Cyprus and Belize all have statutory instruments that specify certain criteria for a non-charitable purpose trust. Recurring requirements include ensuring that the trust has a term for no longer than 100 years (the perpetuity rules), it is specific, reasonable, capable of enforcement (certainty of subject, object and within the ambit of administratively workable), and appoints an 'enforcer' who would keep an eye on the trustees with a view to ensuring that the trust is administered in order to satisfy the purpose for which it was established. It appears that these are all acceptable and perfectly reasonable requirements and I would hasten to suggest that our own jurisdiction may be lead in the future to introduce similar statutory law.
To conclude, I suggest that the court should do all that it can to interpret a purpose trust, which does not satisfy the requirement of a charitable trust, as a valid trust. It can be perfectly suitable that one person creates a trust for a purpose which they believe to be 'charitable', because there are so many laymen's definitions for such an adjective. It may, for that reason, be the settlor's intention for the trust to benefit someone who they believed to be of charity status. It would be the issue of the court to decide if this beneficiary had charitable status as was meant by the settlor. However, it must be noted that this discretion would have to be exercised strictly so as to prevent the validating of limitless heads of non-charitable purpose trusts.
It therefore follows that the law surrounding charitable trusts may also need to be redefined and broadened to include a more liberal definition afforded to the layman's belief of what is charitable. On the other hand, if it is the beneficiary principle that is restricting the validity of a non-charitable purpose trust, then I propose that the law should recognise this in a more justifiable way. In instances where a trust is without a beneficiary and therefore has no legal person to enforce the trust, it should fall to the courts to create such a body that could operate and supervise the trust in these types of circumstances. All of these provisions could be presented in a statutory instrument which would finally give clarification to the law surrounding non-charitable purpose trusts and would hopefully satisfy the wishes of more settlors and subsequently benefit more receivers.
Related Topics