The Significant Difficulties in Writing Effective Academic for International Students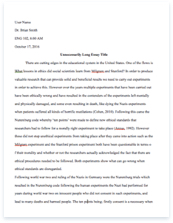 The whole doc is available only for registered users
Pages: 4
Word count: 857
Category: Student
A limited time offer! Get a custom sample essay written according to your requirements urgent 3h delivery guaranteed
Order Now
Introduction:
With the development of the global economy and advanced technology, students going abroad for the further education become more normal and easier. Academic writing accounts for the considerable proportion during the experience of foreign learning. So, the issue of what are the greatest difficulties is thought to be worthy of studying. In addition, the result from this study is helpful for inculcating English in pre-sessional classes at UK universities. Linn has the attitude that the diverse conventions and cultures should be put at the top of difficulties (Linn, 2009:p1), while Harris regards both grammar and structure of the essay are equally important (Harris, 2010:p66). I will compare four aspects (linking words, metaphorical language, organization of text, and sentences structure level) in academic essays to obtain the result. These five factors are referred by Linn or Harris, because of the obvious distinction between the native speakers and non-native speakers.
Main body:
1. Linking words
The linking words are thought to organise sentences from the above to next, which could help papers to read more smoothly and enable the readers to flow from one point to the next without gaps or disruption. There are two cultures to use signposts according the writings by Linn and Harris. Linn points out Englishmen prefer to use a number of explicit connectors to explain the relations among the sentences and paragraphs. However, according to the survey from Theart (2010, p.141), results show international students are like to use discourse marks and they have more interest in using formal connectors to introduce what they want to express. In addition, the conclusion from Harris' passage (Harris, 2010:p69) indicates foreign students heavily rely the linking words to present their ideas, whilst native speakers have more methods to write contexts.
2. Metaphorical Language
Metaphorical language is one type of language variables, which help readers understand more deeply and vividly. It seems different countries make this distinction in the academic texts. Matalene (1985) found Chinese pupils usually are proficient to use the fixed phrase or idioms, which is written in the text of Linn's article (Linn, 2009:p3). Linn also thinks western teachers always encourage their students have their own thoughts and to think for themselves or critically thinking. Regarding to this point, Harris (2010:p68) agrees with Linn and give his own standpoints that European and Asian students are like to put more metaphors into their writings, in contrast to English students.
3. Organization of text
The normal structure of English writings includes three parts – introduction, body and conclusion. Linn (2009, p3) gives several examples of different countries to indicate there are a large distinction in the organisation aspect. For example, the form is thought of importance in the English essays, and three parts of an article (introduction, main body, and conclusion) have their own functions respectively; Asian essays more emphasis on the whole, meanwhile they don't prefer to give obvious distinction between the two linking paragraphs; Arabic articles are put more parallel arguments to get the conclusion. However, Harris (2010:p68) doesn't stand the same side of Linn's. He finds little difference between domestic and international students in the structure of essays. The only one difference, he gives out, is international students are willing to put the topic sentences on the end of the text instead of the beginning.
4. Sentence structural level
There another difference between non-native speakers and native speakers is sentence structural level (Harris, p68). He points out international students always have grammar mistakes in their sentences. For example, they sometimes omit the verb in one sentence and sometimes they forget to use the subject or object in one complete sentence. That is the reason why western tutors and supervisors confuse what is the meaning of sentences the international writers want to express. By contrast, the possibilities of grammar mistakes and the spelling mistakes are quite small to those native English spoken authors.
Conclusion
This text selects four aspects of difference in academic writings between native spoken writers and non-native spoken writers from Linn and Harris' points. In the linking words, metaphorical language and text organization phases, we could obviously find different countries have the distinction in customs and habits of academic writings. As to the last phase – sentence structural level, Harris points out there are difficulties in grammar indeed for foreign students to write an academic article. So, according these four aspects, I think the most significant difficulties for international students to write an effective academic essay is the diverse conventions and cultures in different countries, although low grammar and vocabulary proficiency level is also one important trouble. There are two suggestions for foreign students according to this result. Firstly, learning something about the England's customs and cultures could help them write the efficient texts. And the second one is the academic writing tutors should put more introductions of English convention to their courses content and instruction methods.
Reference
Harris, C., 2010. Argumentative Essay Writing: Differences between Domestic and International Students. Journal of Applied Study, 22(3), pp. 66-69.
Linn, C., 2009. Investigating the Differences in Academic Writing between UK and Non-UK Writers. Journal of Applied Study, 20(2), pp. 26-28.
Related Topics