"The Sanctuary of School," by Lynda Barry and "'I Just Wanna Be Average,'" by Mike Rose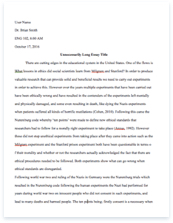 The whole doc is available only for registered users
A limited time offer! Get a custom sample essay written according to your requirements urgent 3h delivery guaranteed
Order Now
The two essays, "The Sanctuary of School," by Lynda Barry and "'I Just Wanna Be Average,'" by Mike Rose, are two essays concerned with children and the way a school system affects a child's life. Barry and Rose use situations in their own life to help readers understand their point of view. The responsibility of parents, the assertiveness of their teachers, and the way they used their unique situations to help solve problems in our fallible society.
Parents can have a profound effect on a child's interaction with society because the emotional bonds between a child and a parent can be very strong. Neglecting or abusing a child will usually have adverse affects. "I was 7 years old the first time I snuck out of the house in the dark." explains Barry, "It was winter and my parents had been fighting all night" (308). In the case of Barry, her parents did not know or care that she was missing from ordinary family functions because they did not have any. This type of neglect sent Barry searching for social interaction, whether good or bad, where she knew she could find it. Linda was lucky enough to have an institution that she could go to and escape the scant behavior of her parents. Parents can also put too much burden on themselves so that they are apt to a different kind of neglect. Parents get wrapped up trying to do what is best for their children and they do not see what is really going on.
Rose states, "The current spate of reports on the schools criticizes parents for not involving themselves in the education of their children. . . . The error went undetected, and I remained in the vocational track for two years" (313). Although Roses' parents were inclined to send him to a private school, the burden of work as well as the assumption of a schools responsibility to do what is best for a student left Rose on the wrong path to social stratification. Parenting has an ever-lasting effect on children whether good or bad, intentional or fortuitous the effects are permanent. For our subjects the only recourse was the discerning teachers that lead them from a life of hardship and abuse to a world of education and personal satisfaction.
Another interesting aspect of Rose and Barry's essays are their teachers' assiduous practice of higher learning. If Barry's teacher, Mrs. Claire LeSane, did not include a liberal view of an education along with the initiative to set up special projects for her students Barry may have never developed a passion for drawing. "She believed in the natural healing power of painting and drawing for troubled children" states Barry (310). Without this influence on her life, Barry may have become deeply disturbed with no outlet or escape from her ever so real life of solitude and rage.
Teachers can have a profound effect on the lives of their students depending on their approach to studies and discipline for basics. Brother Clint, Rose's biology teacher, is a good example of this. Without his diligent lesson planning and disregard of learning ability, Brother Clint would not have been able to observe the true potential of Rose. This would have left Rose with an inadequate education and a poor chance to gain any real achievement in life. If not for the attentive nature of these two teachers, Rose and Barry may have fallen through the cracks of humanity rather than move on in life to become scholars and productive members of our society.
Many people move on to gain scholastic learning, financially viable jobs, and high social stratification but not all of them use their attributes to help. Most people have had a fair chance to succeed in life due to family stability and modest family earnings. It takes someone with an inside view of problems facing the American public to truly see the troubled nature of people all around us. Children everywhere are being neglected, abused, and pushed aside due to domestic disputes, personal tribulation, and a variety of other social inequalities in our nation. Barry knew this from her own experiences and was fortunate to have had positive influences push her on a course to obtain the direction and propensity to move her life towards a constructive nature. Barry used this knowledge combined with her skills to make people aware of a menacing problem that is claiming the lives of many children everywhere.
However, this is only one problem facing young people on their way to adulthood and a demanding society. Although Rose had every opportunity to succeed, a small mistake put him on a track to mediocrity. This is something that is detectable through training that is more formal and a solid education rather than just getting by on the minimum efforts of a sub-standard educational system. "Students will float to the mark you set. I and the others in the vocational classes were bobbing in pretty shallow water" says Rose (314). It was a good thing Brother Clint set the mark a little farther out. If it were not for teachers like Brother Clint, Rose and a vast assortment of nameless children would just be 'swept under the rug' and I am sure that this still happens to this day. We do not live in a perfect society and as well as Barry, Rose knew this and used his personal experiences to help solve some of the problems plaguing our educational system through praise of commendable education programs as well as social awareness.
Lynda Barry and Mike Rose are two extraordinary people who have beat the odds stacked against them in a demanding world. Through the benevolent actions of their educators, Barry and Rose grew to become scholars, mentors, and activist in search of ways to beat these inequitable situations of many adolescents in America. Barry and Rose are laudable people whose personal experiences and tribulations helped shape them into the auspicious people they are.
Works Cited:
Barry, Linda. "The Sanctuary of School". The Brief Arlington Reader: Canon and Contexts. Ed. Lynn Z. Bloom and Louise Z. Smith. New York: St. Martin's, 2004. 301-11.
Rose, Mike. "'I Just Wanna Be Average'". The Brief Arlington Reader: Canon and Contexts. Ed. Lynn Z. Bloom and Louise Z. Smith. New York: St. Martin's, 2004. 311-19.
Related Topics