The roles and responsibilities of public and private policing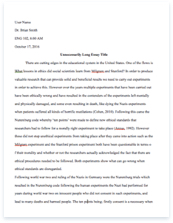 The whole doc is available only for registered users
A limited time offer! Get a custom sample essay written according to your requirements urgent 3h delivery guaranteed
Order Now
Private security personnel differ from police officers in a number of ways. Private security personnel work for clients who pay them for services rendered, while police officers are responsible for serving and protecting the public. Minimum requirements and trainingare considerably less for private security than for police officer.
Public and private policing are major components in the criminal justice field. It would be impossible for our communities to feel secure without the combination of both forces. The focus has been on public and private policing to effectively interact and cooperate with each other. Understanding the importance of one another's responsibilities and roles could lead to a great partnership. Throughout recent years, some law enforcement agencies have come to realize how to benefit from private policing.
Compares and contrasts the roles and responsibilities of public and private policingThere are many similarities, as well as differences between public and private policing; however, despite differences public and private police tend to mirror each other to a certain extent. Private policing serves as many roles in the community. Some of the major components of private policing are the alarm systems, investigative services and security guards. "Public police act on behalf of the government and society to enforce laws, maintain the peace, detect crime, respond to emergencies, assist victims of crime, and provide assistance in prosecuting offenders" (statcan.gc). Private police are seen to be concerned with the protection of personal and corporate interest while public police represent the interests of the public and enforce regulations of the judicial system.
Public police act on behalf of the government and society to enforce laws, maintain the peace, detect crime, respond to emergencies, assist victims of crime, and provide assistance in prosecuting offenders. Police are also involved in community support and outreach programs such as drug awareness and crime prevention. Police services receive their powers to search, arrest, and detain individuals based on the laws of the city and state of their jurisdiction.According to JobUSA.com, "ppeople depend on police officers and detectives to protect their lives and property. Law enforcement officers, some of whom are State or Federal special agents or inspectors, perform these duties in a variety of ways, depending on the size and type of their organization. In most jurisdictions, they are expected to exercise authority when necessary, whether on or off duty" (JobUSA).
Security guards primarily maintain order and enforce regulations at public events and within establishments, protect property against theft and vandalism, provide armored car service for transporting valuables, and control access to venues. Security guards also tend to be directly employed by security companies. Other major employers include public administration; the arts, entertainment and recreation industry; transportation and warehousing; health care and social assistance; and, accommodation and food services.
The increase of private policing has been in response to many changes in society such as the increase of large shopping complexes, cinemas, large retail stores and large compound style housing estates or gated communities. These require constant surveillance for the safety of shoppers and residents. In fact, adequate security has become one of those value-added extras that attract customers and residents. Technological advances, such as high-tech video surveillance cameras, computers, mobile phones, and satellites have increased the need an increase of security personnel for monitoring, investigating and analyzing.
Private policing has been described in many different aspects such as, policing activity of crime prevention; detection and apprehension carried out by private organizations or agents for commercial purpose. It is described to include those people who work for a security company or are employed by an individual or firm to carry out security work, crowd control or private investigations. Private policing is provided by a private individual or organization, rather than by a public body or the state like public policing is.
Private Police officers, also called Security Officers, protect industrial or commercial property against fire, theft, vandalism, and illegal entry. They protect and control entry to industrial, commercial, and, sometimes, residential property. The duties depend on the employer's needs. Duties may include operating and monitoring alarm and closed-circuit television systems, receiving visitors and giving information. They may also take action in emergency situations such as illness, safety hazards, or other unusual situations.
The main responsibilities of the guard are to observe and report. These duties may involve observing from a distance while on a walking patrol, while driving a patrol car, or by closed-circuit television. When they make their rounds, Guards may check windows, doors, and keep aware of unauthorized individuals in an area. Other tasks may include making sure that electrical and plumbing systems, alarms, and sprinkler systems are on or working properly. It's common for Guards to keep in radio contact with other Guards patrolling on foot or in cars.
Guards may have to search the area thoroughly when anything unusual is noticed. A patrol area could be a large refinery or a small office building lobby. Anything unusual or any potential problem is noted and reported to the proper authority: police, fire department, building office, etc. Written reports are usually filed after action has been taken to correct the situation. Some Guards now use computers to store security information, including suspicious happenings and names of visitors.
Guards also control crowds at large gatherings, watch for shoplifters, and guard the pick-up and delivery of valuables. Some guards carry weapons such as guns or nightsticks, but they aren't encouraged to use them. For some employers, guards drive and protect armored trucks carrying money or other valuables. Most of the work, though, is in long-term jobs at specific locations. Regular reports are made of routine activities, including a written summary at the end of each shift.
ConclusionPrivate policing and security is somewhat blended with public policing in this new millennium, and may to a degree be "blurred" from the perspective of the average Canadian citizen. The public police cannot be expected, based on taxpayer dollars, to provide the enhanced safety and security presence that some environments demand.
Accepting that security professionals, while not meant to replace public police, do have a role to play in the safety and security of the community in privately-owned public places is a first step. Formalizing industry standards and invoking best practices for security practitioners will result in professional standards and an enhancement of the safety and security services our citizens receive in public areas. It will also result in the recognition that professionalism exists in both the public and private provision of these services.
Private and public security has shared skills, experiences and security technologies such as video and training that bring them together. Both sectors share the same goal and that is to protect the people and their property. Police recruits are to go through training requirements to ensure that they are suitable for the job; however, public police go through a more standardized training at colleges and academies while private police differ depending on company and offer minimum training standards.
Both public and private police officers must have knowledge of federal, state, and local laws and ordinances; District Policies and Procedures; U. S. and State constitutions; Bill of Rights; non-lethal and lethal weapons use; Parking enforcement and traffic control; patrol techniques; crime prevention; crime scene documentation including evidence collection; law enforcement radio protocols and codes interview and interrogation techniques; surveillance; drug use recognition; crowd control techniques.
References(n.d.).
Job Descriptions, Definitions Roles, Responsibility: Police & Detectives. Retrieved from
Related Topics