The Problem of Inequality Between Women and Men Workers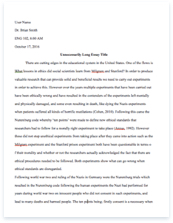 The whole doc is available only for registered users
A limited time offer! Get a custom sample essay written according to your requirements urgent 3h delivery guaranteed
Order Now
Sentara's mission statement discloses that every employee is equal – regardless of race, gender, or ethnicity. That, however, is untrue. Women and men employed by Sentara do not have access to the same resources, including money. More than 50 years after the equal pay law was signed into law, women's wage still lag behind men's (LWW). This is true even in occupations where women are the predominant gender – including nursing. In fact, this lag can be seen here at Sentara – where men have a salary of $84,000. Their female counterparts, in comparison, earn $80,000 annually. There is a significant gap in wages between men and women even though they have received the same level of education and have the same job title.
The wage gap between genders in this field is, however, is not a new phenomenon. Researchers have analyzed data from the National Sample Survey of Registered Nurses, collected from 1988 to 2008, and the American Community Survey, collected from 2001 to 2013 (LWW) These studies revealed that over the years, male nurses have consistently earned more than women nurses – the salaries differed on average anywhere from $3,878 to $ 17,290. According to Marger, discrepancies such as these are the result of direct discrimination (Marger, 2014). Considering that these men and women have the same job title, have received the same education, and work in the same facility and do not receive the same pay, direct discrimination seems like a viable claim.
However, it is necessary that we discuss other possible explanations in the differentiation of wages. One, in particular, that stood out was the cohort effect. This refers to the process in which successive generations of women catch up to men in fields where they had previously only been marginally present. This is seen in professions that were predominantly male – such as engineering or law enforcement – and women who entered such fields are openly discriminated against in these fields – in terms of pay (Conference IZA). This can be attributed to those in the field thinking that females are not competent enough to do a job that females have never been known to do. Arguments such as this must be dismissed, of course, in regard to this particular occupation. As previously aforementioned, nursing is a female dominated career.
Another possible explanation for such a significant gap in pay is the belief that men are the sole breadwinners of American households. Even though today many women work full time – they are thought to be primarily responsible for family and quality of life issues (Scrubs mag). This may result in men being available for more overtime and be able to work extra shifts. Taking time away from work for family issues not only takes away from a women's salary, it also take away from her ability to advance in the workplace (Marger, 2014). Women taking time off from work to tend to the family is something that is seen often here at Sentara.
Regardless of the exact reason for the pay difference, one thing is for sure – it is a serious problem and a solution must be implemented to combat it. The most feasible solution would be to enforce and expand equity laws and policies. There are currently already national laws in place in attempt to close the wage gap. These laws are clearly not properly enforced. (Equal Pay Coalition). There are a few measures that can be taken in order to have these laws properly enforced – ones that should be taken here at Sentara. One example of this is implementing a pay transparency standard. This would require the facility to report the wages that they pay their employees and also post them around the facility so that the employees are also aware of the wages. This will make it more difficult to underpay women for doing the same job as a man.
Unequal pay is not the only issue that women deal with in the workplace – they also deal with harassment quite more than their male counterparts. In comparison to men, women have reported feeling uncomfortable with the actions or words of a colleague or peer – in regard to gender and sex. Women have reported being uncomfortable around men at work 36% of the time, in comparison to men who feel uncomfortable 16% of the time. In contrast, there was no gender or age difference with regard to feeling uncomfortable with words/actions relating to sexual orientation, race, or religion (LWW).
Related Topics