The Perseverance in Faith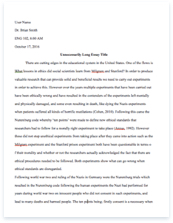 The whole doc is available only for registered users
A limited time offer! Get a custom sample essay written according to your requirements urgent 3h delivery guaranteed
Order Now
At my school, I have this one girl in one of my classes named Ani who always raises her hand and thinks her answers are right and never wrong. She turns down the fact that she could possibly answer any sort of question wrong. To her, it's either her way or the highway. I, as well as many other students in my class, will tell her otherwise, but she just won't listen. Since she functions this way, she has run into some serious challenges along the way. Her way of thinking has affected her grades and even some principle office visits because of her attitude and her ways of thinking. Some of these challenges include belief perseverance, fixation, and lastly confirmation bias.
* Belief Perseverance: Ani will never believe that any of her answers are wrong, it's in her nature. She will always think and know that she is right no matter what the situation may be. Ani is definitely experiencing belief perseverance which is 'the tendency to hold onto an initial belief even after receiving new information that disproves it'. The main reason as to why she's holding onto this 'initial belief' for so long is because it has made so much sense to her, so she's just confused as to why she must suddenly change her way of thinking. Although, for everyone to tell her she is wrong, and still hold onto this belief is plain ridiculous. The only reason for Ani to believe differently is for someone to really explain in depth as to why the opposite belief of hers is true and why her old reason is not. Not only would someone need to explain the true reasonings, but also have Ani imagine it so she can really see why she is wrong.
Fixation: The word fixation is 'the inability to see a problem from a fresh problem'. In my current situation, Ani is completely fixated on using the same type of strategies that have worked for her previously on every single new and different problem. She refuses to try anything new and won't listen to anybody, not even the teacher. If she continues, her grades will definitely drop and even get in trouble with the teacher. The only way for her to start listening and succeeding in the class is to have her take a break and just listen to the new ways of learning.
Confirmation bias: Ani has the urge to remember any sort of evidence that will support her original belief/questions, and then completely disregard any evidence that goes against it. Ani will always think she is right and everyone else is wrong because she used her own belief and nobody else's. Although in her defense, she states that since it has worked for her previously, it will still work with her now. At this point, everyone including the principal tries to show her why she's wrong and even bring out the book to show her why we are right. Instead, Ani continues to ignore everyone and brush it off. Everyone has decided that nobody can really do anything except wait and hope that she will one day understand why she is wrong and change her ways.
Related Topics