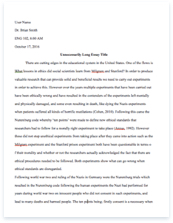 The whole doc is available only for registered users
A limited time offer! Get a custom sample essay written according to your requirements urgent 3h delivery guaranteed
Order Now
People often say that I am a very confident and reliable kind of person. For example, my girlfriend highlights it as the best part of me. And it is pretty obvious, as she never wants me to let her down, and I am sure I never will. It means that I have a high level of conscientiousness, which "represents the degree to which you are dependable, can be counted on, follow through on commitments, and keep promises." Thanks to her, I've become more aware about my reliability, and it actually made me feel better about myself. My brother says that I am a boring person to speak with, because my jokes are not funny at all. He advised me to watch some stand-ups. And it was very amusing and entertaining as well. I laughed at every joke, and I think that I understood a comedy a little bit better.
I will watch some other stand-ups. It certainly will help me to develop a good sense of humor and to become more wittier in talking to people. I don't think that I am a perfect person, but not terrible as well. Something like in the middle of both. Personally, I believe that my will to help everybody is the best part of my character. My friends say that I give them a hand very often, even though I do not realize it. It demonstrates how their collective image of me became my own self-image. In my opinion, a lack of communication skills is my main problem. I am sure that this is all because of my behavior on public. It has never been easy for me to talk to people. But I know that I can solve it by practicing self-disclosure – "sharing your thoughts, feelings, and ideas with others without self-deception, without distortion."
I have some beliefs about myself that limit me in some way. For example, I believe that when I do some homework task I must compare it with others students of my group just to know that I've done everything right. I think this is because of my lack of self-awareness, which is "the capacity for introspection and the ability to reconcile oneself as an individual separate from the environment and other individuals." Some of these beliefs were created by teachers and students. It is not because they are bad or something, but because most of them advice to double-check everything. And, to be honest, I see their point, as it is a way to determine whether you did well or not.
Nevertheless, I think that a person, who always checks something has much worse self-image. "Through feedback from others we can gain more insight or perspective into aspects of ourselves and our behaviors. However, our perceptions may not be based accurately on this information. The social mirror can be wrong or only partially correct." On the other hand, I can turn this annoying belief into the beneficial strength. Instead of double-checking everything I can focus more on the work that I am sure I did right and check only those tasks that I am not sure about. Of course, there will be mistakes, but, at least, I will become more self-confident. My teacher and my friends could help me with these changes and give a feedback about my process.
That is, because they are familiar with this problem of mine. The teacher can tell me about my homework mistakes, and friends can ask for my opinion during conversations. It should certainly help. As for the questions, number 5 was the hardest for me. Because it was pretty difficult to convince myself that I have some unnecessary beliefs. I wish I didn't have ones. It required a little bit more deeper self-analysis. I learned a lot about myself in this exercise. For example, I have found out that some weaknesses can be turned into strengths. I discovered my annoying beliefs and now I know how to cope with them. Also, I have learned a lot about the so-called "social mirror" and how to improve my self-awareness. This exercise helped me to analyze myself through different questions.
Related Topics