The Lesser-Known Heroes of World War II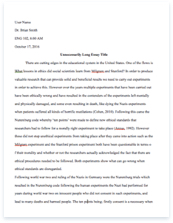 The whole doc is available only for registered users
A limited time offer! Get a custom sample essay written according to your requirements urgent 3h delivery guaranteed
Order Now
When we think of the Second World War, we often picture a slight variation of roughly the same concept: muscular, American soldiers storming the beaches of France to push the Nazi tyrants back and win the War. This depiction, however, tragically omits the many soldiers who did not march on that infamous coast, but that still gave up just as much, and fought just as hard, if not more. Although I can't possibly do all of them justice and give them the recognition they ultimately deserve in this one essay, there are three that stand out when it comes to lesser known heroes. Army Medic Desmond T. Doss, Soviet Air Force Pilot Alexie Maresyev, and Army Nurse Ruby Bradley all exemplified true heroism and determination and solidified themselves as valiant heroes during World War II.
It is said that in the Army, a man's best friend is his rifle, and with good reason. It is the thing that keeps you alive. With this in mind, no one would willingly thrust themselves in the middle of battle without one, unless you were Desmond Doss. Doss was a Seventh-Day Adventist, so when he enlisted as an Army combat medic after the bombing of Pearl Harbor, he refused to even carry a weapon ("Desmond Doss: The Real Story"). He was a conscientious objector. Because of his unwillingness to interact with a rifle, his fellow soldiers verbally harassed and ridiculed him for it. He was viewed as nothing more than a liability. His commanding officers tried time and time again to get rid of him, even as far as attempting to court martial him. All these attempts, though, failed as Doss carried on to becoming a combat medic. This wasn't what made him a hero, though. His bravery and relentlessness was on full display when his battalion was tasked with taking an escarpment 400 feet high known as Hacksaw Ridge ("Medal of Honor").
After they captured this area, the American forces were hit with a surprise counter-attack which ultimately led to an American retreat, even though two-thirds of the men still laid wounded on the field of battle. Doss, rather than retreat to safety, stayed and managed to rescue at least 75 soldiers by himself ("Desmond Doss: The Real Story"). His heroism doesn't stop here, however. Once the American soldiers regrouped, they went back to take the escarpment once more. During this second encounter, Doss was heavily injured by a grenade. However, despite his injuries, he ordered the soldiers carrying him to lay him down and take another wounded man instead ("Desmond Doss: The Real Story"). He lived to see the end of the war and received numerous awards because of his actions, including the Congressional Medal of Honor. Despite never firing a single shot, Desmond Doss was a valiant man and a true example of what it means to be a soldier.
Soldiers, however, did not only come from the United States. Our next World War II hero comes from the Soviet Union. Alexei Maresyev, despite his many health issues, became a Soviet Air Force Pilot in 1941 and had four dogfight victories by 1942 (Budanovic). During one of his dogfights, his plane was tragically shot down. The plane crash severely injured his legs and he was forced to crawl for eighteen days to reach Soviet lines (Budanovic). As a result of the injuries and frostbite, his legs ultimately had to be amputated. Now, normally the story would end here, with a double amputee soldier being sent home, however, Maresyev was anything but normal. Rather than take the easy route home, he opted to use a set of prosthetic legs and became a pilot once again.
Maresyev is reported to have flown 86 combat missions with 11 confirmed kills and was awarded the Hero of the Soviet Union medal on August 24th, 1943 (Budanovic). He served as a symbol of inspiration, determination, and resilience to the members of his squadron, Air Force, and country. He showed that what matters is what you can do rather than what you can't, and despite whatever handicaps one might have, they can still make a difference. Alexei Maresyev should always be remembered as the true embodiment of the word "resilient" as his story is nothing short of amazing and inspiring.
Although these two men were some of the bravest individuals to go into battle, it is Second Lieutenant Ruby Bradley who endured some of the most brutal conditions during the Second World War. Being a US Army Nurse, Bradley was stationed in the Philippines. On the same day as the tragic events of Pearl Harbor, Japan also bombed Camp John Hay, where she was stationed (Forney). Eventually, the camp was overrun and Bradley, along with many others, were taken as prisoners of war (POWs). While in this POW camp, Bradley showed why her name should be cemented as one of the greatest heroes of World War II. She, along with the other nurses that were captured, gave medical treatment to hundreds of other Americans that had also been captured, despite being tired and malnourished. It didn't stop here, however.
Bradley would constantly risk her life to smuggle medicine and supplies into the POW camp. She kept this up for the 3 years she was imprisoned, and throughout that time, she assisted 230 surgeries and delivered 13 babies (Forney). The work that the Second Lieutenant and the other nurses did earned them the title of "Angels in Fatigues" by the other prisoners. Ruby Bradley served to show how the love of helping people can go beyond any type of containment. She is an inspiration to many young women and aspiring nurses everywhere. She showed just as much, if not more, courage and bravery than any soldier charging into battle.
These are just three of the many people who made sacrifices during those six years of the global conflict. Desmond Doss, Alexei Maresyev, and Ruby Bradley serve to show that it matters not your beliefs, race, gender, or disability; you can still make a difference and leave an impact. It is important that we recognize these heroes, because they've earned it. They risked their lives in the fight to keep the world free and the least we can do is be inspired by their stories and let it make a change in ours.
Related Topics