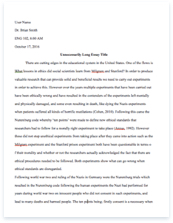 The whole doc is available only for registered users
A limited time offer! Get a custom sample essay written according to your requirements urgent 3h delivery guaranteed
Order Now
I am a Mexican American who was born and raised in the United States. Ever since I was a little boy I always wanted to earn my own money. I started off by working in the hot summer days in the fields every once in a while. As I felt the hot sweat running down my neck and arms I knew exactly how my parents suffered working hard in the heat. I realized it was not easy to earn money like you would spend it. Working at a young age showed me I should get my education in order to work inside in the air condition than working out in the heat. I still continue to work out in the field on my spare time. I earn my own money so my parents do not have to worry about wasting their money on me. I am very proud of myself for beginning working as a young kid. This is a great impact on myself and my life that deals with my family culture.
At the age of ten I started to work with my family and friends. I did not think I would like it but I actually enjoyed working out in the fields. All the people that was out there were very nice and got along with each one of us. Later on as I grew older everything happened to change. I did not work with my family nor friends. It was a different experience working with other people that would not put as much work and hard effort to get the job done as the other workers I have worked with before. The Mexican tradition of working hard started with my parents and grandparents in Mexico. The tradition was then passed on over to my siblings and I. We all have experienced how to earn money the hard way. This is why I am thankful for my parents forcing me to do my homework and encouraging me to do my best so I would not suffer in the future. My mother will tell me "do not give up on school because I do not want to see you suffer like I did."
I then realized how much important it is getting an education that my parents could not afford to get. Without my family's support I would not be here where I am today. Although, they have not been able to help me out lately, the only thing I need from them is their love and support. Family culture has been a great impact on myself and my life. I say this because I see how my family who were not able to finish their high school education suffer and struggle with life to bring enough money to raise themselves and I. Throughout the Mexican culture life, I have learned that hard work and responsibilities leads to a very bright successful life. Like for a example, during the summer when I worked with my family outside in the hot sun with gnats flying all around. I worked really hard to earn the money I always wanted as a kid. Hard working does pay off in life.
Related Topics