The Importance and Struggles of the Black Studies Movement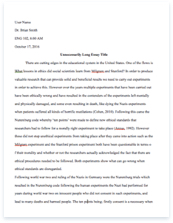 The whole doc is available only for registered users
A limited time offer! Get a custom sample essay written according to your requirements urgent 3h delivery guaranteed
Order Now
The development of African American Studies or Black Studies provides an interesting and significant aspect to the history of the struggles of black men and women. As a multidisciplinary academic concentration, it serves to analyze the history, politics, and culture of African-based societies and communities. This relatively new study has encountered an assortment of challenges within and outside of its educational premises. The difficulty in branching and managing this field is living proof of the ongoing black movement. These concerns should be made aware to bring about solutions to promote the importance of this interdisciplinary area of research. Before explaining the contemporary issues and possible solutions concerning the education of Black Studies, it is essential to present a small overview of the history of how black studies came about. The earliest evidence of African American Studies was promoted by a determined white group of Quaker educators during the seventeenth century. In fact, they even created a well-developed, long-lasting school specifically for blacks to teach them "to be capable of discharging the duties of equal and total citizenship" (Crouchett, 189).
As stated in a reading called the "Early Black Studies Movements" by Lawrence Crouchett, black studies were taught through the visions of Quakers who promoted the idea of "teaching black folk about their history, culture, and contributions" (190). In addition to these structured teachings, the initial African Americans, which included free blacks and slaves, also attempted to spread knowledge; however, most of their early methods were less formal and was sometimes carried through word-of-mouth. The reason why these early black preachers secretly taught other black folks about African history could be because of how traditional African societies viewed the concept of history. In the article by Gaglo, he stated that according to traditional African societies, they believed that "history played a constant role in their lives" and it was "not something that was compartmentalized and academicized" unlike the European and American cultures (Gaglo, 606). History was, in other words, not an "abstract concept" (606).
Yet, despite these Black Studies advocates' combined efforts, these primitive institutions were frowned upon and were even prohibited from further operation. Moving past the centuries of enslavement to the turbulent 1960s, a myriad of radical movements for women's rights, labor rights, and civil rights began to invade America. The initiating series of actions pushing for a Black Studies curriculum began in Berkeley at the University of California (Taylor, 256). Within the same article, Taylor explained the great lengths the Berkeley students went to have their voice and desires fulfilled. Dependent on Nathan Hare, a sociology professor at San Francisco State University, the students used his writing "A Conceptual Proposal for Black Studies" to demand the right to have Black Studies as an available program on campus (256). In the professor's document, he defended the Black Studies movement, because he believed it was morally right to provide the black students "relevant education" (Taylor, 257). Another group that was one of the main proponents of Black Studies was the Black Students Union who focused on the need for "blackness" on white-dominating campuses (Crouchett, 199).
Presently, there are several institutions which have Black Studies programs like Yale, Duke, Harvard, UCLA, and UC-Berkeley (199). As was explained, the rectification of a Black Studies programs was a long struggle. Due to the unyielding control of a white supremacist nation, the development of Black Studies is still being hindered (Dagbovie, 605). Scholars and students studying this field have recognized problems with learning and teaching the focus on African American culture and history. The primary obstacles are caused by administrative issues (Phillips, 273). Administrative issues involve financial reasons and non-passionate faculty who chose to teach the discipline only because there is a small amount of Black Studies experts. In fact, there has been a decrease in black scholars over a span of thirty years (Phillips, 273). From 1940 and 1960, black educators and leaders seemed to lose the drive to promote Negro history and literature (Crochett, 198). Lacking proper funding, Black Studies programs were not able to "hire and grant tenure to staff members" and, therefore, flourish (273).
People hired for Black Studies usually worked in between multiple humanities or social departments and programs, which, as Phillips puts it, unfortunately, causes Black Studies to be "often compromised" for students studying this field (273). In addition, there is still an air of racism and "lack of respect" given to this area of research due to its "questionable legitimacy" (273). Even though there are high numbers of staff members, there are many individuals who display a general apathy towards the discipline. Many of them have faced job application rejections to the more popular fields of study and, as a result, have resorted to Black Studies as a backup plan (Phillips, 273). As some solutions to the administrative issues, it is urged to have an increased awareness of the importance of Black Studies. As a suggestion, before a Black Studies program is erected on a campus, there should be a solid foundation of prepared and enthusiastic faculty.
Those not directly involved with Black Studies, if they wanted to teach this discipline, must have a thorough and basic understanding. As for the funding issues, there should be an equal split of attention to accommodate all areas of study in the humanities and social colleges. This study is important in that is provides interdisciplinary viewpoints in the general history of America. This focus arose to counterbalance the analysis previously dominated in a white supremacy context. In addition, it served as way to educate others about racial discrimination and equality. However, despite its teachings, the discipline continues to be regarded as not "important enough". This has been displayed through the lack of funding the Black Studies have received and the lack of high-quality educators in the field of study. In response, existing Black Studies programs should work together to promote the awareness and importance of having such discipline.
Works Cited
Crouchett, Lawrence. "Early Black Studies Movements." Journal of Black Studies 2.2 (1971): 189-200. Print.
Dagbovie, Pero G. "History as a Core Subject Area of African American Studies: Self-Taught and Self-Proclaimed African American Historians, 1960s-1980s." Journal of Black Studies 37.5 (2007): 602-629. Print.
Phillips, Mary. "Black Studies: Challenges and Critical Debates." Western Journal of Black Studies 34.2 (2010): 273-278. Print.
Taylor, Ula. "Origins of Black Studies at UC-Berkeley". Journal of Western
Black Studies 34:2 (2010): 256. Print.
Related Topics