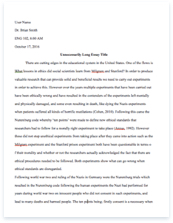 The whole doc is available only for registered users
Pages: 4
Word count: 959
Category: Ethics
A limited time offer! Get a custom sample essay written according to your requirements urgent 3h delivery guaranteed
Order Now
Can one make an "ethical" decision that is at the same time "good" business? Why or why not? Explain your position.
In the text, Ethics and the Conduct of Business (2009), the author states, "decision making involves many factors, of which ethics is only one" (Boatright, p.6). What this means is that business decisions are made based on the economic, legal, and the moral. However, in order to tie all three of those factors into one, an ethical decision has to be made. Ethics involve making good, moral decisions. Managers can conduct business to help gain a profit, and do this legally, but that does not mean they are conducting business ethically and for the good of the people. Overall, the answer to the question is yes! Yes, one can make an "ethical" decision that is at the same time "good" business. If managers in a business provide a code of ethics for their employees, and apply them to every aspect of their business then it is possible to make ethically, good business decisions.
Should businesses be held morally accountable applying different standards than we use to assess others in a society? Why or why not? Explain your position.
When businesses apply different standards to help make a profit, gain customers, or gain power, they often use regulations and policies in such a way to benefit themselves. What this means is that as humans, we have a moral obligation to do what right and what is legal, but many businesses are only obliged to do what is legally right. They do not have to apply morals, values, and ethics if it does not aid in their company's success. In the business world, managers and entrepreneurs have learned to interpret the law and legal obligations to benefit their businesses, but many have turned a blind eye to what is morally right. It should be understood that legality issues and moral issues are completely different. For example, businesses that are prohibited in the U.S. from selling certain products that may be harmful and dangerous, still may sell those same products in other countries that do not apply the law the same as the U. S. Although it is legal for companies to sell those products in other countries, it does not make it morally right. If the product is dangerous to Americans, then it be will be just as dangerous in other countries.
Is it inherently unethical to make business decisions that add long-term value to the business and which do not violate law or social convention? Why or why not? Explain your position.
It is not inherently ethical to make business decisions that add long-term value to a business. It is understood that ethics involve doing what is morally good for human beings, however in the business world, the supreme purpose and goal is not to do good deeds morally, but what is good for the organization's success as far as longevity and revenue generation. In the case, Home Depot was challenged with the choice of whether to increase their prices on wood during Hurricane Katrina, or attempt to sell the plywood around the same prices so that people would be about to protect their homes during the natural disaster. The choice made by Home Depot to raise their prices by only a small percentage could have hurt the company and decrease the value to the business, but in this aspect it of ethics it was a great moral decision. In the aspect of business, Home Depot made a very "shrewd" business decision.
What alternatives to Home Depot's action would you consider more morally appropriate in consideration of the operating situation they faced in which both the community and the business would be better served? Provide details.
Home Depot made the best decision that was morally appropriate in consideration of the operating situation they face. In speaking in matters of good decision-making and ethics, Home Depot produced a way for their business and suppliers to still maintain operations during this time while being able to provide some moral good to the community. Many businesses today maintain their success by taking a stance or being a part of a social cause. Social responsibility is very important to an organization's longevity, social success, and competiveness. The company did not lower their prices, or offer free supplies to members in the community, they only made a way for their business to provide their supplies at a rate very close to their regular prices. To assure that people were not buying in bulk only to resell the plywood and other materials, the company limited the quantity people could buy. The outcome helped to develop an ethical and socially responsible image for Home Depot. Marketing and advertising is important to any organization. It can make or break a company's image and overall success.
Under what conditions could managers, acting entirely in support of the organization's economic benefit, make a morally relevant decision? Provide details.
In the text, the author states that "to make sound ethical decisions and to implement them in a corporate environment are skills that come with experience and training (Boatright, p. 18). Managers have to create a learning environment in their organization and educate themselves on ethical management alongside business management. It is possible for managers to support their organization's economic benefit while making morally relevant decisions. Managers are the leaders of an organization, and if they create an environment where they promote good ethical choices and doing what is good, it can carry on into their business and create success.
References
Boatright, J. R. (2010). Ethics and the conduct of business. (6 ed.). New Jersey: Pearson College Div.
Related Topics