The Controversial Issue Affects Clients Because It Shows That Men Share Beauty Standards Too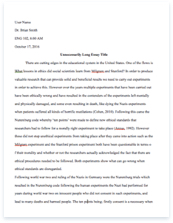 The whole doc is available only for registered users
A limited time offer! Get a custom sample essay written according to your requirements urgent 3h delivery guaranteed
Order Now
The company I decided to pick for the action plan is Aerie by American Eagle. Aerie by American Eagle is a wide variety of lingerie. The Aerie store relates to American Eagle and is sold as shop-in-shop. The shop also sells inside their store is accessories, dorm wear, sleepwear, active wear, and loungewear. It first started in February 2016 in Greenville, South Carolina and was the company's first sub-brand. The brand age target is for teens and young adults between ages 15-25 years old. Aeries has 815 stores in the U.S. and 71 stores in Canada.
There are two controversial issues that happened at Aeries in the past. One of them was pulling an advertisement joke on April Fool's Day in 2016. This joke got too much backlash from social media that people were not fond of. The main campaign is #AerieREAL for women's lingerie to be outside of the unrealistic beauty standards. On April Fools Day, they did ad shoot for male underwear ad and put #AerieMAN campaign. The second controversial issue is American Eagle does not share a public list of supplier name and location. American Eagle has a conduct code of rule to not share any information on supply chain. Aeries does not communicate with any environmental supply chains or brand-specific social.
The first controversial issue affects customers because it shows that men also share beauty standards too. Men also have issues just as women to have unrealistic body images. The body image for men is to have big muscles and a six-pack abs. The advertisement is not a joke for modern day people and were all different sizes. As a customer, this ad would make them not want to shop at Aeries. That it's not a comfortable environment to shop, find underwear, and only one size to shop at. The second controversial issue is not giving out any information about the supply chain and connecting with environmental supply chain. This affects people who work for the factories. We don't know where the factories are from and where we get theses products from. The workers who are hired to work in these supply chains are treated properly. How much theses workers get paid enough for it. Not communicating with environmental supply chains does not look good for Aeries. That it does not give a good reputation if all theses competitive retail companies are connecting with environmental supply chains. The customers see it less of a company if Aeries does not want to help them environment.
There are many ways to help improve a retail business and to help change for a better store. One of them is customer support. You can help change the retail just by giving a voice. To complain and give compliments on how to help improve the stores. Act by sending a letter to corporate and freedom of speech on social media. Social media has become a bigger platform to freedom of speech and let the company know what they did wrong. By coming together, you can let others know that change needs to happen. Another way to help find out supply chains is to connect or join a network that helps find private supply chains. There are databases online that will try to uncover theses private supply chains. You can go to Mergent Horizon that has a customer list to find supply chain relationships.
There are other retail stores online that you can find affordable lingerie. There are 5 underrated and cool lingerie that are affordable. The names are Botanica Workshop, Nude Label, Lively, Pansy, and Marieyat. Some of theses stores offers great benefits of lingerie's such as comfort for the skin, organic cotton, beautiful designs, sporty, and stylish. Instead of going for one store, you can try out other stores that match your comfort. That support positive body image for all and uplifts women's figure. Give a reasonable price for getting lingerie because it is expensive, and customer's want a store that is affordable. The customers will want to go back and purchase every time they are satisfied.
Related Topics