"The Comforting Fictions of Dementia Care" Written by Larissa MacFarquhar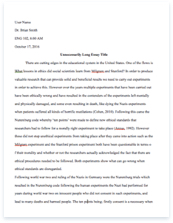 The whole doc is available only for registered users
A limited time offer! Get a custom sample essay written according to your requirements urgent 3h delivery guaranteed
Order Now
The article argues that facilities that create sentimental settings are successful in helping the residents when they experience confusion, anger, terror, and many other emotions. Furthermore, lying to patients who have dementia helps them rather than insisting on telling them the truth which irritates them. Larissa MacFarquhar argues her points using diction, description, tone, pathos, ethos, and other rhetoric, figurative language, and literary elements. MacFarquhar uses diction including "effective," "comforting," and "soothing" to describe the positive effects that the nursing homes designed to look like the patient's childhood towns provides. MacFarquhar uses description to describe how the nursing homes are constructed to look like towns¬— installing fake bus stops, porches, having painted skies, and many other aspects to resemble living in an old town. These descriptors help the patients in the nursing home to feel as if they are not in a facility, and rather still live in a home.
This helps MacFarquhar to get across her point that the interior design of the facilities helps its patients to be more comfortable and calmer. MacFarquhar also uses rhetorical questions to get her point across. Examples of rhetorical questions in the article includes "What is more important—dignity or happiness?," "Will a lie prevent misery right now?," and "Garner's method allowed many people with dementia to avoid panic and misery and to live out their last years in a state of happy delusion—how could that be wrong?" She uses these questions to emphasize how lying to dementia patients is much more positive than negative. The tone throughout the article is candid. Larissa MacFarquhar is straightforward and truthful in her statements and arguments about deceiving dementia patients. Through the use of pathos, MacFarquhar uses specific words to incite feelings of sadness and sympathy. Words that she uses in the article includes "misery," "panic," "rage," "destroying".
In using ethos, MacFarquhar gives examples of her argument based on authority. Neil McCrae, senior mental health lecturer at King's College London, studied for many years Garner's technique of keeping dementia patients happy by going along with everything they said. He studied the positive effects of her technique and how its widespread use could be beneficial. McCrae believes that the best caregivers use Garner's method, and that it is not wrong to help those with dementia to live out the rest of their lives in a happy state. In further researching dementia care in nursing homes, there was a journal that contained a study about lying in dementia care. The objective was to study the use of deception in health-care facilities. In order to do so, a questionnaire was developed to explore how people feel about lying to people with dementia. The information that was found on the use of lies was conferred in a workshop to see if it would cause a change of attitude. The study was made up of two phases.
The first phase implicated the construction of a 16-item questionnaire, which was given to participants, of whom seventy one percent worked in dementia care environments. In the second phase, the 16-item questionnaire was used in a workshop. Of those in the second phase of the study, ninety four percent had experience with dementia care. The results of the study showed that after participating in the workshop, its participants had a more positive attitude about lying to dementia patients. The participants did not have negative feelings about lying when it was used in situations that helped the patients. Though the use of deception in health care is very controversial, this study shows the benefits of lying in helping patients (Milne, James, Elvish). Overall, Larissa MacFarquhar is successful in her argument through the use of multiple literary techniques, and the study about deception helps further prove MacFarquhar's statements about deception.
Related Topics