The Advertisement for Balcarras School an Effective Publication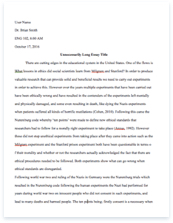 The whole doc is available only for registered users
A limited time offer! Get a custom sample essay written according to your requirements urgent 3h delivery guaranteed
Order Now
Titles and Headlines
Titles and headlines contribute towards making this advertisement effective because they are vivid, bold and particularly striking. The headlines are aimed to capture the readers' interest. Some of them are underlined, outlined or maybe followed by an exclamation mark, which makes the heading more prominent and makes it seem more exciting drawing the reader's attention in. Puns and play on words are often used in titles and headlines for example in this case there is a title "from Russia with love" it can make the article seem more appealing and entertaining. With out flamboyant titles that stand out the article is not as likely to get paid as much attention to than one with.
Use of photographs
Photographs and illustration make the article more appealing. In the Balcarras article all the pictures show people working hard, having fun, doing sports activities and just generally being happy. This of course gives a good impression off the school. If a piece of writing is just bare with no pictures people are less likely to read it than if it has pictures because it will not grab their attention as easily. Pictures create a view of what they are reading about and give them an over sight of what the article might be about before they even start to read it.
Diagrams and charts
Diagrams and charts help clarify things in a simple way they show facts and figures without difficulty and they make you focus on the point. In this example it shows in a straightforward way that Balcarras grades have improved throughout the years. This will of course invite people, and its more attractive way of presenting information instead of just lines of writing.
Font and Printing
Having different style and colour font helps distinguish certain words than you may want to stand out. If you have a different colour word it really helps to attract someone and draw his or her attention to it. Different style fonts can also have the same effect. It can also make the whole article look more appealing and smart. Different colours brighten up the article and make it look less dreary and repetitive. A page with plain black text could get tedious to read.
Overall design/ setting out
The overall setting of the Balcarras article is very neat. The more academic side of things with all the results is laid out on the front and lots of good quality things about the school making it look more professional. Where as all the colorful more exciting bits are placed on the inside. Having it this way may attract different readers e.g. parents reading this article thinking about taking their children to the school would want to see a more scholastic side to it.
Related Topics