"Terwilliger Bunts One" by Annie Dillard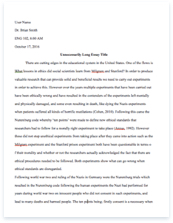 The whole doc is available only for registered users
Pages: 3
Word count: 552
Category: Thought
A limited time offer! Get a custom sample essay written according to your requirements urgent 3h delivery guaranteed
Order Now
Throughout Annie Dillard's "Terwilliger Bunts One", she expresses many feelings and emotions towards her mother. Her mother, a bit of a "prankster," is constantly testing the wits of her peers using the intelligence of her own. Her husband, guests of the home, even complete strangers would lose their composure over these pranks which resulted in many hard feelings towards Dillard's mother. "Pam!" "Dammit, Pam!" "What ails such people?" "What on earth possesses them?" Those are the words of anger that Dillard's father expresses on page 154 in The Norton Reader, the Eleventh Edition as the result of a simple card game.
It seems that Dillard's mother has pushed the wrong buttons on everyone around her. Everyone except Dillard. As one reads through this story, not once will they encounter any words of anger coming directly from Dillard about her mother. While most people would view Dillard's mother's pranks as mean and uncalled for, Dillard would view them as a lesson and an example. Dillard would watch how different people handled different situations and the mistakes they made so that she would not make the same mistakes if she were put in a similar situation. On page 152, Dillard states "It took me years to determine where the joke lay," talking about the model airplane collecting joke her mother played on the checker at the supermarket. What makes this quote important is the fact that Dillard remembered the stamp joke for years, which proves that she not only listens, but admires everything that her mother says.
Dillard's mother was a very self-reliable person. Despite all of the criticism and all of the outbursts from her peers, she never changed her personality to anything but her true self. As said on page 153,"She dearly loved to fluster people." This is a great quote describing her personality because it proves that she cared very little about what people thought of her. She wanted to teach her children to be their own person no matter what "everyone else" thought. On page 156 Dillard comes home from school and announces that Eisenhower is going to win the election. When asked why by her puzzled mother, Dillard reluctantly responds "Everyone says so" which is the exact answer that Dillard's mother was looking for and most likely expecting from her daughter. Dillard's answer opened the floodgate of lessons for her mother. She explained in a very serious tone to her daughters that no matter what everyone else says or thinks, any one of them can take a stand for what they truly believe in no matter how big or small the situation is.
As Dillard was growing up, her mother's personality was also growing on her and it shows throughout this story. Her mother was always teaching her to think outside of the box and on a different level, which is exactly how Dillard wanted her readers to think as they read this story. When the reader finishes, they should finish with a message and a new perspective on everyday situations, life's problems, and also life itself. There are always going to be problems in this world, some bigger than others, but what this story teaches is that any one person can make all of the difference if it is what they truly believe in.
Related Topics