Teaching With Love and Logic by Jim Fay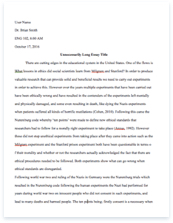 The whole doc is available only for registered users
OPEN DOC
A limited time offer! Get a custom sample essay written according to your requirements urgent 3h delivery guaranteed
Order Now
Jim Fay stresses love and logic techniques that can be applied on students of different age groups. In 3rd grade classroom different strategies can be employed. First of all everyone expects self-respect and importance. The most important principle of love and logic is that teacher teaches in a logical way and approaches child with compassion and love. This can develop in students, confidence and self-esteem. Teaching with love and giving attention to every student separately will make them feel very important. Not only this but this way students take more interest in their studies and produce better results. One more important factor is to honor and respect. When they know this they'll learn to respect others without demand.
Fay also emphasizes that making children responsible themselves to perform various tasks. It is a very helpful technique. People learn more by their own decisions. Same is true for students. If teacher can let the students choose their topic and choice to work on a particular project then outcomes can be much fruitful. Of course, teacher will define a limit to this as well depending upon the subject of study.
Fay suggests that too much praise is also bad for students. The reason is that if teachers give excessive praise then student starts thinking that they are now 'okay' and they don't need further efforts to improve their grades. This way some students decline their grades in their next exam. However, author suggests that though there is a continuous need to encouragement to keep learning and show improvement, it must not be done by giving them too much praise that students start think of themselves as 'genius' or 'better' that other classmates.
Fay shares his experience of parenting and teaching. In one of the interviews he said that "But I started out as a parent and a teacher with lots of lecturing, threats, rewards, and punishments – and they didn't work" (Fay). As experience show that punishing students does not work as well as the language of love. Though many teachers disagree to the notion of "love in education and learning" but this really works. Teaching with love does not mean that giving appreciation to students in an unjust matter. Like if student does something wrong, hurts someone, tells a lie and involved in some kind of bullying then they does not deserve any appreciation. However, such students might need some counseling and special attention from teachers and parents to improve their habits.
Author states teaching with love must be in a logical way. It is not a traditional love or romance but teachers shower their sympathy in a way to encourage students to take interest and participate in learning. Fay's love & logic philosophy is based on his years of experience and experimenting while teaching children. Over the years he used different techniques and ways to get acquainted with what works with students. Fay has included only those strategies that he tested and really worked in classroom. In fact, his love and logic techniques also applied to parenting. Especially those parents, who find it difficult to handle their kids at home, can get adequate advice and guidance from this book.
According to Jim Fay, "The Love and Logic philosophy teaches character. Character is built out of a formula that involves three things: A child making a mistake, an adult feeling empathy and compassion for the child, and the kid learning from the consequences of his or her actions."
What love and logic technique works on is Character building. Instead of threatening child, teasing and taunting him, he coins politeness and love techniques. Teasing and taunting child will never work as this will only make him upset of what he did. Even use of any kind of harsh language can be abusive to his emotional feelings and talent. This can develop in them negative attitude, hatred towards teacher, hatred towards other children and hatred for the school. Most students will want to leave their school for the same because of their teacher's attitude. Any kind of abusive and harsh language will discourage students, they may loose interest, younger students may avoid going to school, and may have lower self-esteem to face other kids and teachers. Fay describes that as he has worked with school children and with his own kids but punishing and threats never gives the results as we get with use of love language. Of course, students are in school to learn and when they do mistake they must not be dejected. Because when you deject them once they might not put any further efforts to improve their work. Whatever the work kids have done they might have put some efforts. If their efforts are not encouraged they may loose interest altogether. Though they need some advice at this stage but the only way is to make them confident about their work and their capabilities. By becoming angry and punishing their kids can make them loose self-confidence.
The book also includes advice for parents that how should they teach their child and how it can improve their performance at school. Some parents are too strict on their kids. They want their kids to obtain full marks. Some parents have the habit of criticizing their kids and showing their anger if their children fail to compete their class. However, such kind of attitude does not produce any good results. Instead kids take this as an upsetting attitude from their parent's side. They never increase their interest in studies and their performance remains the same and declines in few cases. Fay suggests that if parents can show their empathy on the results, help them out and work with them so that kids can altogether take interest in studies. Instead of just commanding them to do this and that, they must first learn to develop discipline in their life. Parents must give some time to their kids.
They must first set a time that is most suitable. Parents must daily check all their work, their performance and ask them questions about their performance in class. If kids have enough confidence in their parents they can easily tell the parents everything that happened with them in school. Kids can share with parents of the things they are afraid of in school. Problem with most students is that they never share whole thing with parents. It is mainly due to the fear that their parents will only tease them or become angry with them. However, if parents play with their kids and love them then kids can share with them everything. Once their fear is out they can get abundance of help from both parents and teachers. Parents could be much support to kids in their education and career. According to Jim Fay, "With love and logic, parents win because they love in a healthy way and establish control over their kids without resorting to the anger and threats that encourage rebellious teenage behavior. Kids win because they learn responsibility and the logic of life by solving their won problems. Thus, they acquire the tools for coping with the real world."
Discipline and self-management: It is the most important rule in class management. When students will learn to do things in proper manner and sequence wise then outcomes can be more positive. With self-management there are a number of things that students can take control of. That is organizing their files, their work and then checking their work. If they complete a task and then get this checked by themselves with the correct answers they can easily learn a lot instead of teachers dictating them right and wrong. Fay suggests several ways that can make students learn from their mistakes. If student has made a mistake and teacher shows his her empathy and compassion then students can develop in themselves confidence. In addition, they will learn from their mistakes and avoid doing them again. With teacher's kind attitude student will know their tutor really cares. Once student will develop respect for a teacher, the student will himself listen to him/her carefully next time. It has been a common observation that students who get attached with their teachers work harder on their subject then those who don't care for them.
Teacher who's very nice to everyone in classroom, gives them beautiful smile, chat with them, listen to their common problems, pays attention to them, try to get closer to the problem they face while studying and understand them is usually liked by everyone in the class as compared to those teachers who deliver a lecture and go away without having any other concern. Students tend to work harder in subjects of the teachers they like because they want to show their teachers good results and make a good impression about their reputation and studies. So, what really works for teachers is to be compassionate, being a human understand students as humans who need love and attention from them. Instead of getting with them rude and criticizing their work, teachers can easily make students their friend by showing their love and sympathy. If teacher will care for the students then students will automatically take more interest in their studies and will show good results.
With self-management students can always learn from their own mistakes. Fay has described that why empathy and compassion works. It is because that while showing empathy teachers have control over the students. Instead of arousing in them anger they can make them more responsible and letting them solve their problems by thinking and applying different ways. If teachers try to understand students and their problems they can easily workout with students to find a way to solve that problem. Students can simply learn to cope with several issues and problems.
These numerous several skills and strategies can help teachers overcome different obstacles they face in a classroom. Simply by using love and logic techniques several problems and issues in the classroom can be resolved.
References
Teaching With Love and Logic by Jim Fay
Related Topics