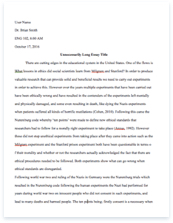 The whole doc is available only for registered users
OPEN DOC
A limited time offer! Get a custom sample essay written according to your requirements urgent 3h delivery guaranteed
Order Now
            The English language is a difficult one to master, even for the native speaker.  Its many rules and exceptions comprise a language that, in conversation and in writing, can be complex.  To the student for whom English is a second language—also known as ESL students—speaking, reading and compositional writing in the American academic setting can be extremely daunting.  Learning English, like any skill, improves with practice.  For the ESL student, English mastery is an achievable goal, even though the learning process may be fraught with frustration.  Therefore, it incumbent upon the instructor to approach students with patience and clarity.  Likewise, it is necessary to select reading and learning materials that are designed to facilitate a greater understanding of sentence structure, vocabulary and diction.  Therefore, the greater the emphasis on reading and writing as supplementary to one another, the more probable that an ESL student will become an adequate writer.
            The overarching goal of the ESL instructor is to help non-native speakers to draw equivalency in meaning between terms and ideas originating from two different languages.  With regard to objects, ideas and principles, the symbols which constitute our words are specific to and different within the context of each language, even when the objects, ideas and principles are universally the same in meaning.  For a student of a language which is foreign to her, comprehensive instruction is an absolutely essential tool for properly applying linguistic meanings to new words.
            In order to be an effective ESL instructor, the teacher must adhere to a host of conditions.  The responsibility of greatest importance to the ESL instructor is in carefully selecting the terminology which is used to convey meaning in bilingual instruction.  The two variables of central concern in conveying an idea or meaning as these are represented in separate languages are the 'source language' and the 'target language.'  The source language is the one within which students are already literate.  An effective ESL teacher will, in the determination of its word choice within the source language and its correspondent target language terminology, abide three primary criteria.
            In defining suitable relationships which attribute equivalence to source and target terms, the teacher must first seek to achieve descriptive adequacy.  According to linguistic expert James Manley, it can be said that a translated term is adequately descriptive if "it is comprehensible and directs our attention to the object under discussion."[1]  Under such conditions, that the terminology is suggestive of a relationship with the object to which it is intended will support the legitimacy and effectiveness of a curricular instruction.
            The second condition of prime importance is the provision of instruction and the use terminology which is not ambiguous in its assertion of meaning.  This can be confounded by the presence of single words that are known to possess multiple meanings in a source language but which are represented by two separate terms in a target language.  Homographs, as these are referred to in the English language, may cause a discrepancy in meaning in spite of the apparently direct literal translation from a source term to a target term.  Such ambiguity must be countered by effective instruction.
            A third criterion for creating an English instruction context is the effective provision in the target language of contexts terms of usage.  The definition for a term which is provided in the target category must be presented under the appropriate conditions for usage within the language rather than as isolated translations unto themselves.  This is where the efforts of a dynamic instructor will be important.  A good ESL teacher will focus on ways of presenting term definitions by imposing description in such a way as to show how the term can be used in all manner of conversational circumstances.  That is to say that a curricular structure and content choice will be shaped in a significant way by the requirement to help bilingual students learn an applicable language rather than static translated terms.  This third criterion is important as a guideline for enabling students to eventually form sentences and conversations in the target language with complete flexibility.
            As a foundation to this set of recommendations, a major goal of the ESL teacher when teaching definitions, usage and accent must be simplicity.  The clarity of the translation and explanation will have an impact on the student's ability to make it a part of her usable vocabulary.  In determining the best way to evaluate the simplicity of the relationship defined between the source and target terms, the teacher must consider the target audience.  The most populous common denominator must be accounted for when gauging the level of linguistic proficiency used to instruct those with a particularly limited capacity in the target language.  Therefore, in order for a bilingual instructor to satisfy her responsibilities, she "should model the lexical competence of a bilingual speaker."[2]  As this is a variable with a great deal of range, simplicity must be considered essential when planning for a developing bilingual's abilities.
            One of the more complex snares of bridging the language gap through the universality of certain ideas occurs when cultural differences create communication barriers.  Where concepts and ideas are unique to specific cultures with their own language and dialect sets, it may be the case that linguistic translation is inadequate to provide appropriate meanings to non-native speakers.  This creates a gap between cognitive and translational equivalence as well as in comprehension between instructor and student.  Religious, tribal and other ethnic peculiarities may exist strictly within cultures and language for which there is no meaning-equivalence in other cultures and languages.  Here, cognitive equivalence is absent and, in its place, a danger exists that translational equivalence could be inaccurately substituted.  If a curriculum is not constructed in such a way as to discourage such misapplication of meanings, this equivalence discrepancy could prevent the bilingual student from properly using the target language.  In this sense, the speaker would be instructed toward expression rather than toward comprehension of the language in question, providing the likelihood of distortion in communication.
            This offers the ESL teacher a dilemma.  This teacher must decide how to convey cognitive equivalence even in the absence of a direct literal translation.  That challenge illustrates the unique difficulty in creating a bilingual curriculum, which proceeds from the overall philosophical nature of language development, that an instructor must understand not simply the languages at subject but also the cultures from which they are derived.  Such is a considerable responsibility for the ESL teacher, who will ultimately have a profound influence on both selected content and on selected interpreted approaches.  Thus, a preference which is typically sited in the general ESL instructor is that he or she be a native speaker of the target rather than of the source language.  An intimate knowledge of the meanings intended in target phrases will enable the teacher both to better orient the curriculum toward sensible cross-checking and to more effectively assimilate cultural considerations relevant to the target language.
            This speaks to the main function of the ESL teacher, which is to aid the student in understanding the relationship between terms in her native language and those in a target language as they are effected by their commonality in applied meaning.  That means that a primary role of the ESL teacher is, more than to offer linguistic translations, to offer an assessment of the target language that is reflective of general communicational goals.  Such is to say that the ESL instructor must be oriented toward initiating the foreign speaker, by way of her understanding of the source language, into an understanding and subsequently a usability of the target language within its native context.
            A rule which must be considered when pursuing this complex but necessary aim is the separation of goals.  When attempting to provide appropriate definitions to entries, an instructor must consider respectively the goals of applied linguistics and the functions of individual terms.  Ultimately, the instruction method should enable the user to integrate into her vocabulary the terms found in the target language, where it is the case that the source language is her native tongue.  Likewise, curriculum should ultimately be geared toward allowing the student to comprehend a non-native spoken or written language through active classroom usage.
            This is a requirement that ties directly into the instructor's conception of his users' collective skill proficiency.  Again, this is a variable which spans a wide spectrum of possibility, providing the teacher with the demand to account for the assumption of a modest, catch-all skill proficiency level.  This means that brevity, directness and an overall absence of ambiguous description will help to contend with proficiency levels of any degree.
References:
Manley, James – Jane Jacobsen – V.H. Pedersen. 1988. "Telling lies efficiently:   terminology and the microstructure in the bilingual dictionary". in: Jensen          Hyldgaard (ed.), 281-302
Piotrowski, Tadeusz. 1994. Problems in bilingual lexicography. Wrocław: Wydawnictwo          Uniwersytetu Wrocławskiego.
Related Topics