Summary of "the Order of Things"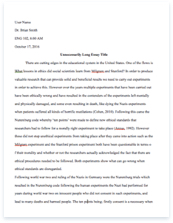 The whole doc is available only for registered users
Pages: 2
Word count: 446
Category: College
A limited time offer! Get a custom sample essay written according to your requirements urgent 3h delivery guaranteed
Order Now
Recently, the ranking system of U.S. News and World Report is increasingly being questioned. " The Order of Things", an article written by the bestselling author Malcolm Gladwell and published in the prestigious New York magazine, criticizes the methodology used by U.S. News and World Report. According to Gladwell's article, some fundamental changes should be made in the U.S. News ranking system to improve the fairness and accuracy of the rankings. The first change should be made is to choose particularly effective proxies. An example of these problems is in the category of "faculty resource". U.S. News uses "faculty salary" and "percentage of faculty with the highest degree in their field" to measure the quality of a student's contacts with faculty. However, some educational researches show that salaries and degree attainment have nothing to do with educational quality. Another problem is reputation score. According to the system, 90 per cent of the reputation score are based on " peer assessment survey" and " high school counselor' rating".
However, those people under survey cannot have any specific insight into every school they are required to rank because of some factors such as geography or knowledge. Furthermore, people will rely on the U.S. News ranking to grade schools if they know nothing about those schools, resulting in a vicious circle. Gladwell suggests that employing one-dimensional rankings and created by people with specialized knowledge can improve the accuracy of reputation scores. The second change should be made is to reevaluate how much weight the ranking system should assign to its variables. An important aspect the system overlooks is "price". As Gladwell says, the ranking system of U.S. News gives weight to "financial resources" denoted to educating students, but doesn't include tuition as a variable. Actually, students and their families really care about the price their schools charge.
Moreover, rewarding a school for being affordable will ease the rising cost of college, which has become a significant social problem recently. U.S. News should take the "price" into consideration and gives appropriate weigh to it. Competing value is also a big problem. "Student selectivity" and "graduation rate performance" are both important statistics for measuring college quality, but they reflects two competing values, selectivity and efficacy. Selectivity gets twice as much weight as efficacy. No doubt that this standard will do worse to the accessibility and affordability of American higher education. So U.S. News should reconsider the weight it gives to these two variables, not just measuring wealth of college. U.S. News rankings system of colleges and universities is now faced with a crisis. With the fundamental changes discussed above, the rankings will become fairer and more accurate.
Related Topics