Stereotypes and Social Inequality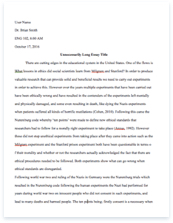 The whole doc is available only for registered users
A limited time offer! Get a custom sample essay written according to your requirements urgent 3h delivery guaranteed
Order Now
There are many types of social inequality, including racial inequality. Society has created stereotypes that generalize a group of people on the basis of their looks- judging with bias. Racism, or racial inequality, is not simply the segregation of African Americans and Caucasian. It also includes tightly clutching one's purse when an African American walks on the elevator, when one scoots farther away from the African American that sits in an adjacent seat, or just the guarded look of caution as voices hush when an African American passes by. However, it is not just African Americans that are suffering from racial inequalities. Asians, Hispanics, and many other ethnicities are suffering from the same issue; albeit different obstacles due to the stereotypes implemented in each culture from society.
Stereotypes do not define a person- nor do they define an entire group. You can never stereotype people based on their appearance as you do not know what they are going through until you have walked the same path they have in their shoes. For example, Asians are frequently dubbed as a "model minority," being portrayed as more educated and successful, but lacking social skills. Due to the generalization imposed on them, Asians suffer from always being compared to a high standard and facing unreasonable expectations because of this stereotype. Asians also struggle career-wise, as they are encouraged to pursue STEM related jobs rather than non-technical careers since they are perceived as being socially inept. As a result of stereotyping, the generalization of a group of people being placed on an individual drives social inequality and increases the ramifications of it.
No one is born knowing what racial inequality is. It is a mindset that is taught and implemented through noticing physical attributes that match with a stereotype and thus influencing one's actions during that time. The first step to ending racial inequality, and in the big picture, social inequality, is to eliminate the encouragement of stereotyping. Racial inequality affects many things, including education, violence, and poverty. Stereotyping is everywhere: from the limit on the number of Asian Americans accepted into college to allow other students to have a chance as well to asking in almost every type of application to fill out and indicate a race. These special preferences perpetuate the mindset that only serves to make stereotypes stronger. Each culture has a particular stereotype that is present, and simply by being present, the question represents a generalization that follows each culture.
Related Topics