Stereotype ("My Body Is My Own Business" Naheed Mustafa)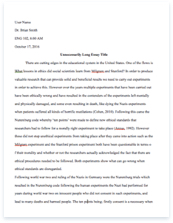 The whole doc is available only for registered users
A limited time offer! Get a custom sample essay written according to your requirements urgent 3h delivery guaranteed
Order Now
Stereotypes are the defining and labeling a specific group of people. All of us have a range of images of people, places, or things which are unique to our personal outlook, but these are of interest our mentalities which appear in our instant. Impacts of stereotyping in our multicultural groups are serious; it will mislead our ability of judgment. In "My Body Is My Own Business" Naheed Mustafa discusses her reasons of wearing the "Hijab", although she is not required to wear one, she does so anyway to strengthen herself. Stereotyping is a method to labeling people, but it will confuse us and we will unable to observe the truth of people in characteristics, ability and personality.
The characteristics with the race and religion of a person will not picture their identity. All Asian look and think alike, all Catholics care for the religion more than their country and all Germans are Nazis and war makers. We always analysis people and attach the result with stereotypes from cultural aspect rather than from our own experience with the groups. "I often wonder whether people see me as a radical, fundamental Muslin terrorist packing an Ak-47 assault rifle inside my jean jacket." (Mustafa, 508) As we can see, culture and religion are major cause of stereotypes. Identify others outlook and dressing, consideration with the idea of terriosts and cold blooded with life sacrifice will appear. We're educated to be smart and clever in this multicultural society, but we can't stop the stereotyping because we are living in it.
Everyone is born will equal strength, the diversity of our abilities will be determine by our effort. Stereotyping is a natural function of a human which we often use to value one another. The term "freshman" on school and work field brings an image of a naive newcomer who is not familiar with both the social and academic life of a place. "Strangers speak to me in loud, slow English and often appear to be playing charades." (Mustafa, 508) The perspective of the society to see a foreigner as the author describe is inequity. People use to underestimate with ones ability in English, and will be surprised when the one speaks with fluent language. This result of stereotyping with others ability and will create unfair treatment dealing with issues like searching for an occupation.
Personal outlook is the key element to highlight your identity; people use to judge one another by their manners of speaking and neatness of dressing. "The Koran teaches us that men and women are equal, that individuals should not be judged according to gender, beauty, wealth or privilege. The only thing that makes one person better than another is her or his characters." (Mustafa, 508) In Koran's theory, he indicates that we should go for the inner beauty other than the outlook of a person. It's rather difficult to come true in the multicultural society that we live in because of stereotyping. In "My Body Is My Own Business", Naheed Mustafa was covered up because she's lack of confidence to show her face along with her culture instead of the strength she claims she has.
The nature of human is to compete with others; we compare and contrast our strength and ability in order to highlight ourselves. Stereotypes examine a beliefs and values about people. In other words, stereotypes encourage people to emphasize an image to a group or individual, but there's also disadvantage which it's damaging to us with our behavior.
Related Topics