Socio-cultural Assessment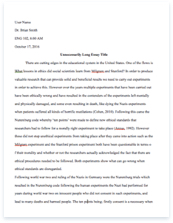 The whole doc is available only for registered users
A limited time offer! Get a custom sample essay written according to your requirements urgent 3h delivery guaranteed
Order Now
Socio-cultural assessment is realising and understanding the way a child responds to challenges and change. Their responses and perceptions are based on the world in which they live. Their understanding of the world comes from the values and beliefs of the adults, community, socio-economic status, education and culture that surround them. (Mooney, 2000). When making an assessment on an individual child it is necessary to consider the background and culture in which they exist. Berger (2005), states that "human development results from dynamic interactions between developing persons and their surrounding society and culture." (p.45).
Every child is influenced by their own individual socio-cultural and historical environments. Infants are by nature attuned to engage with the social and cultural environment of their family and the wider community they live in. All environments are culturally constructed, shaped by generations of human activity and creativity, and fashioned by their complex belief systems. The way parents care for and teach their children is largely shaped by their cultural beliefs about what is appropriate and desirable, in terms of both goals of child development, and the means to achieve these goals. (Rogoff, 1990).
A socio-cultural perspective of learning promotes social interactions with more knowledgeable others, therefore extending children's capabilities. It is encouraged that knowledge from all cultures within the centre is shared rather than belonging to the individual. (Dahlberg, Moss & Pence, 1999). Te Whāriki believes that, "The early childhood curriculum supports the cultural identity of differences, and aims to help children gain a positive awareness of their own and other cultures". (Ministry of Education, 1996, p 16).
Active participation in these learning experiences will enable children to participate increasingly effectively as learners in their cultural communities, therefore allowing them to make better sense of the wider world they live in. (Dahlberg, Moss & Pence, 1999). Te Whāriki contribution goal 2 states, "Children develop a sense of "who they are," their place in the wider world of relationships, and the way in which these are valued". (MoE, 1996, p.68).
The socio-cultural perspective of development derives from the work of Russian psychologist, Lev Vygotsky, who held the view that children are products of their social and cultural worlds, and to "understand them we must comprehend the social, cultural and societal contexts in which they develop" (Berk & Winsler, 1995, p.1). Vygotsky believed that because cultures differ in the activities they emphasise, and in the tools they use, all human activity and mental processes lead to knowledge and skills that are essential for success within a particular culture. Adults or other community members guide children's participation in activities to promote the development and knowledge of these skills. (Berk & Winsler, 1995). "Vygotsky's socio-cultural theory asserts that complex forms of thinking have their origins in social interactions rather than in the child's private explorations" (Boyd & Bee, 2006, p. 40).
Within this theoretical framework, an effective learning strategy is scaffolding, which assumes the role of teachers and facilitators to be instigators of the learner's development. They provide support structures for children to progress to the next stage or level of cognitive development through collaboration and interaction with others. The various means of assisted performance include modelling, feedback, instructing, questioning, and cognitive structuring whereby the student transitions from other-assistance to self-assistance to unassisted internalised learning. (Raymond, 2000). Te Whāriki values this belief by suggesting, "Adults provide "scaffolding" for the children's endeavours – supports and connections that are removed and replaced when and where they are needed". (MoE, 1996, p.43).
Vygotsky's term scaffolding refers to the process by which a teacher or more knowledgeable peer assists a learner, altering the learning task so the student can solve problems or perform tasks that would otherwise be out of reach. An important aspect of the effective scaffolding instruction principle is that the scaffolds are temporary. As the learner's abilities increase, the scaffolding provided by the more knowledgeable other is progressively withdrawn. (Penrose, 1998). Scaffolding is based upon a learning theory with the underlying assumption that collaborating individuals are active agents who are purposefully seeking and constructing knowledge within a meaningful social context. "Vygotsky believed that learning and development are similar but not identical. The combination of instructing the child and honouring the child's individual development optimises learning." (Mooney, 2000, p.94).
Vygotsky defined ZPD as the distance between the actual developmental level as determined by independent problem solving and the level of potential development as determined through problem solving under adult guidance or in collaboration with more capable peers. (Berger, 2005). The teacher's role within the socio-cultural framework is to support the learner by providing content that is neither too simple nor too hard for them to attempt. In this way, the learner is elevated from their current level to a higher level of understanding and cognitive development through scaffolding. (Rogoff, Matusov & White, 1996).
Engaging the individual or group in their ZPD, the facilitator initially provides extensive instructional support, or scaffolding, to continually assist them in building up their understanding of new content and processes. Te Whāriki suggests we implement this theory by supporting and extending children's play without taking control or unnecessarily interrupting them. (MoE, 1996). "Under this Vygotskian socio-cultural concept, teaching and learning becomes more effective when it is based on the next stage of the child's development rather than on the current stage of development" (Hausfather, 1996, p. 5).
The influence of socio-cultural theory on early childhood education, has resulted in a broadening of our understanding of how and what children learn. Socio-cultural theory challenges us to widen our perspective beyond that of the individual child. Children should be viewed as inseparable from their social contexts; their knowledge and understandings are seen as embedded within socio-cultural practices. As Fleer (as cited in Edwards, 2003) explains, "meaning occurs in the context of participation in the real world" (p. 128).
As teachers, it is important that we have an excellent knowledge of the sociocultural theory. We must do more than simply watch children grow, by providing a range of developmentally appropriate activities. Te Whāriki says it is important that we play an active part in children's learning by encouraging co-operative play, scaffolding techniques and frequently observing and offering assistance when required. (MoE, 1996). We must not under-estimate the early childhood curriculum Te Whāriki as it provides educators with a valuable framework for working with infants, toddlers and pre-school children. The four principles and five strands provide strong support for a socio-cultural approach to early childhood.
References
Berger, K. (2005). The Developing Person. Through the Life Span. (6th ed.). New York: Worth Publishers.
Berk, L. E. & Winsler, A. (1995). Scaffolding children's learning : Vygotsky and early childhood education. Washington, DC : National Association for the Education of Young Children.
Boyd, D. & Bee, H. (2006). Lifespan Development (4th Ed.). NY: Allyn and Bacon.
Dahlberg, G., Moss, P., & Pence, A. (1999). Beyond quality in early childhood education and care: Postmodern perspectives. London: Falmer Press.
Edwards, S. (2003). New Directions: charting the paths for the role of sociocultural theory in early childhood education and curriculum. In Contemporary Issues in Early Childhood. 4(3),pp. 251-266.
Hausfather, S. J. (1996). Vygotsky and Schooling: Creating a Social Context for Learning, Action in Teacher Education. 18 (1-10). Retrieved May 17, 2007 from http://chd.gse.gmu.edu/immersion/knowledgebase/theorists/ constructivism/vygotsky.htm.
Ministry of Education. (1996). Te Whāriki, He Whāriki Matauranga mo nga Mokopuna o Aotearoa: Early Childhood Curriculum. Wellington: Learning Media.
Ministry of Education. (2004). Bicultural assessment, He Aromatawai Ahurea Rua. In Ministry of Education (Ed.), Kei Tua O te Pae Assessment for
Learning: Early Childhood exemplars (Book three). Wellington: Learning Media Ltd.
Mooney, C. (2000). Theories of childhood. An introduction to Dewey, Montessori, Erikson, Piaget & Vygotsky. MN: Redleaf PressPenrose, P. (1998). Take another look. Tirohia Anõ. A guide to observing children. He momo ćrahi ki te tiro I ngć tamariki. (2nd ed.). Auckland: New Zealand Playcentre Federation.
Raymond, E. (2000). Cognitive Characteristics – Learners with Mild Disabilities. Needham Heights, MA: Allyn & Bacon.
Rogoff, B. (1990). Apprenticeship in thinking: Cognitive development in social context. New York: Ozford University Press.
Rogoff, B., Matusov, E., & White, C. (1996). Models of teaching and learning: Participation in a community of learners. In D. Olson & N. Torrance (Eds.), The handbook of education and human development: New models of learning, teaching and schooling (pp. 388-414). Cambridge, MA: Blackwell Publishers.
Related Topics