Social Inequality in the Family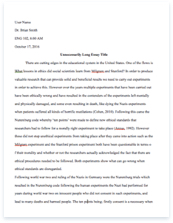 The whole doc is available only for registered users
A limited time offer! Get a custom sample essay written according to your requirements urgent 3h delivery guaranteed
Order Now
Social inequality can be defined as the existence of unequal opportunities as well as rewards under various statuses and positions within a society or a group. Families are still important in the contemporary world as they ensure a good and bearable society (Cohen, 2015). Despite the family being overlooked and ignored in the stratification research, it has increasingly been attributed to many demographic and social changes. I am on the pro side of the argument that the family contributes to social inequalities. Inequality in modern families is common especially in cases where there are sour relationships. The sour relationships may be rise as a result of selfish acts, greed, and discrimination. However, this is reflected in the general society hence propelling acts of social inequality. It is clear to assert that the family contributes to social inequalities.
One way that the family contributes to social inequalities is through how wealth is handled. Modernized families have embraced the fact that wealth unites family members because it ensures that the family line exists. According to a report conducted in the United States, parents continue to pass wealth to their children but this may differ since families have different amounts of wealth (Fahey, 2015). In addition, modernized families have been agents of social inequality because they act as patriarchal units. In other words, men in families are seen to be dominating because they are the ones who work in industries and organizations while women are left at home to attend homestead activities. Through this reason, men accommodate a perception that they should be at the top of the social hierarchy in the society. This fuels acts of social inequality across all aspects of society hence viewing women as dependants and subjects.
Again, the family should be a source of support, care, and comfort. This is because the family members are expected to love each other and help each other in times of difficulties. However, many families do the opposite thus being very far from being harmonious and happy. In addition, family members argue, shout, fight and use emotional cruelty as well as physical violence against each other over small things. This propels social inequality in these families since some members are favoured while others are left out. According to Calder (2016), the wider society is affected when people express feelings of being hurt and aggravated which is characterized by fights, insults and physical abuse. As such, society becomes unbearable to stay because the practice of equality is violated.
The amounts of income and wealth that families receive may also have an impact on the practice of equality in society. Families that earn low-income are subject to being affected by many negative events such as poor health, death, victimization, and unemployment among others. These negative events affect the entire class in the society thus life becoming harder. More so, the majority of these negative events lead to great amounts of stress and developmental problems. According to Cohen (2015), the fact that families receive different income may lead to social inequality in society. This is because some people may be tempted stealing from others as a way of trying to meet their needs. As a result, social inequality continues to halt development of the society as well as interfering with the family setup.
In summation, it is evident that families contribute to social inequalities hence affecting the wider society. A family is a social unit that is expected to be a source of comfort, security, and peace regardless of the available circumstances or situations. However, the modernized families have abused the importance of equality out of the love for wealth and material things. As a result, this has affected the society negatively hence worsening the already existing relationships. In addition, a lot of unbearable evil acts such as crimes, violence, fights, inequality, and cruelty are practiced thus diminishing the importance of families as social units. For that reason, family members should seek to ensure equality as a way of countering negative vices in society as well as ensuring peaceful relationships. The initial position that families had should be restored.
Related Topics