Snowboarding Is Better Than Skiing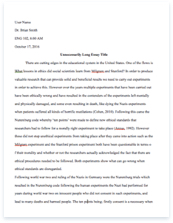 The whole doc is available only for registered users
A limited time offer! Get a custom sample essay written according to your requirements urgent 3h delivery guaranteed
Order Now
Snowboarding is one of the greatest contributions to mankind. Its one of the fastest growing sports among the sporting industry in the United States. It attracts men, women, and children of all ages, professions, ethnicities, and skill levels. Snowboarding is not simply fun, exciting, but its also easy and is a good source of exercise. Every year more and more people are trading in their two planks for a nasty snowboard setup. Snowboarding has not only had positive aspects for itself, it has made some powerful contributions to the development of other aggressive sports such as, freestyle skiing, snow blade-skiing, and it even brought skateboarding back to life. These many things snowboarding does for our lifestyle make it the greatest snow sport ever.
Over the past ten years snowboarding really has hit it big. In the year 2000, snowboarding was the fastest-growing sport in the United States, skateboarding was a close second, the number of people who went snowboarding in 2000 increased 51.2 percent from the previous year to a total of just over 7.2 million participants. Downhill skiing grew by just 6 percent, with a total of 14.7 million participants.? People like the new feeling in a change; they want something different from what they are accustomed to. Snowboarding is change, rather it?s a ?gnarly? change, it?s hip and in style.
We see the affects of snowboarding styled clothing trends everywhere, in all different brand names, Oakley, Old Navy, Britches, Vans, and even in the styles of Abercrombie and Fitch. Why you might ask have we seen that? Cause it sells, people like it because it?s hot! Snowboarding is the new rage and unlike most of the other cool hip sports it attracts and appeals to all people. It?s not to uncommon to walk the slopes of the mountain and find a snowboard instructor giving lessons to all kinds of Americans, Asian, Indian, African American, Caucasian, Spanish, Mexican etc. It?s so cool that all type of people with many different backgrounds can share such an interesting and fun sport.
Snowboarding has an easy and rapid learning curve. Theres a good chance a person that has been riding a season can tackle the difficult terrain of a mountain. The feeling of a snowboard is a more natural position than that of a pair of skis. The sport is also a good exercise, it works out the lower part of the body strenuously as well as a majority of the upper body. Playing hard and long helps your body in weight loss. Every year more and more people are trading in their two planks for a nasty snowboard setup. Snowboarding is much easier on the knees then skiing, years of skiing can have its toll on the delicate parts of the knee. Snowboarding gear is a lot more comfortable and has more of a relaxed feeling then ski equipment. Even skiers that have changed over to boarding agree it is a lot easier on the body, plus it?s just a lot more fun! All aggressive sports are on the rise because people want something that can give them the satisfaction of accomplishment, courage, and hard work. Skateboarders first used snowboarding as a winter sport for practice.
These skateboarders were for the most part ?punks? and were the same people that gave snowboarders today a bad reputation. However those kids treated these two sports as their life. Skateboarding unfortunately faded out and the booming success of inline skates superseded. When snowboarding started hitting it big in the early ?90?s, skateboarding started to awaken again. Now the two sports clench the top spots for fastest growing among Americans. These two very acrobatic sports were popular, the concept was simple, fun and easy too, most boards were twin-tip, meaning they could be ridden either way; there was no definite tip or tail.
The skiing industry soon caught on that this was the way to go, and this became the evolution of the twin-tip freestyle ski we see today. Twin-tips are as hot you can get with a set of skis, no joke. Thanks to snowboarding the skiing industry shed its nerdy old style of skis. Based on the same twin tip design came the ?ski blades?, basically really short skis or snowboards that resemble the feel and play of inline skates. These too have become really popular over the year because they are relatively inexpensive and they adjust to fit different boots, so the whole family can use them.
Related Topics