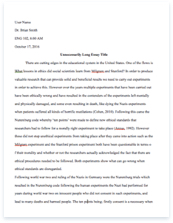 The whole doc is available only for registered users
A limited time offer! Get a custom sample essay written according to your requirements urgent 3h delivery guaranteed
Order Now
I'm _______________ and I am with the __________ investigative team. We arrived on the scene at 1:45 at Queeine and Arthur's house. We found the body at the foot of the steeps face up where it looked like Arthur was going up the stairs and fall backwards. The only thing is when you are going down stairs you don't fall with you head would be lying at the end of the stairs and his feet were on the stairs. Queenie said that "he was coming down for another drink and slipped and fall on the stairs," but how did she know? If she was there when it happen why did she not call the cops? Her friends said she went to the door saying "something terrible happen," no emotions.
His clothes was all neat but if you fall down you usually hit something and maybe one of his shoes or not both would come off but they didn't. He would have hit the wall or possibly the pictures and mirrors would come off or the rails would be broken. Nothing was broken when we arrived, not even a little crooked. Arthur sill had a glass in his hand and when you fall you try to stop from falling and grip on to something and the glass would probably be broken if you come down stairs. When we walked in we smell something cooking, why would you be cooking this early in the morning and when someone is died.
Maybe she hit him with the frying pan and tried to get all the finger prints off so that she would not have to go to jail. We walked over to the body and picked it up, no blood was found on the stairs and no trail was there. The autopsy found that he dies from a head wound and that he had been drinking. The motor was that they had a big fight and she was mad so I think she went and tried to make him to know that she was mad but I don't think she meant to kill him, but sill when you kill someone you are a killer. She had enough time to do it because she arrived ten minutes before her friends. I think Queenie is laying and is guilty. She is a killer and needs to be but behind bars before she does it again.
Related Topics