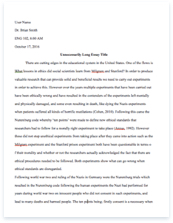 The whole doc is available only for registered users
A limited time offer! Get a custom sample essay written according to your requirements urgent 3h delivery guaranteed
Order Now
Specific Purpose: To inform my audience about several unexpected benefits that we can get from eating breakfast. Central Idea: People who normally consume breakfast will get several benefits not only on their health but also their weight. Introduction
How many times have you skipped breakfast because you are too rushing to go to class? Many of you may think that breakfast is not such an important meal. However, you may not notice that just a quick ten minute breakfast can somehow change your life. Surprisingly, many of you who are on diet may not know that not eating breakfast is not going to help you lose any weight but gain more instead. In my speech you will receive lots of unexpected information that you may never think of. Therefore I would like to divide my speech into two main parts, (1) the benefits of breakfast on your health (2) how breakfast can help you to reduce weight.
Transition: [Let's start with the first main part, how breakfast is good for your health
Body
1. Benefits of breakfast on health.
A. Skipping breakfast is like when you forget to fill some gas in your carHaving breakfast in the morning, it will help body to produce Glucose and other essential nutrients such as, calcium, B6, Foliate, and Iron. Skipping breakfast our body will stop producing glucose. But then our body will release another kind of glucose instead, which is called glycogen, this kind of glucose normally be stored in our lungs and liver, but will come out to serve our energy when there is no normal glucose that we get from food. And if, this glycogen has been used, the body will next break down the fatty acid. This fatty acid will automatically reduce our energy level which causes us not to be able to concentrate in class, and hard to joy other activities (Breakfast, 2008).
B. Some menus of breakfast such as high fiber cereals can help men to reduce the risk of heart disease, stroke, and diabetes (Breakfast good for, 2005)
[Transition: Let's move to the second part of my speech. This part is all about how breakfast helps you to improve your weight]
2. How many of you think that skipping breakfast will help you with weight loss? A. According to Harvard Men's health Watch, a research suggested that people who don't like to consume breakfast tend to have bigger body shape than the persons who do. (Healthy breakfast, 2007) B. Another research on 2,000 young girls from age 9 -19 shows that girls who regularly consume cereals as their breakfast have less weight problems than girls who do not. For those who occasionally consume appear to have 13% higher risk of becoming overweight, if we compare to those who usually consume (lose weight, 2008). C. This is because every time you skip breakfast you low yourself the metabolism rate and also your blood sugar rate. This will make you become hungrier on the rest of your day. Some people turn to have some snacks and chocolate instead of a bowl of cereal, some others have gone wild with their lunch and some obsess with their dinner (Ibid).
Conclusion
In conclusion, if you find yourself skipping breakfast because you are too rushing for the class or you think that it will make you fat. I hope all of you will have a new perspective towards the idea of having breakfast. Since breakfast can give you numerous positive effects both on your health and your weight.
References
Breakfast: better health channel (2008) Retrieved January 17, 2009 from http://www.betterhealth.vic.gov.au/bhcv2/bhcarticles.nsf/pages/Breakfast?OpenDocument
Breakfast and your health (2007) Retrieved January 16, 2009 from http://www.revolutionhealth.com/healthy-living/food-nutrition/food-basics/control-eating/breakfast-metabolism-appetite-control
Breakfast good for your health and good for your weight control (2005). Retrieved January 17, 2009 from http://www.medicalnewstoday.com/articles/19698.php
Healthy breakfast; the best way to begin your day(2007). Retrieved January 18, 2009 from http://www .mayoclinic.com/health/food-and-nutrition/NU00197
Related Topics