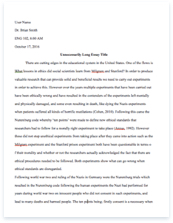 The whole doc is available only for registered users
A limited time offer! Get a custom sample essay written according to your requirements urgent 3h delivery guaranteed
Order Now
In this case analysis we will discuss Organizational Behavior, Decision making, Organization's culture, Diversity, Values and leadership behavior. Today relatively small differences in performance between companies, such as in the speed at which they can bring new products or services to market or in how they motivate their employee to find ways to reduce costs or improve performance, can combine to give one company a significant competitive advantage over another. Managers and companies that use proven management techniques in their decision making and actions increase their effectiveness over time. Companies and managers that are slower to implement new management techniques and practices find themselves at a growing competitive disadvantage that makes it even more difficult to catch up. This case is all about implementing new management techniques like empowering employees and engaging in adaptive organizational culture. Simmons had the competitive advantage over competitors for almost a century. Simmons History
Simmons, a mattress manufacturing family run company, with a history of over 130 years, started manufacturing in 1876 with nine employees and a $5000 investment. Founder of the company Zalmon Gilbert Simmons in 1875 decided to change their business from wood products to woven wire mattresses, which resulted in great profits to the company. In early 1920's Simmons had factories in Mexico City, London, and Paris with international operations which is unusual for the era. By 1936, the firm's overall sales reached $42 million with more than 16,000 retailers carrying Simmons products. By 1978, the company was operating in 15 countries around the world and this is the time Simmons started early forms of Employee Stock Ownership Plans (ESOPs) although it was formalized in 1989.
As a socially responsible company, Simmons also contributed products like bunk beds, tents, parachutes and more for solders during war situations. Simmons multiple contributions to public life and society raised the profile of the company with endorsements with public and famous figures. It also introduced programs like "zero waste" projecting its environmental responsibility. In 1975, the Simmons corporate headquarters moved to Atlanta, Georgia followed by research and development team. In 1978 Simmons ceased to be a family-run business and Theodore Greeff became the first person outside of the Simmons family to become CEO of the company and thereafter company had come across succession of many owners, leaving Simons unstable and without long term vision.
This is the first point where, the fear of the unknown started among the employees and the top managers. Simmons reduced its concentration to the 18 bedding manufacturing facilities that made mattresses from start to finish with help of over 2,800 full-time employees. The most recent owners Fenway Partners bought Simmons from Investcorp in October 1998 and Charlie Eitel has been appointed the new CEO of the company as he has the track record of turning companies around. Charlie has bought about a number of changes in the organization since he assumed the office. His endeavor is to make company a place where people eager/love to work and with whom customers like to deal with.
I. Analysis and insight of Problems faced by Simmons
i. Diversity, Role of Conflict and no Organizational Structure Of several problems faced by Simmons the major problem was that there was no clear organizational structure for the company and role conflict existed. Most of the associates were reporting to General Managers who were basically Sales Managers, and according to Charlie Eitel, did not have business acumen. All the manufacturing units were running as per the General Managers whims. This Control vs. commitment situation can be clearly seen when Bob Hellyer President and Director of Simmons converse with new incoming CEO Charlie Eitel. He had a track record of turning companies around. Out of five floor-covering companies he had worked, he was successfully turned around three companies. By 2001 Simmons had undergone several changes of fortune, bought and sold multiple divisions. Simmons management has a business goal: reduce costs, improve performance/productivity and raise profits, which made its main task to refocus on its historical roots, making mattresses.
In 2001 Simmons introduced a new mattress size, 10% bigger than the queen but that fit the frame of queen, also developed the Pocketed Cable Coil for a more durable, comfortable mattress. He made a heavy bet on A re-designed version of the Beautyrest, Simmons's 75-year old flagship brand and he knew very little about mattresses. Simmons rolled out a $9 million ad campaign in May 2000 and enjoyed an immediate 25% increase in sales attributed to the new Beautyrest. Six weeks after taking the helm and getting input from Hellyer, a longtime company veteran, Eitel completely reorganized management, spending $3.8 million in severance pay to lighten the executive ranks by 14 people He hired 4 top executive in 2001. He reduced its concentration to the 18 bedding manufacturing facilities that made mattresses from start to finish with help of over 2,800 full-time employees. In his first meeting addressing the corporate employees he dressed in Khaki pants and a polo shirt which is a huge cultural shock to employees.
In addition, along with the rest of the U.S Economy from the fallout of the September 11th terrorist Attacks, which is External Locus of Control, Simmons had to deal with the declaration of bankruptcy by three of its biggest customers in the prior few months. Those three customers had represented $110 million of Simmon's roughly $658 million in sales. To make things more worse one of Simmons's main supplier had shipped defective Foam which started to give terrible smell after it has been incorporated in products Internal Locus of Control. Getting rid of the products and raw material resulted seriously in compromising the production schedules and threat to company's profitability. Simmons was in its toughest period of time ever in history. For the first nine months in Charlie Eitel's leadership there was a sales decline of 6.1%. Despite the sales decline in the initial stages of Charlie Eitel's management company made profits. Charlie Eitel Said "Although our sales levels were impacted by the weak economy and the failure of several key customers in the last year, we are pleased with our third quarter operating performance."
There are several forces (Economic shocks are the most important stimulants to change at Simmons) that require Charlie Eitel, CEO of Simmons, to implement comprehensive change program, i.e. the Great Game of Life (GGOL). However, the implementation of GGOL faces huge resistance. Based on the congruence model, we can find disconnect between Simmons' current culture and both its strategy and Eitel's desired culture of empowerment, strong customer relationships and innovation. There are also aspects of the tasks and people that don't fit with the firm's strategic goals, such as production processes that likely differ among plants since they don't share newfound ways to improve efficiency with one another. Janesville Wisconsin plant was an exception largely due to the leadership of Tony Saliture who had started working for Simmons in 1951 ultimately becoming the general manager of the plant which opened in 1980.He had a kind of personal relationship with each and every employee of his plant.
In addition, Eitel has the self-assigned tasks of improving customer relationships and personal employee development. In terms of formal organization, Eitel recently altered the company's structure by eliminating the General Manager position, in an attempt for the manufacturing plants to operate as "18 of one" rather than "one of 18." There is resistance to change. (The sources of resistance are derived from both individuals and organization.) Besides the resistance to change, the dominant organizational culture exists within Simmons is not in consistency with the Simmons' core organizational culture. This inconsistency further hinders the Simmons from implementing change programs smoothly. As a consideration leader or Supportive leader, he tried to crosslink different parts of groups, empower employees, indoors, certain boundaries and make employees support each other. Charlie Eitel also focused on leadership as team's obligations and responsibilities to themselves and other constituents.
Simmons workforce vision was a statement about associates right and responsibilities. Making the companies a place where people like to work and with whom customers like to deal with. The differences in motivation between the typical manufacturing plant and the Janesville plant lies in the type of value reinforcement that is present. Negative value reinforcement or avoidance and punishment are the motivating factors seen in the typical plants at Simmons. Workers were motivated to perform through fear, as discipline was administered through a plant "sergeant" who walked the plant "as though he were on patrol". Workers had no intrinsic motivation and no terminal values to work hard as they were not recognized for their efforts. The workers only chose to work hard when the plant manager was present, so as to avoid negative repercussion (loss of job).
II. Simmons Culture, Values and Priorities heading to 2002. Simmons Culture and Values:
The Company had established a core set of values since its inception which were:
1. Using history of the company to learn from and inform future decisions
2. Maximizing the opportunities to think creatively about how to solve business problems
3. Embracing innovation
4. keeping customer's needs at the top of the priority list
5. Caring about the associates, the business and the customers
6. Empowering people within certain boundaries
7. Supporting one another
These values have been coined as the acronym CHOICES. (Caring, History, Opportunity, Innovation, Customers, Empowerment, Support) The last three set of values have been added on by Charlie Eitel, to build employee morale and to foster the spirit of teambuilding among the employees. The acronym encompasses the components of culture, way of defining company's core values and expressing how each individual personally makes a difference to the organization. The "code of ethics" at Simmons focused heavily on fairness, respect, integrity and fostering growth and development in others. The workforce vision of Simmons was a statement about associates right and responsibilities. All these things were aimed at creating and maintaining operational excellence.
Simmons leadership vision has been developed from history and its leadership team. As members of the leadership team, provide directions to the organization and associates by laying the tracks for the future. Be Passionate about company's success and are never satisfied with the status quo. Be confident in the strength of team work and empower associates through excellent coaching and training. Reward and encourage new ideas, open communication and having fun. Embrace integrity by continuing to deliver what has been promised, while remaining fair and honest so that all the stakeholders will win.
Efficiency/motivation of employees
The organization was plagued by its culture of dictatorship where there was no sense of team accountability. None of the 18 units were integrated; in fact, even in times of crises, the units did not lend support to bolster the one another. Considering the situation where the company has faced a major loss in terms of three of its best clients and inventory loss due to poor quality foam, it is all the more necessary to salvage the company by injecting a motivating team spirit amongst the employees.
Culture change
The employees lack team spirit, people skills, communication skills (both at a horizontal as well as vertical level), and good leaders. This deficit is required to be addressed and the primary objective should be to determine whether the benefits of implementing a culture change program that will offset the huge capital expenditure involved. As we look into the problems that prevail in the organization the content has to be such that it focuses on team building skills, reducing power distance, augment motivation among employees and uniting various units that are competing instead of working in collaboration. Various components to achieve this objective could be Outbound Activity, Inspirational movie, Management Games, Motivational lecture to encourage change.
Address production/manufacturing difficulties
One of Simmons's main suppliers had shipped defective Foam which started to give terrible smell after it has been incorporated in products Internal Locus of Control. Getting rid of the products and raw material resulted seriously in compromising the production schedules and threat to company's profitability through inventory loss due to poor quality foam, it is all the more necessary to salvage the product.
III. GGOL – The Great Game of Life
The concept of "Great Game of Life" was created by Larry Wilson, the founder of Wilson Learning Cooperation and Pecos River Learning Centers. Wilson was a management expert who devised the concept of Play to win, which later became GGOL or Great Game of Life. Wilson's focus was on helping people realize their full potential at work at all levels of an organization. The motto of the program was to make people free from fear or inferiority complex; it was aimed to make people more aware and to rise in life by making better decisions. The basic idea on which the model of GGOL was based is that to attain a better organizational growth it is needed to have a good organizational culture, sincere customers, and effective leadership.
Wilson asserted that the growth is the combination of the growth at the employee, employer, and customer level and it needs the individual growth of all. The overall change in an organization is based on the changes at individual level and on the support of every individual for implementation of business strategies. The prime component of the GGOL was the ropes course, in which the employees participate in physical events, and they had to tackle the problems as a team. Participants were to have a direct experience of exceeding their own expectation of what they-and their team members-could accomplish. This experience would then be translated back to the workplace where Simmons associates would team up to solve problems on the factory floor and elsewhere in the company. IV. Worthiness of GGOL Program
Since the experiment result at Charlotte Plant is fantastic, I would like to recommend Eitel to stick on his original plan, i.e. adopt the GGOL. Creating a culture for change is the center of this plan. I suggest the following improvements.
They should pay more attention on the employee's feedback. Feedback is incredibly essential for accessing attitudes held by employees, identifying discrepancies among employees, and solving these differences. Survey feedback also makes employees feel their opinions are valued by the company. Simmons should also adopt appreciative inquiry AI. AI focuses on an organization's successes rather than its problem. Employees at Simmons are criticized excessively. Managers should identify the strengths of Simmons, and try to make best use of their comparative advantages and bypass the disadvantages. AI also allows managers and employees to write action plan and develop implementation strategies together. The more people engaged in, the more they are willing to implementing change.
Structure of Simmons should also be reorganized. Eitel should try to de-emphasize hierarchical authority and control. This makes Simmons be more effective in communication. Generally speaking, communication is high and effective in innovative organizations. In addition, de-emphasize hierarchical authority ensures power equalization, which is beneficial to organizational development. Also, employees and management have a vested interest in the company's profits, though a formal ESOP, and since many people's family members work there too.
Related Topics