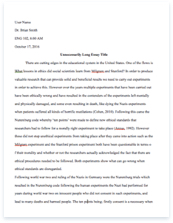 The whole doc is available only for registered users
A limited time offer! Get a custom sample essay written according to your requirements urgent 3h delivery guaranteed
Order Now
Education is the process through which new skills, knowledge, values and beliefs are transferred from a generation to another through teaching, discussion, training or storytelling (Glanz, 2008). On the other hand, sex education is the study of anything related to sexuality like sexual reproduction, activity, reproductive health, sexual abstinence and birth control. Sex education is commonly taught in school programs or health campaigns.
Schooling contributes greatly to the success of a society. To begin with, children are able to interact and share about the ways of life in their respective societies. Through this, schools are used to inculcate values related to family, work, justice and democracy to the learners. In addition, they instruct learners of their political ways of life which is often called political socialization. Schooling is thus a distinctive social organization which employs special personnel to convey significant information to the learners which is significant for future roles and responsibilities (Bruner, 1977).
Equally significant, schooling is vital in social integration where people are unified into a society especially in some countries with a well set social diversity with different cultures at play. Consequently, children and other members of the society who have gone through school are able to interact and appreciate the cultures of other societies thus creating a peaceful coexistence for the country in question.
Schooling is also significant since it helps students in the identification and development of their personal aptitudes or abilities. In addition, schooling helps in evaluation of the performance of a student despite their social backgrounds with the teachers encouraging each student to work in the areas they are good at (Kendall, 2013). Through this, the development of a society is enhanced since innovation and invention are maximally encouraged and different individuals prepared for a brighter future.
The access to education has robust effects on a society. To begin with, education exposes members of a society to any changes in technology and the living styles. This enhances the development of such a society given majority of the population is productive with different individuals specializing in various fields. Education is therefore the key to development and civilization of any society (Behrman, 1996).
In the same token, education is significant since it exposes members of a society to the rest of the world, teaches them about the cultures of other societies and the need to appreciate the culture of other societies or tribes. With this, members of a society are able to coexist peacefully with no cultural conflict or discrimination on cultural basis.
Education also facilitates socialization in Canada since scholars from different ethnic groups who understand different languages are able to communicate effectively through any internationally recognized language also facilitates sharing of information which further leads to innovation and invention in various scholarly fields (Magoon, 2010).
A major trend in the education system in Canada is sex education which is taught in schools to expose children about sexuality and the effects of engaging in sexual activities while young. To investigate the effect, the article provision of sex education and early sexual experience by Wellings is discussed and well elaborated. In his article, Welling argues that a child's interests should be acknowledged while addressing the issue of sex education in schools which had been eliminated since the society believed that it was immoral to expose small children to sexual behaviors. However, with the changes in technology and the education system, the author asserts that it is the constitutional right of children to be taught about education in their schools in Canada. So how can the argument of the author relate to elementary schools? How does sex education affect the children of Canada? What is the role of guardians and the other stakeholders in sex education? Is there a need to improve sex education in Canada?
According to the author, schools in Canada play a significant role in sexual education especially for small boys. The author asserts that about 28% of the children in Canada get to know of sex and its impacts while in school even if the numbers keeps on changing with time. Sex education however has adverse effects on the society and children of Canada.
To start with, Wellings confirms that sex education increases immorality rates in Canada since children are exposed to sexual and gender matters at early age. Consequently, the rates of death from sexually transmitted infections increases and the number of prostitutes increase. The author claims that this is contributed by the desire to practice whatever is learnt in school and the effects of having sex for the first time.
To add to that, the author claims that sex education increases the number of unwanted pregnancies among young children since they are exposed to the meaning of sex with some teachers ignoring to inform them of the significance of using contraceptives to prevent such pregnancies. However, this is not true since even after teaching students the importance of contraceptives, many of them cannot access them since many hospitals and individuals in the society do not advocate for sexual practices by small children.
Even with the stated negative effects of sex education in Canada, the practice is significant since it exposes the youth to the effects of engaging in various sexual activities while young. The author states that indulgent into sexual behaviors by young children could lead to unwanted child pregnancies, infection of sex related diseases and increase in the use contraceptives which may cause infertility to the users. The author also confirms that cases of early pregnancies and abortions in Canada were on the rise hence there is a need for intervention by stakeholders in different sectors of education. This is true and it is applicable in any society where sexual education is taught due to early exposure to sexuality.
The author however warns that despite the objection of parents, religious groups and teachers to sex education, it must be offered because it serves the interests of children best. However, this is not true since children cannot make decisive judgments pertaining the issue of sexuality with many engaging in sexual activities for satisfaction or simple exposure to sex life.
Having carried out a thorough research, the author clearly argues that sex education should be taught in elementary schools knowing that children in high schools are mature enough to be exposed to sex education with minimal influence on their characters unlike for small children. This is true since most of high school children are in their adolescence period and are mature enough to make decisions about what is good or bad unlike children in lower levels of education.
The author relates sex education in schools and the content learnt by the children to parents arguing that parents are responsible of the sexual behaviors of their children for they should correct them whenever they develop wrong sexual habits before the behaviors get out of control. This is however not true since parents have less time with their children unlike their teachers at school. Nevertheless, this is left for discussion since parents have to watch and correct the daily activities of their young ones.
Consequently, the author relates curriculum to sex education asserting that the curriculum of Canada has to be reviewed to allow each school to teach about sex education to each child. In addition, the author blames the current curriculum for being too wide and one that does not consider the age of children in different school levels and the best topics about sex education that suits them most. This is true since sex education system in Canada is highly exclusive and does not consider the age brackets of those who receive sex education.
As if that is not enough, the structuring of the pedagogy of sex education lies on the stakeholders of the education system in Canada. The author claims that sex education should be taught as a compulsory and examinable question which may make students take it more seriously. The subject should be split separately depending on the age brackets of the student with those in high schools and universities being exposed fully to sex and its consequences. In the same token, the author raises the role of teachers in sex education and advises that teachers should consider the age and the mental abilities of children before choosing the topics concerning sex education which they should teach.
The future of education especially sex education in Canada lies on the stakeholders of education in the country who should ensure that only relevant topics about the same are taught in the future. With current trends in media, parents will also have a vital part to play in sex education as well as teachers.
In conclusion, sex education is significant in Canada since it exposes students to topics about sexuality and the effects of indulging in various sexual behaviors. Teachers, parents and stakeholders have important roles to ensure that students are not affected negatively by sexual education. This can be effected through the use of sensitization campaigns to alert the public on the importance of providing sex education to children and the intensity of information each age bracket should be exposed to.
References
Behrman, J. R., & Stacey, N. (1996). The social benefits of education. Ann Arbor:University of Michigan Press.
Bruner, J. S. (1977). The process of education. Cambridge: Harvard University Press.
Clarke, P. T. (2011). Sex education and student rights: including the missing actor.International Journal of Educational Reform
Glanz, K., Rimer, B. K., Viswanath, K., & Orleans, C. T. (2008). Health behavior andhealth education: Theory, research, and practice. San Francisco, CA: Josseyass.
http://www.bmj.com/content/311/7002/417?variant=full-text
Kendall, N. (2013). The sex education debates. Chicago: The University of ChicagoPress.
Magoon, K. (2010). Sex education in schools. Edina, Minn: ABDO Pub. Co.
Wellings. K. (1995). Provision of sex education and early sexual experience
Related Topics