Remember the Titans Paper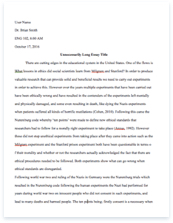 The whole doc is available only for registered users
Pages: 5
Word count: 1221
Category: Coach
A limited time offer! Get a custom sample essay written according to your requirements urgent 3h delivery guaranteed
Order Now
The team went through a very challenging formation phase because there was a lot of resistance to integrate the school and football team. White players were concerned about loosing their starting positions and were upset that their Head Coach (Bill Yoast) was demoted to Assistant Coach, which almost caused them to quit the team. The black players were under a lot of pressure as well, being placed in a white school and knowing that they would be subject to a lot of hatred. Both the new Head Coach (Herman Boone) and Coach Yoast initially did not want to take on their new positions.
An important part of the formation phase that helped the team come together was when Coach Boone integrated the buses that were going to the football camp. Instead of allowing the players to choose what bus to go on, Boone split the buses into offensive or defensive sides to immediately make the black and white players be around each other. Coach Boone also made the players bunk with someone not of their race and each player was given an assignment to get to know someone else and report back to him. Although this caused tension, it ultimately helped the players realize that they have more in common than differences and began the bonding process.
Another important moment of the formation phase occurred when the black leader (Julius) and the white team captain (Gerry) confronted each other about the fact that the white players were not blocking for the black players and vice versa. Since they were not performing well or running good plays, both Julius and Gerry agreed to make sure that everyone would play as a team. This quote from Coach Boone really sums-up their formation phase, " If we don't come together, you too will be destroyed."
One of the first examples of primary tension that occurred in the film was when Louie, a white player, sat down at an all black table during lunch. This was the first time that either a black or white player made an effort to integrate without being forced by an adult. The entire team notices when Louie sits down with the black players. Some black players were visibly upset and a white player across the room yelled, "traitor." The tension decreases when Louie sings and explains that he is not racist, and then a black player welcomes him. This first act of trying to make peace lead the way for others to feel more comfortable in building relationships with players from other races.
A second example of primary tension occurred when they were running plays on the field during football camp. During a very intense practice, where they were running drills into the evening with no water breaks, Gerry (white team captain) confronts a black player because he is not performing well. Gerry yells at the black player and causes a fight. Although this was a difficult situation, it was necessary to establish who the leader was and to bring to everyone's attention that poor performance will be corrected no matter if you are black or white.
Ronnie played an important maintenance role that helped the team establish and maintain a positive climate. Although Ronnie was white, he was an outsider, a new student from California who did not have issues with black people. He immediately accepted the black players and brought a sense of humor on the field and especially in the locker room. The tables at lunch quickly became integrated after his arrival. Ronnie also played an important role when the players started the school year. He made sure that everyone saw that he accepted the black students and helped them overcome the challenges of being in a white school.
Coach Yoast also played a maintenance role to ensure that there was harmony and fair treatment. At times he may have gone too far in being tougher on white players versus black players, but it was his intention to maintain a sense of balance. For example, Yoast gives Petey another chance after making a bad play and places him in a different position that benches a white player. During the regional championship game, Yoast sacrifices his hall of fame nomination and a chance to become head coach next year by challenging the referees who are favoring the opposing team. Coach Yoast's action helped win the championship and demonstrated that he was willing to do anything for the team even if it was lead by a black coach. This made all the players work harder together and support each other even more.
The two major task roles were played out by Gerry and Coach Boone. Their behaviors contributed mostly to the accomplishments of the group's tasks. An important example of Gerry's role was when he told Coach Boone that Ray, a white player who was the most resistant in integrating, purposefully missed a block during a game. Gerry suggested to Boone that he needed to be kicked off the team because he is not supporting the black players. Gerry kicking Ray off the team was very important in order for the team to continue to win not just because of Ray's performance but also to take the only negative player off the team.
Coach Boone's contribution to the team's accomplishments was the most instrumental. It was his idea to integrate the buses and dorm rooms during camp, and it was his leadership and coaching that helped them unite and win. There were times when it seemed that he was being too tough on the players, but his strict approach did not give the players much chance to question anything and work harder on the field and to make their best effort to accept each other. He also guided the team in how they can overcome the challenges that they will face in school and in their community.
9. There are a lot of examples of group socialization throughout the film. An interesting example is when Petey initiates a series of jokes about players' mothers in the locker room. The jokes broke some tension amongst the black and white players and helped them grow closer through humor. At first, the white players were not familiar with this type of joking. Making fun of each other's mothers was not something they did in their culture. The dancing routine that the team did before each game was also a way for the team to come together and communicate to the fans that they fit together. In order to get the routine down, it was probably necessary for them to get together and practice (something the film did not show).
Gerry also demonstrated group socialization when he and other white and black players were hanging out downtown after a game. He played a key part in leading the other white players to spending time with the black players off the field. His message was clearly stated when stayed with his black teammates downtown and turned down his girlfriend and Ray wanting to leave to go to an all white party. After Gerry gets into a car accident and is hospitalized, he only asks to speak with Julius and says to a Nurse, "that's my brother," which demonstrates successful group socialization.
Related Topics