Remember The Fourth R: aeRobics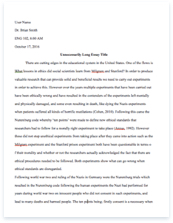 The whole doc is available only for registered users
A limited time offer! Get a custom sample essay written according to your requirements urgent 3h delivery guaranteed
Order Now
When Sir William Curtis referenced the 'Three R's', it was from then on assumed that Reading, wRriting, and aRithmetic would be the basis of education. One had to master these three subjects before one could move on in life and be successful. Since that time, education has expanded to include many other subjects, but the notion of mastery as the forerunner of success has not changed. Schools have been mandated to educate students and help them reach their fullest potential. To that end, schools have tried a multitude of methods to see that students master learning. Many of the techniques used to help students learn have to do with classroom design, teacher training, curriculum design, updated laws and the use of technology, just to name a few.
As a result, there has been a gallant effort to make sure schools are fitted with the most up to date and beneficial supplies, curricula, instructors, etc. That way our children are equipped with the tools necessary for success. With that being said, I truly appreciated The Atlantic Magazine's 5-part educational series about school in a perfect world. The series was inspiring and well put together. I thoroughly enjoyed the perspectives of the multitude of experts and what they had to share. The attention given to each topic: calendar, content, teachers, classroom, and homework was very eye opening and innovative. These facets should be a part of any school design.
However, I couldn't ignore the fact that something was missing as I read the series. It is no longer advantageous to consider academic achievement without looking through the lens of physical activity and exercise. In short, aeRobics is the 'fourth R' that should be included, discussed, and explored when examining school in a perfect world. There is plenty of global, national, and state documentation to support this assertion. The Pearson correlation test, which originated in Korea, revealed a significant correlation between physical fitness and academic achievement. Specifically, Korean students with higher levels of physical fitness tend to have higher academic performance.
The CDC's infographic entitled, "The More they Burn, The Better they Learn", summarizes that "students who earn mostly A's are almost twice as likely to get regular physical activity than students who received mostly Ds and Fs." The New Jersey School Boards Association, Task Force on the Impact of Health and Wellness on Student Achievement, found that physically active students tend to have better grade point averages, daily attendance, critical thinking, and behavior patterns in the classroom. In addition, Higher levels of physical activity and physical fitness levels are associated with improved cognitive execution, including memory and focus.
They also found that time spent in physical education classes and recess improves student well-being. What's more, extracurricular physical activity as well as recreational sports, also results in higher GPAs, higher graduation rates, and fewer problems with discipline. Society for Health and Physical Educators (SHAPE) says many states are requiring physical activity to be included as part of the student's standard curriculum. And that's great. But there needs to be more time spent and emphasis on how physical activity should look in our student's educational experience. Therefore, I am requesting another installment of this educational series, which would focus on what physical activity would look like in a school in a perfect world. I eagerly look forward to reading the various perspectives regarding this subject.
Related Topics