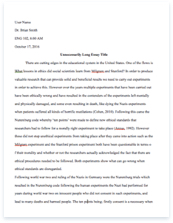 The whole doc is available only for registered users
A limited time offer! Get a custom sample essay written according to your requirements urgent 3h delivery guaranteed
Order Now
When people think of health care, they often think up images from their own experiences in doctors' offices, clinics, and hospitals. Then there are the images of intense drama and hustling and bustling in hospitals and emergency rooms such as those presented on television and in the movies. These are all part of the health care arena, but it extends far beyond the emergency room. Health care agencies and governmental agencies mission is to improve the quality, safety, efficiency, and effectiveness of health care for all Americans. One of the governmental agencies that I will review will be the Department of Health and Human Services.
This governmental agency has the responsibility to manage a range of public health crisis that plays to protect the health of all Americans and provide essential human services especially for those that are least to help themselves. The U.S. Department of Health and Human Services is responsible for almost a quarter of all federal outlays and administers more grant dollars than all other federal agencies combined. The Health and Human Services is a governmental agency that has the one priority of protecting the health of all Americans. The agency has a response and preparedness program to ensure that communities and our nation has a plan against terrorism, infectious disease outbreaks, medical emergencies, and other public threats.
The functions of the Department of Health and Human Services are the reasoning of foreign material with representatives of other United States Government branches and agencies, foreign governments, and multilateral organizations, as well as with the private region. They help the secretaries and the Surgeon General in international activities, including through preparing briefing papers and background materials. Also the Office of Global Affairs (OGA) is part of the Health and Human Services Office of the Secretary (Lanham, 2013). Office of Global Affairs promotes the health and well-being of Americans and of the world's community by advancing Health and Human Services international approach and assistance and working with United States Government agencies in the allocation of global health policy. The United States government's principal agency for protecting the health of all Americans and providing essential human services, especially for those who are least able to help themselves. Agencies involved in monitoring healthcare facilities and practitioners, make available information concerning changes in the healthcare industry, make sure of legal compliance while aiding in the promotion of safety and quality services.
The Department of Health and Human Services strengthens and modernizes health care to improve patient outcomes, promote efficiency and accountability, ensure patient safety, encourage shared responsibility, and work toward high-value health care. The agencies perform a wide variety of tasks and services, including research, public health, food and drug safety, health insurance, and many others, and extend grants and other funding. With the affordable care act in place this makes health insurance coverage more secure and reliable for Americans who have it, makes coverage more affordable for families and small business owners, and brings downs skyrocketing health care costs that have put a strain on individuals, families, employees, and our federal budget (Lanham, 2013). The Department of Health and Human Services (HHS) is the Cabinet-level department of the Federal executive branch most involved with the Nation's human concerns. In one way or another, it touches the lives of more Americans than any other Federal agency. It is a department of people serving people, from newborn infants to persons requiring health services to our most elderly citizens.
The social service programs work together and participate across federal departments to maximize the potential benefits of various programs, services, and codes are designed to improve the well-being of persons, families, and communities. In different city and states they offer emergency assistance for bills and also advocating and case management services. The programs are created to both improve the immediate person and family needs. To name a few of the services provided by the program includes emergency rental assistance with Security Deposit emergency, utility bill assistance which includes gas, water, and electric and emergency food aid.
The regulatory authority role that the Department of Health and Human Services have on health care is that federal regulation is one of the basic tools government uses to carry out public policy. The Department of Health and Human Services has made a powerful breakthrough in its contemplative review activities since President Obama's January 2011 Executive Order 13563 on Improving Regulation and Regulatory Review (Winter 2013).
The Department of Health and Human Services currently are the seven national accreditation organizations that offer accreditation programs that are recognized for purposes of certifying the compliance of almost 7,000 hospitals, critical access hospitals, ambulatory surgical centers, home health agencies, and hospices with Medicare health and safety standards (Lanham, 2013). These accredited health care facilities as having satisfied the health and safety standards component of the Medicare certification process by virtue of their accreditation through an accepted "deemed status" program. Not to mention facilities remain under the jurisdiction of their accreditation organizations rather than State Survey Agencies for oversight of their ongoing compliance with health and safety standards, unless SAs conducting a validation survey at the direction to find evidence of serious noncompliance.
The Health Resources and Services Administration (HRSA) were created in 1982 as a sub agency of the Department of the Health and Human Services. This was founded from the merger of the Health Resources Administration and Health Services Administration, HRSA is the primary Federal agency for improving access to health care services for people who are uninsured, isolated or medically vulnerable (Havighurst, 2000). The service oversees organ, bone marrow and cord blood donation it supports programs that prepare against bioterrorism, compensates individuals harmed by vaccination, and maintains databases that protect against health care malpractice and health care waste, fraud and abuse (Havighurst, 2000).. There are many Americans in the United States that do not have health care. They are not alone because thousands of families, who work at low-income jobs, can't afford health care. There are also thousands of students in college who fear sickness or injury because health care is unaffordable for them at this time.
There is no easy way to solve the growing health care problem in this country. Health care should not only be offered, but affordable for all. Some of the biggest problems with our health care system right now are the unbearable cost of insurance premiums, denial of services due to costs or loss of coverage because of lay off or changing of jobs. The government influence on American society today has become more of what's expected with concepts of government will be compared and contrasted to illustrate the competing views that are presently struggling to define the role of government in America. The idea was to exhibit views that are presently struggling to define the role of government in America. The expansion in governmental programs will boost the aging population with more people living longer and maybe can retire at a later age. To also better understand that the society we live in has become dependent on the government role in health care. This takes a great toll of stress, time, and money for those who cannot afford healthcare.
In an effort to differentiate its services and provide patients with more effective care the Department of Health and Human Services offer specialty programs designed for specific conditions. The sector quickly jumped on the trend and now most specialty programs tend to be points of parity rather than sources of competitive advantage. The choice to differentiate its specialty programs or move towards coordinated chronic care management, this is an exceptional time to create value and position for continued growth and profitability into the future. Failure to act however will result in real and significant economic losses and for the government programs. The way the government handles major changes health care reform will most likely be debated for many years to come. The way things are moving it seems to be heading towards the state controlled health care, but there doesn't appear to be enough power behind the movement to get it approved. The dream of universal coverage is a dream or is it a near future for all Americans, only with patience in society will find out how the big outcome will be.
REFERNCES:
Health and human services department (HHS); national institutes of health
(NIH) (F.R. page 22272) – meeting. (Lanham, 2013). (). Lanham: Federal Information & News Dispatch, Inc. Retrieved from http://search.proquest.com/docview/1326768867?accountid=35812 Havighurst, C. C. (Havighurst, 2000). American health care and the law–we need to talk! Health Affairs, 19(4), 84-106. Retrieved from http://search.proquest.com/docview/204626717?accountid=35812 Bremer, E. S. (Winter 2013). INCORPORATION BY REFERENCE IN AN OPEN-GOVERNMENT AGE. Harvard Journal of Law and Public Policy, 36(1), 131-210. Retrieved from http://search.proquest.com/docview/1470798008?accountid=35812
Related Topics