Reflection Of The Role And Responsibilities Of The Teacher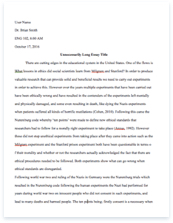 The whole doc is available only for registered users
A limited time offer! Get a custom sample essay written according to your requirements urgent 3h delivery guaranteed
Order Now
Reflection of the role and responsibilities of the teacher In this essay I will be discussing the roles and responsibilities of the teacher. I have used various sources to find my information such as several internet websites. This essay will highlight different teaching methods used in the classroom and various needs that students may have. There is more to teaching than the basic classroom lessons, each student will have different abilities and learning level which I as a teacher I would have to establish. To prepare for a lesson I would need to assess the abilities of my students and the best ways to develop their learning skills. To identify the learning needs of each student I would carry out an initial assessments to find the learning abilities of each student, this could be in the form of a questionnaire, one to one discussions or personal learning plans. My teaching method would be in a way which engaged and involved every student.
This would encourage the students to be able to communicate with me. Wayt (2008) explains that "assessing varying learning styles within a group and considering learners motivation and previous experiences help identify various teaching methods that could be useful throughout the programme sessions incorporating visual, auditory and kinaesthectic learning styles ensures students have equal rights to learning and provide the opportunity to re-evaluate what is already known while exploring aims and objectives from a different perspective". I am responsible for ensuring equality and diversity for each student making sure every student is treat equally no matter what their ethnic groups may be or if they have any sort of disability or their individual beliefs.it is my duty to keep all of my students safe and make sure no one is harmed in my care and provide a non-discriminatory environment for all learners.
As a teacher I would always follow the correct code of conduct, in the case of students with special needs or mental illnesses I would seek advice from a professional rather than try to deal alone, as there are many forms of disabilities some of which i may not fully understand. As a teacher I would not express any personal opinions that does not relate to teaching to my students. All teachers working in further education must register with IFL, this organisations sets standards of professional practice and behaviour, here you would find out how a teacher is expected to behave and how to report anyone if you don't think there complying with the code of practice. I must also respect all learners and colleagues within the classroom. I would have a friendly welcoming manner so my students would begin to build a good working relationship so they could feel able to approach me with any problems they may have whether personal or regarding their course.
Holtrop (1997) suggests that" obviously teachers wear many hats, friend, councillor, judge, mentor, hundreds of roles for different classes, students and extra-curricular duties". Hairdressing and barbering is my current job title, it is my duty to keep up to date with the latest styles and techniques that progress over time as stated in the code of practice that ensures all members keep their skills and knowledge up to date. I would also ensure all relevant tests are carries out for health and safety reasons. Such as all tests carried out and logged before a chemical treatment. I have had some experience of teaching within my current workplace. I have had several students that have come for work experience to gain knowledge of hairdressing, I have talked them through the different hairstyles and different types of cutting in the salon.
I have always preferred to learn in a hands on manner because I find it easier to understand and take in, I am willing to try all ways of learning so I can develop any skills learned and become a good teacher. To summarise the roles and responsibilities of a teacher it is important to treat each student with respect, dignity and diversity. Ensuring all student are safe from harm in my care. Evaluate the different styles of each student individually keeping the students informed of their progress at all times. I would discuss ground rules regarding health and safety and appreciating other student's personal opinions. As a teacher I think that I would be able to follow the necessary development plans to stay focused and achieve the maximum learning potential for each student. Mainly I have a friendly personality and I feel that I am an approachable person who will give my undivided attention to my role as a teacher.
References:
Holtrop, (1997), uk essays.com. google
Wayt, (2008), uk essays.com. google
http://www.gov.uk/government/uploads/system/uploads/attachment_data/file/30110
7/teachers_standards.pdf http://www.intouchcare.co.uk/equality/safeguarding
http://www.ifl.ac.uk/media/49585/2014_01_code_of_professional_practice_raising_concerns_about_iflmembers.pdf
Kirsty mckenna 20002458
22/09/14
Related Topics