Reflection of "The Doll House"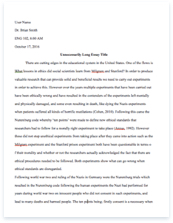 The whole doc is available only for registered users
Pages: 2
Word count: 329
Category: Mind
A limited time offer! Get a custom sample essay written according to your requirements urgent 3h delivery guaranteed
Order Now
The Doll's House, Katherine Mansfield and Who's that dancing with my mother?, Lloyd Jones are both stories that portray "submerged population groups"(Marshall,2002) such as children and women. Each story presents the characters as powerless and disenfranchised. Although characters in both short stories have a moment of defiance as they go against the conformities of society they are ultimately ineffective and return to their regular status or situation.
Kezia is the main character of The Doll's House and is the youngest child in the Burnell family. From the beginning Mansfield presents Kezia as being different from her sisters and questioning the rules in society. When the doll house arrives they notice the red carpet, red plush chairs and gold frames. In contrast to the dramatic expensive details, Kezia notices a simple small lamp. Again when Isabel "the eldest" describes their doll's house to the children at school she forgets to mention the lamp. Free indirect speech allows us inside the mind of Kezia as "she thought Isabel wasn't making half enough of the little lamp, But nobody paid any attention".
These techniques foreshadows Kezia's disagreement with societies rules. At the end, Kezia is again juxtaposed against her sisters. "Isabel and Lottie, who liked visitors" went inside the house to get dressed. But Kezia stayed outside playing on the gate. It is this moment that Kezia rebels against her mother and the restrictions of who she is allowed to interact with. Mansfield states that Kezia "swung out" which literally means she swang out on the gate to say "Hullo" to the Kelveys. But also, metaphorically Kezia was moving out of the upper class circle and going against their rules as she was not supposed to talk to the Kelveys as they were low class.
Kezia was also disenfranchised simply because she was a child. Children in colonial times were meant to be unseen and act like little adults mimicking their parents attitudes, expressions, rules, opinions and…
Related Topics