Reasons for Taking Online Classes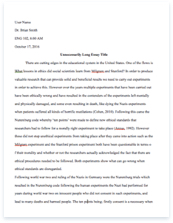 The whole doc is available only for registered users
A limited time offer! Get a custom sample essay written according to your requirements urgent 3h delivery guaranteed
Order Now
Since the creation of the internet, every aspect of our lives has been changed in both developmental and deteriorated ways. The internet changed how we work, how we entertain ourselves and, of course, how we process information and learn. Students get educated in different ways; like through hybrid and traditional classes, however, distance education is indispensable for learning. In an article from Nature and Science, Kobra Lashgari et. al (2011) defines, "Distance education places students and their instructors in separate locations using some form of technology to communicate and interact"(p.21). Aside from the long-term advantages of earning a degree, there are immediate advantages that come from earning that degree through taking online courses. Here are a few reasons students take courses online instead a traditional school.
Perhaps the first, most obvious reason of taking courses online is that online courses give students a great amount of flexibility when they work to build their education into their daily life. The flexibility of online education allows for greater students control over the balance between work and school. In article from Nature and Science, Kobra Lashgari (2011) observed, "With online education students have the possibilities to adjust schedules to their life, rather than adjust their life to predetermined schedules" (p19). Numerous programs only require that students log in a certain number of times per week, although let the students decide when that is, which mean the students have a greater say in when they study. Also, the flexibility of online courses works great for parents, who need to juggle child care and other responsibilities with their studies. In An article from JALN, John Duton et.al (2002) expressed, "Online program will give these students the flexibility to work around their other priorities" (P8). The need to manage class requirements around childcare responsibilities draws students to online classes.
The second reason students take online classes is the benefit of having fewer short-term expenses in online classes than the traditional school. For example, the biggest expense students have to face in traditional school is to be a commuter student. However, in online classes they don't have to pay for transportation. In an article from The Chronicle of Higher Education, Jeffrey Young focuses on (2008), "Campus has become a financial hardship now with the gasoline prices" (p1). Also, online education can eliminate the costs of living on campus. There are no required dormitory or cafeteria fees, or any of the other built-in housing costs that can inflate the price of attending a traditional university. In an article from Society magazine, Marina Krakovsky (2010) signals,"…this can be a huge savings when compared with traditional college" (p19). Also, students don't have to worry about the expenses of eating out every day on campus or as you drive to and from campus. Because they take classes online at home, so they can stick with their current food budget. These are some of the short-term financial benefits of taking classes online.
Finally, most people live rather busy life. Online classes can save time and reduce the stress. This type of classes provides the added benefit of not traveling to attend a class. The article from Online Education (2008) emphasizes," Online programs are convenient for those students who live in crowded cities since travel back and forth to campus in no longer necessary". Students don't have to spend time driving to school. They don't have to leave home to go to school, and the school is where they are. Then, if transportation is an issue, the pressure of having to travel to a classroom in order to attend a class can be significant. Online classes allow student to remain at home without having to leave the privacy and comfort of their normal surroundings. Without the added stress of travel which is sometimes significantly far away, students can more successfully focus on the material and complete the course quickly and efficiently.
These are just a few of the many reasons of taking online classes. Students who enroll in online degree programs are able to manage their time, and learn the materials that are presented. From a periodical article Elaine Allen et.al (2007) presented," Almost 3.5 million students were taking at least one online course during the fall of 2006. And almost 20% of all US Higher education students were taking at least one online course in the fall of 2006" (P4). Online classes become popular because they allow students the opportunity to go to college who may never have been able to before. Online students need to be self-starters, but success in an online classroom may translate to greater self-esteem and self-reliance in all aspects of life.
References
Elaine Allen, J. S. (2007, October). Online Nation: Five years of Growth in Online Learning. John Dutton, M. D. (2002, July). How do Online Students Differ From Lecture Students. Kobra Lashgari, a. T. (2011, SEP). Comparison between Online Classes and Traditional Classes. krakovsky, M. (2010). Degrees, Distance, and Dollars. Society, 19. Li chi-sung, I. B. (2008). An overview of online education: attractiveness, benefits, challenges, concerns and recommendations. Science and Research, 2. Young, J. (2008). Gas Prices Drive Students to Online classes. The Chronicle of Higher Education, 2.
Related Topics