Rationale For Sports Psychology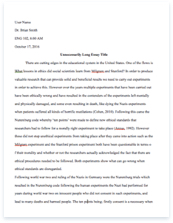 The whole doc is available only for registered users
A limited time offer! Get a custom sample essay written according to your requirements urgent 3h delivery guaranteed
Order Now
"Sports psychology is the study of how psychology influences sports, athletic performance, exercise, and physical activity" (Cherry 2018). In this paper, I will be examining major concepts from sports psychology that connect to my life. These concepts will connect to parts of my past, present, and future. These concepts will be Confidence, Motivation, and lastly, Communication. My paper will explore ways in how I could have, or will implement this information I will have learned from this course, to become a more well-rounded student, athlete, or professional. First, I will start this paper with my past. I was an athlete in school most of my life, my parents wanted me to live a more active lifestyle so they wanted me to try out for a sport like track since my father was a very fast athlete at my age, so maybe he passed that on to me.
I started Track & Field in the 7th grade and participated in it until I graduated High School. I loved track not so much the running part but because it is more of an individual sport, it was on me to be faster than all the other kids to get points for my school to win meets, and that's exactly what I did. During middle school track, I was one of if not the fast kid on the team running in the 100m or the 200m race, as an athlete at that time I was extremely confident, but that all sort of changed once I got to high school. Once I got to high school I was on the varsity team, I was no longer the fastest guy, not even close, and this took a huge toll on my confidence level as an athlete.
Confidence is so important because if you don't believe in yourself then you won't perform up to the ability that you want. I wish I would have known more about confidence as an athlete, my failures of not being the fastest kid anymore took a toll on me, having more knowledge on confidence at a younger age could have changed who I was as a person and as an athlete. Secondly, motivation for me hasn't always been my strong suit, I've always lacked intrinsic motivation and have not been good at dealing with the increasing amount of stress that comes with school, this may be from a fear of failure. I could see Harter's competence motivation theory being able to help me with that.
The theory involves an individual coming to see himself as competent, competence is having the necessary knowledge to do something successfully, successful attempts can promote self- efficacy, and feeling of personal competence, having these feelings can lead to high competence motivation. Learning things like self-efficacy and learning how to be more intrinsically motivated and dealing with stress can help me more likely to enjoy learning new things. Self- efficacy is someone's belief to achieve goals, so goal setting can also be a concept that I can learn to help me now with increasing motivation. Goal setting can help you set a direction for yourself to succeed, they can help motivate you to do things you don't want to do, wanting to achieve your goal with help you get through those things you do not want to do.
Learning these concepts now will make me realize how important it is to focus on working on my motivation, it is up to me to become a successful learner, and by working on self-efficacy and, competence, and goal setting, I think it will help me to have more of a positive attitude towards learning new things and become a better student. Finally, in the future, I see myself becoming an athletic trainer. To become an athletic trainer you need a lot of skills, skills including decision making, medical, and first aid skills. One of the most important skills is communication, part of a trainers job is to help athletes understand the limitations of their bodies and to possibly explain an injury to them so the athlete can undergo treatment procedures correctly.
A skill I could learn is interpersonal communication, interpersonal communication is "is an exchange of information between two or more people" (Wikipedia). According to an article by Union University "Your knowledge and ability to manage your interpersonal communications with the student will always make the clinical experience a better learning experience for the student and a more rewarding experience for you". Good communication between an athletic trainer and athlete is important to successful teaching, if I miscommunicate with the athlete it can possibly make my teaching and difficult to understand, and that's the last thing I want. My plan now will be to use knowledge of this concept that I learn from this course to better improve my communication skills now, while still in school to make sure my skill in the future is as good as it can be.
All in all, I am looking forward to learning more about these concepts that I have listed and discussed, throughout the semester in this course. In this paper, I have discussed ways in how I could have, or will use the concept of Confidence, Motivation, and Communication to become a more well-rounded student, athlete, and a future professional. Reflecting on these concepts has been good for me because it was opened my eyes to some of my weaknesses and how I can fix them. It is now up to myself to make sure I carry out these actions that I have discussed to become a better student and professional so that these newly learned concepts in psychology will better me down the road.
Work Cited
Athletic Training Education Program. (n.d.). Retrieved from https://www.uu.edu/programs/atep/training/interpersonal.cfm
Cherry, K. (n.d.). An Overview of Sports Psychology. Retrieved from https://www.verywellmind.com/what-is-sports-psychology-2794906
Competence Motivation Theory. (n.d.). Retrieved from https://psychology.iresearchnet.com/sports-psychology/sport-motivation/competence-motivation-theory/
Related Topics