Racial Stereotypes in the United States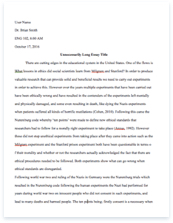 The whole doc is available only for registered users
A limited time offer! Get a custom sample essay written according to your requirements urgent 3h delivery guaranteed
Order Now
Abstract
            Stereotypes are generalizations about people, objects, places and events. Stereotypes develop when a person is unable to make a fair discernment due to the lack of information. However, stereotypes are almost always very hurtful, very disrespectful and untrue. In the United States, for instance, misconceptions about ethnic minorites often emerge from stereotypes. These misconceptions almost always lead to discrimination, bigotry, racism, hatred and violence.
            Webster defined stereotype as "a standardized mental picture that is held in common by members of a group and that represents an oversimplified opinion, prejudiced attitude or uncritical judgment" (http://www.m-w.com, n.d., n. pag.).  Hence, if applied in the sociological context, this definition can be translated as "a fixed, exaggerated and preconceived description about a certain type of person, group or society" (http://www.tiscali.co.uk, n.d., n. pag.). The term "stereotype" originally referred to a method of duplicate painting, until American journalist Walter Lippman gave it a sociological slant in 1922 (http://www.tiscali.co.uk, n.d., n. pag.). Akin to the painting process it initially defined, a stereotype is based on a preconceived "mold" (prejudice), which becomes fixed in people's minds through repetition and time (http://www.tiscali.co.uk, n.d., n. pag.). A stereotype resists change and disregards factual but contrasting evidence (http://www.tiscali.co.uk, n.d., n. pag.).
Racial Stereotypes attached to Ethnic Groups in the United States
            Stereotypes are detrimental, particularly in communities whose members come from different ethnic backgrounds. The United States, for instance, is not considered a "melting pot" for nothing. Out of its population of 302.2 million (mid-2007), 11% are black (2007), 10% are Hispanics (2007), 8% are Asians (2007) (www.alertnet.org, n.d., n. pag.), 1 million are Middle Easterners (2007) (www.prb.org, n.d., n. pag.) and 1.9 million are Native Americans (2007) (www.alertnet.org, n.d., n. pag.).  The immense ethnic and cultural variety in the US makes it conducive to racial stereotypes.
Stereotypes about Blacks
            The "Jezebel" or the "Tragic Mulatto" was the seductive, lewd and promiscuous black woman who desired sexual relations with white men. This stereotype was the antithesis of the white woman, who was historically known to be the epitome of self-respect, prudence and modesty (http://www.ferris.edu, n.d. n. pag.). Eventually, the "Jezebel" reinforced the idea of all black women as lascivious by nature.
            The "Beast" or the "Brutal Black Buck" was the male counterpart of the "Jezebel," a sex maniac who preyed on white women (http://www.ferris.edu, n.d., n. pag.). It represented all the blacks who were born during the Radical Reconstruction period (1867-1877) – they were supposedly lazy, dishonest and immoral due to the absence of slavery (http://www.ferris.edu, n.d., n. pag.). The "Beast" was often portrayed as being hanged for raping white women, in order to terrorize black communities into submission to the whites (http://www.ferris.edu, n.d., n. pag.).
            The "Mammy" was "the most well known and enduring racial caricature of African American women". She was depicted as an overweight, middle-aged woman who was hardworking, cheerful and fiercely loyal and protective towards the white family she was working for (http://www.ferris.edu, n.d., n. pag.). The "Mammy's" desexualized image and blissful disposition were invented to prove that blacks were happy being slaves (http://www.ferris.edu, n.d., n. pag.).
Stereotypes about Asians
            Movies and television shows often portray Asian men as evil and greedy gangsters (Mahdzan & Zeigler, n.d., n. pag.). Hence, the myth that Chinatown is a hotbed of crime, drug trafficking and prostitution also emerged (Mahdzan & Zeigler, n.d., n. pag.). Asian men are also depicted by popular media as abusive, promiscuous and irresponsible husbands and fathers (Mahdzan & Zeigler, n.d., n. pag.). This stereotype was further highlighted by the Hollywood tandem of Asian women and white men (Mahdzan & Zeigler, n.d., n. pag.).
            The popular media duo of white men and Asian women also resulted in the "China Doll" stereotype, which depicted Asian women as sexually active, exotic, overly feminine and eager to please white men (Mahdzan & Zeigler, n.d., n. pag.). What Hollywood doesn't want audiences to know is that Asian women who fit the "China Doll" stereotype are actually prostitutes. Because they poor and uneducated, they sleep with men (regardless of their nationality) to be able to earn money to support themselves and their families.
Stereotypes about Hispanics
            Most White Americans assumed that the term "Hispanics" refer to a race that came from Mexico (http://www.personal.psu.edu, n.d., n. pag.). The truth is that Hispanics originated from various Latin American countries such as Venezuela, Honduras and the Carribean. And since Latin American countries are likewise Third World countries, White Americans similarly postulated that Hispanics live in the sticks and they use donkeys for transportation. Third World countries also have urban areas, but due to the uneven distribution of wealth, there is a wide gap between the rich and the poor.
            The aforementioned background of Latin American countries correspondingly led White Americans to presuppose that the only jobs available to Latin Americans in the United States are handyman, gardener and maid. Majority of Latin American immigrants are well-educated and highly-skilled. But due to the lack of opportunities in their native countries, they move to the US to take up blue-collar jobs, which the whites consider as "dirty jobs." 
Stereotypes about Native Americans
            Some historians perpetuated the misconception that Indians had no civilization until the Europeans brought it to them. But the only reason the Indians were considered uncivilized was because their culture differed from that of the Europeans. Part of the stereotype that portrayed the Indians as uncivilized was the belief that Indians were warlike and treacherous. However, the Indians went to war solely to protect their lands and sovereignty from invaders.
            The myth that Indians are confined to reservations, live in tipis, wear braids and ride horses is also not true. Indians nowadays are well-assimilated into American society. Very few of them still have Indian names (majority of Indians today prefer to be identified by their American names). They are no longer confined in reservations, live in tipis, wear braids and ride horses.
Stereotypes about Middle Easterners
            9/11 and Bush's "War on Terrorism" bolstered the stereotype that Middle Easterners, particularly Arabs, are terrorists, suicide bombers, extremists, fundamentalists and militants. This is due to the fact that although not all Arabs are terrorists, terrorist groups are composed mainly of Arabs. But it must be noted that, in sharp contrast to what mainstream media claims, not all Arab terrorists are poor young men from Third World countries.
            Most Arabs who engage in terrorism are from middle- and upper-middle class families, well-educated, well-traveled and psychologically stable. However, their strict Muslim upbringing hinders them from assimilating into foreign lands that espouse liberal cultures. Humiliated, desperate and homesick, they find solace and companionship in fellow Muslims that they meet in the mosques. It is also in this mosques that they encounter radical preachers, who brainwash them into believing that it is a Muslim's duty to fight the US through terrorism.
So Why Do These Stereotypes Exist?
               People use stereotypes to categorize the unlimited information that they get from their environment. It also enables them to make inferences, or conclusions drawn despite the absence of certain data (Smith, Hoeksema, Fredrickson & Loftus, 2003, 646). To be able to form impressions of others, a person doesn't simply accept information about them and process it objectively. Rather, this information is filtered through his or her preexisting stereotypes, creating new perceptions, memories and inferences as a result (Smith, Hoeksema, Fredrickson & Loftus, 2003, 646).
            Numerous studies have proven that stereotypes, particularly those about race and gender, heavily influence an individual's interpretations of other people's behavior (Smith, Hoeksema, Fredrickson & Loftus, 2003, 651). Unfotunately, people often assume that stereotypes are "direct and unbiased representations of reality" (Smith, Hoeksema, Fredrickson & Loftus, 2003, 651). Even if a given stereotype happens to be incorrect, they still believe it because it reflects a reality in which it is valid (Smith, Hoeksema, Fredrickson & Loftus, 2003, 651).
Conclusion
            Stereotypes, if left unchecked, often lead to prejudice, discrimination, racism, sexism, scapegoating, violence and genocide. Charismatic leaders, called demagogues, exploit the hatred brought about by stereotypes for their own political gain. By starting their statements with "Were it not for those (insert name of group here)…" they give people the impression that the only solution to all their problems is hostility towards those who are different from them (Grobman, 1990, n. pag.). Indeed, stereotypes all boils down to man's fear of what he cannot understand.
References
Grobman, G.M. (1990). Stereotypes and Prejudices. Retrieved January 30, 2008 from
            http://www.remember.org/guide/History.root.stereotypes.html
Jackson, P. (1987). Race and Racism: Essays in Social Geography. London: Routledge.
Klossner, Michael. (2004). Middle Easterners in Xena: Warrior Princess and Other
            Renaissance Picture Series. Retrieved January 29, 2008 from
            http://www.whoosh.org/issue90/klossner7.html
Mahdzan, F. & Ziegler, N. (n.d.). Asian-Americans: An Analysis of Negative Stereotypical
            Characters in Popular Media. Retrieved Janaury 29, 2008 from
            http://mahdzan.com/fairy/papers/asian/
Smith, E.E., Noleen-Hoeksema, S., Fredrickson, B. & Loftus, G.R. (2003). Introduction to
            Psychology (14th ed.). Singapore: Thomson Learning Asia.
Spencer, R. (2004). Terrorists Don't Often Fit Stereotype, Expert Say. Retrieved February
            8, 2008 from http://www.jihadwatch.org/archives/002391.php
Tiscali.Reference. (n.d.). Stereotype. Retrieved January 29, 2008 from
            http://www.tiscali.co.uk/reference/encyclopedia/hutchinson/m0006460.htm
Population Reference Bureau. (n.d.). 1 Million Arab-Americans in the United States.
            Retrieved January 29, 2008 from
            http://www.prb.org/Articles/2002/1MillionArabAmericansintheUnitedStates.aspx
Population Reference Bureau. (n.d.). 2007 World Population Data Sheet. Retrieved January
            29, 2008 from http://www.prb.org/Publications/Datasheets/2007/
            2007WorldPopulationDataSheet.aspx
Ferris State University – Jim Crow Museum of Racist Memorabilia. (n.d.). Jezebel
            Stereotype. Retrieved January 29, 2008 from http://www.ferris.edu/jimcrow/jezebel/
Ferris State University – Jim Crow Museum of Racist Memorabilia. (n.d.). The Brute             Caricature. Retrieved January 29, 2008 from http://www.ferris.edu/jimcrow/brute/
Ferris State University – Jim Crow Museum of Racist Memorabilia. (n.d.). The Mammy        Caricature. Retrieved January 29, 2008 from             http://www.ferris.edu/jimcrow/mammies/
Teaching Assistant Help Page. (n.d.). How Do They See You? Retrieved January 29, 2008
            Stereotypes:
Native American Stereotypes and Realities. PDF File. (n.d.). Retrieved January 29, 2008
            from nwindian.evergreen.edu/curriculum/stereotypes.pdf
Related Topics