Psychoanalytical Criticism Of "Young Goodman Brown"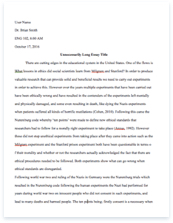 The whole doc is available only for registered users
A limited time offer! Get a custom sample essay written according to your requirements urgent 3h delivery guaranteed
Order Now
Psychoanalytical criticism focuses on the characters, symbols, and images in a literary work to decipher meanings and to gain an insight into the mind of the author. The terminology used is typically Freudian, even though Freud has fallen into disfavor in the world of behavioral sciences. This current disaffection does not, however, invalidate psychoanalytical interpretation of many of the characters and situations that a writer may have intentionally or unintentionally constructed.
The story "Young Goodman Brown" abounds with psychosexual imagery. The meeting that Brown hastens to is a thing that must be done at night in the dark, either a liaison of the criminal or sexual variety, which were often one in the same in the eyes of the Puritans. His "pretty young wife", whose "hair is bound with pink ribbons", practically begs him to stay at home that evening for sex, threatening that "˜disturbing thoughts' would trouble her if he were to leave. This type of sexual aggression from a woman would be quite disturbing to a Puritan, yet Brown seems oblivious to her meaning.
If one were to suppose that men are basically seeking their mother when they marry, then he is arguably in denial of an unresolved Oedipus complex. Brown asks her to be a "good little girl and say her prayers and go to bed". This may be an attempt to put her back into a position that his ego can accept, without consciously acknowledging her sexual advances. This behavior could also signify his unwillingness to engage in normal sex because he believed it to be sinful, causing an emotional conflict that he could not deal with. His appointment in the forest would thus allow him to avoid the conflict.
The man that he meets in the forest is inarguably Satan, who almost universally represents the opportunity to fulfill repressed desires and unlock the id. Brown's observance of the secret dark nature of those people from his town whom he meets in the forest is curiously devoid of revulsion. This would seem to suggest that he is rationalizing his own repressed sexuality and assuaging his feelings of guilt by projecting his own deeply repressed id onto the most respected townspeople, such as Goody Cloys, the catechism teacher, who is portrayed as a witch and seems to vanish with the aid of Satan's staff. The use of a witch image also may signify the evil side of people that his superego refuses to see under normal circumstances.
Further discussion with Satan reveals that he has had a relationship with all of Browns' ancestors by recalling some of their more unsavory behaviors, such as the whipping of a Quaker woman through the streets of town. The information that Satan is in contact with everyone that Brown respects, up through the governor, suggests that Brown has no moral idol to emulate, This condition precludes him from continuing to repress his dark side through hero worship.
When Goodman Brown approaches the black mass taking place in the forest, he approaches slowly and is confronted by an image that he perceives as that of his mother, urging him to turn away from the temptation. This externalization of his mother as the voice of good or his conscience could be more evidence of his unresolved Oedipus complex.
The revelation of his wife Faiths' membership in this dark community is his greatest shock "I have lost my Faith!" could be interpreted on many levels. Goodman Brown has lost his religious faith, he has lost his wife to the forces of evil, or that he is forced to reevaluate his personal ideal of his wife. The image of a fluttering pink ribbon that used to bind her hair suggests the third interpretation has some validity. The pink ribbons, which were important to Hawthorne in his description of Faith, may represent sexual restraint, either real or projected by Brown. The loss of the ribbons, coupled with his mother's warning to turn away suggests that Brown was forced to confront an image of his mother as a sexual creature.
The fact that by the time of his death, Brown had many descendents who attended his funeral tells us that he did engage in sex with his wife after the experience in the forest, which he appears to have avoided before. The inscription on his tombstone says that he was not a happy man during his life. Both of these facts are revealed in the same section, either consciously or subconsciously suggesting a connection. The observation could be made that guilt from giving in to his sexual desire and being forced to confront unresolved Oedipal issues had made him unhappy for the remainder of his life.
Goodman Brown's early life, upbringing and heritage seem to closely parallel Hawthorn's own. On one level, the story is about the hypocritical behavior of people. On another level the tale suggests that confronting ones own deepest, repressed feelings may be damaging to the ego. This confrontation would appear to have certainly altered the life and attitude of Goodman Brown. If one were to suppose that there was more of the psychological makeup of the author in the character than was intended, then perhaps we are seeing something of the fears and disillusionment that Nathaniel Hawthorne faced once he confronted the true nature of some of his ancestors. Hawthorne appears to be projecting his own unresolved conflicts with his own notable Puritan heritage vicariously through the title character.
Related Topics