Product Types of Dick's Sporting Goods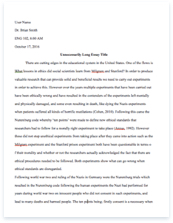 The whole doc is available only for registered users
A limited time offer! Get a custom sample essay written according to your requirements urgent 3h delivery guaranteed
Order Now
With its deep assortment as well as deep varieties of sporting goods, Dick's Sporting Goods (DSG) has maintained a generous lead in the sporting goods retailing arena. They have been able to do this by offering large varieties of name brand items in every category in the store. Some of the more notable names include Nike, Under Armour, The Northface, and Adidas, and are prominently featured in nearly every corner of the store. These brands account for nearly all of their annual revenue and remain a large reason shoppers gravitate to the store. DSG only sells the most up-to-date sporting apparel and gear for the current year which helps to keep the company a leader in the industry. I believe this is what sets Dick's apart from their competitors. By offering the latest and most innovative products from the most well-known sporting goods companies, Dick's will continue to be known for its quality. Unfortunately, this is also where they may see a slip in revenue. The margins are already smaller on these types of products, but couple that with the point that sporting goods are more recreational or even luxury than necessary, and the point that we are still in the midst of an economic recession and Dick's is positioned in a precarious spot. Private Brands (Including Development)
"Another key to Dick's success is its emphasis on private labels" (Gunther, 2010). The company has developed a number of its own products with suppliers primarily located in China (Gunther, 2010). Dick's has even licensed certain name brands in order to create specialized, exclusive products but still sell them under a national name brand. A good example of this is how they licensed the Adidas name so they could create their own lines of "Adidas" branded baseball hats and gloves. The company also likes to buy out dying or declining brands in an attempt to utilize their names and branding image. For instance, in 2008 Dick's purchased the Maxfli brand of golf balls from Taylormade-adidas Golf and sells the now private brand exclusively at Dick's (Quinn, n.d.). Some other companies that Dick's has purchased include Slazenger and the Field & Streams brand. In 2011 they expanded their private brand portfolio by adding KOPPEN in the outdoors category, Nickent in the golf category, and Nishiki in bikes (Gunther, 2010). These brands were added to already impressive selection of known private labels such as Adirondack Trading Company for casual clothing, Northeast Outfitters for hunting and work apparel and boots, DSX and DSXT for cycling apparel, and Steve Hill and Stone Hill Clubhouse for golf apparel and shoes (Gunther, 2010).
According to their annual report, their private label brands are a major point of interest for the company as it tries to compete in the increasingly competitive sporting goods marketplace. Currently the private labels that Dick's has account for 15% of their total annual sales, and they are planning on increasing that number in the coming years (Gunther, 2010). Edward Stack, Dick's President and CEO, says he plans on increasing the number of private labels the company has as he sees them as a way to bolster Dick's earnings (Gunther, 2010). Personally, I see these items as good quality, well-built products at a bargain price.
Although I have limited experience with these particular products (I've never owned them but I have felt and handled them) I feel like if the company can continue to offer their customers a good value. My only concern would be that they may risk alienating some of their customers who are used to the national brand names. If they continue to offer more products that some consumers don't recognize they may begin to come across as a less prestigious, more value than quality type store. I believe they should be able to work around this by slowly building their private brand awareness and also by increasing the quality of those items even more. They may also consider promoting them more. Even though most people still like to buy items through the brick and mortar locations, it may help to be able to find these items on their website. I couldn't find them. Exclusive Brands
DSG has also tried to increase their market share by offering exclusive items from top major brands. The most notable brand is Nike, which Dick's boasts as one of its top two brands and sells a plethora of items that consumers can only find at Dick's (Gunther, 2010). These items offer Dick's customers the option of buying unique colors and patterns and even versions of Nike gear. They are also the exclusive retailer of Umbro, a soccer brand that includes many different apparel items.
One of the most important aspects of these exclusive items is that they offer the customers a better value than most of the other gear from the same manufacturer. No doubt it was all in the design, but the products are usually quite a bit cheaper than other or even similar products by the same manufacturer. It's not apparent what the reasoning for this is but since the items can only be found at Dick's one might argue that its way to attract and build customer loyalty since customers can normally find all the other items at other sporting goods stores. Personally, I feel that it may be in their best interest to increase the amount of exclusive items they offer. By differentiating themselves in that way they stand to increase their market share as more people continue to comparison shop through this recession.
Although I was unable to find out how flexible Dick's relationship with these big companies is, it's not hard to imagine that the companies would have some power over how Dick's advertises and/or promotes the products in the stores. This of course, could directly affect how much room they have for other products and brands, and with more effort being put into their private brands, more space may eventually be needed. The question will be how this will affect customer loyalty. Will customers still want to shop at a company whose merchandise is not Nike, Adidas, Under Armour, or The North Face? Merchandise Categories
While it's been hard to find how Dick's Sporting Goods manages its merchandise from a buyer/vendor perspective (i.e. how the buyers interact with the suppliers), the way they split their stores merchandise up and the way they organize the merchandise throughout their respective categorical areas is apparent as ever. For example, they separate the Nike products from Adidas and Under Armour products within Men's Apparel. Due to the size of their stores, Dick's is able to employ a large variety and a large assortment at the same time. For instance, if you looking to buy a Nike hooded sweatshirt you would be able to find about three different colors in about four different sizes for that one type of sweatshirt, but what makes them unique is that they offer a large variety of different sweatshirts as well. The number of SKU's in this case is certainly greater than their variety of different sweatshirts, but they continue to offer more overall than do many of their competitors.
One thing this retailing strategy does is that it reinforces the idea that Dick's is a specialty store with enough variety to suit everyone's financial needs. This provides value unlike their competitors currently do. However, this also puts the pressure on Dick's to maintain their inventory well. With larger offerings Dick's is forced to maintain high levels of inventory costs. Fortunately, they have recently introduced a new inventory system that will allow them to control inventory levels at a much better level than before. This should eventually help with creating larger profit margins in an increasingly competitive industry. Only time will tell if they will be able to maintain that level of service.
Work Cited
Gunther, Marc. "Retail's Rising Star." CNNMoney. Cable News Network, 20 Apr. 2010. Web. 02 Feb. 2013. Quinn, Gene. "Dick's Sporting Goods Acquires Maxfli | IPWatchdog.com | Patents & Patent Law." IPWatchdogcom Patents Patent Law Dicks Sporting Goods Acquires Maxfli Comments. N.p., n.d. Web. 02 Feb. 2013. <http://www.ipwatchdog.com/2008/02/20/dicks-sporting-goods-acquires-maxfli/id=121/>.
Related Topics