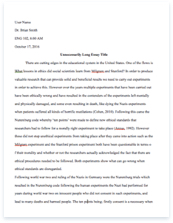 The whole doc is available only for registered users
A limited time offer! Get a custom sample essay written according to your requirements urgent 3h delivery guaranteed
Order Now
When most people think of problem-solving they think of math problems, but that is just the tip of the iceberg. People solve problems everyday without preparation, without a plan, and usually with good results. For example, which route a person takes to work or school. Most of people have several options, and their choice is usually based on traffic. However, there are also the problems that need to be solved in which there is no easy way, and planning and strategizing is necessary. This would include planning a vacation, or wedding, but can also include planning to find a way to get money for college. For many people college tuition is a big deal, and a big problem. With a little research, a lot of planning and the help of financial aid advisors the problem solution is found and implemented.
Learning is a set of rules that lead to a goal or a solution to a problem (Zanga, Richard, & Tijus, 2004). Some of the rules are learned through implicit memory while others are learned through planning and problem solving. The research conducted by Zanga, Richard, and Tijus (2004) showed that the rules are followed more carefully in implicit learning because there is more than one route to the goal. The research also showed that problem-solving rules followed one course and was not as helpful because of the lack of innovation to reach the goal.
Luckily, this was not the only research ever done on the concept of problem-solving. Another study by Cindy Hmelo-Silver (2004) focused solely on the problem based learning (PBL) process. The study showed that the PBL actually helped students learn strategies that helped them to solve problems and gain success in personal and professional lives.
In 1957, a researcher named Polya came up with the basic foundation of problem-solving which are still used today in some fashion. The four basic steps were to understand the type and function of the problem; plan for the solution; following the plan, and re-evaluating the plan to see if there was any part that would have worked better or been easier. This basic idea is still the foundation for all current problem-solving based processes when teaching strategies to succeed.
With the world today working to create artificial intelligence, a major concern is the concept of problem solving. One research group has been studying the EUREKA process for teaching computers to solve every day problems. The biggest limitation is the lack of long-term memory or missing knowledge. This causes the program to not be able to solve the problem (Bilgin, 2005).
Using the problem of paying for college tuition would be a perfect problem to strategize. My first step would be to make an appointment with the financial aid advisor at my school. In the meantime I would look up Federal Student Aid programs on the internet and see what is offered publically, and then look for some private scholarships as well. I would have a basic knowledge of what is available when I attended the meeting with the financial aid advisor and it would make the application process go much smoother. I would have been ready and should have known most of the information and paperwork that would be needed to qualify and apply. A little insight helps solve problems, and insight can be found through research, or understanding the problem. The plan would be to meet with the advisor, and once done, I could look back and see what was missing and therefore, be ready for it much easier the next semester or year.
References
Bilgin, I. (2005, November). The Effect of Different Problem-solving Strategies on University Students' Problem-solving Achievements of Quantitative Problems in Chemistry. Educational Sciences: Theory & Practice, 5(2), 628-635. Retrieved January 20, 2009, from Academic Search Premier database. http://search.ebscohost.com/login.aspx?direct=true&db=aph&AN=19141735&site=ehost-live
Hmelo-Silver, C. (2004, September). Problem-Based Learning: What and How Do Students Learn?. Educational Psychology Review, 16(3), 235-266. Retrieved January 20, 2009, from Academic Search Premier database. http://search.ebscohost.com/login.aspx?direct=true&db=aph&AN=13682403&site=ehost-live
Jones, R., & Langley, P. (2005, November). A CONSTRAINED ARCHITECTURE FOR LEARNING AND PROBLEM SOLVING. Computational Intelligence, 21(4), 480-502. Retrieved January 20, 2009, doi:10.1111/j.1467-8640.2005.00283.x http://search.ebscohost.com/login.aspx?direct=true&db=aph&AN=18417786&site=ehost-live
Zanga, A., Richard, J., & Tijus, C. (2004, February). Implicit learning in rule induction and problem solving. Thinking & Reasoning, 10(1), 55-83. Retrieved January 20, 2009, doi:10.1080/13546780342000034 http://search.ebscohost.com/login.aspx?direct=true&db=aph&AN=12253081&site=ehost-live
Related Topics