Principles of supporting change in a business environment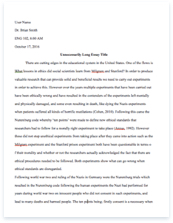 The whole doc is available only for registered users
A limited time offer! Get a custom sample essay written according to your requirements urgent 3h delivery guaranteed
Order Now
Unit four: Principles of supporting change in a business environment
Assessment
You should use this file to complete your Assessment.
The first thing you need to do is save a copy of this document, either onto your computer or a disk Then work through your Assessment, remembering to save your work regularly When you've finished, print out a copy to keep for reference Then, go to www.vision2learn.com and send your completed Assessment to your tutor via your My Study area – make sure it is clearly marked with your name, the course title and the Unit and Assessment number.
Please note that this Assessment document has 3 pages and is made up of 3 Sections.
Name: Allison Johnson Business and Administration Unit 4
Section 1 – Understand why change happens in a business environment
1. Explain why change happens in a business environment. You should include at least three reasons in your answer.
An important element of business is change, imagine what could happen if your business stayed exactly the same as the moment that it was established. Some changes happen for a reason some can be small changes but on the other hand some changes can be very large.
Without certain changes your internal and external customers will not stay satisfied with your products or the services that you provide the company would not then be able to meet its objectives or targets and for some companies the consequences could result in the company no longer being required
Social – Advertising and PR, brands and image, consumer attitudes, consumer buying preferences, ethical issues, events, media views. Technology – the ability to install new technology, emerging new technologies, funding for technological research, development and implementation, intellectual property rights, technology legislation and the technological life cycle. Economic – Domestic – tax and interest rates, competitors' behaviour, trends and economic performance. International – economy, economic trends, tax, interest rates, trade issues, exchange rates and competitor's performance
Section 2 – Understand the purpose of supporting change in a business environment
1. Identify the main reasons for reviewing working methods, products and / or services in a business environment.
It is usually possible for a business to assess the potential impact in two broad areas
Impact on working methods
Impact on the products or services provided
There is quite a lot of pressure for businesses to change and this can be caused by many influences. These influences can come from a wide variety of sources and can create anything from very small to highly significant pressures on businesses
They can occur at any time so businesses and organisations need to be diligent in detecting these influences and acting appropriately to them
2. When a business is going through change:
a) Describe the different types of support that people may need.
Employees can begin to feel anxious, nervous or stressed if and when a business goes through a change, this could lead to feelings that may cause them to withdraw, become less energetic, not so sociable with colleagues and
less likely to learn and take in the new information.
This can be harmful to the business and to the individual; there are several different types of support that can help during these changes.
Planning that is effective
Taking part
Coaching or counselling
Supporting or encouraging behaviour
Retraining or more training
The above activities require and need people to work together as a team to enable the changes to be successful.
b) Explain the benefits of working with others.
You can offer encouragement, support and assistance through the change process
Typical support behaviours can include
Asking if a person requires help
Being willing to listen to problems
Providing progress reports
Smiling
Sharing experiences of successful changes
Emphasising the benefits of the change
These forms of encouragement and supportive behaviour can give people ample opportunity to help each other out and cope with the change, by working with others as a team, it can become apparent that similar experiences have happen to other people and that they have the same concerns. This can minimise people becoming isolated and so provides a framework for problem solving and mutual support with in the workplace.
Section 3 – Understand how to respond to change in a business environment
1. In relation to your current business environment (or one that you are familiar with):
a) Explain why you should respond positively to changes in working methods.
When there are changes to products, working practises or services in business there are two broad responses:
Positive
Actions, thoughts and behaviours that seek and support change and seek to move away from the norm.
Some examples include getting excited about the prospect of change, trying to get more information regarding the change, welcoming the news and looking for creative solutions.
Negative
Thoughts, actions and behaviours that resist the change and that prefer the old way of the business operations.
Some examples include resisting change, getting depressed about change, pretending that change is not happening, and potentially sabotaging change.
Positive or negative responses
Having a negative response to changes in working methods, products or services is more than likely to result in business having difficulties. This will likely delay the change, disrupt it or possibly stop it altogether, this can cause frustration to staff who wish for the changes to take place and may even result in the business becoming stagnant – not moving or going forward as a result in resisting the change.
A smoother transition is likely to take place with positive responses to changes in the working methods, products or services. The business is more likely to progress due to the willingness embrace and except the change, the priority of a business is to ensure that all employees respond with a positive attitude to change, which then in turn can help provide the momentum for the change to happen.
b) Explain why you should respond positively to changes in products or services.
The reason why you should respond positively to changes in products or services is:
Remember that changes are happening for a reason and it is always a good idea to know the reason so you can think positively about it. It could be that the change will improve the service that you give to your internal/external customers or speed up the time it takes you to complete a task. If you can see a benefit for you as to why the change is happening it is often easier to accept, but remember unfortunately the change may not always benefit you directly. In these situations you will need to think about whom else may benefit and why this is important. A new procedure may take you longer; however, it could allow a better service to be given to your internal/external customers, which could result in better working relationships and/or customer loyalty. Responding negatively to a change will influence those around you creating a difficult environment to work in. A positive approach encourages a good working environment and good teamwork.
c) Identify ways of responding positively to change.
The first positive action you can take is to look at the way you view change. Think of the change as an opportunity to gain new skills, improve your working procedures and even achieve career progression.
Attend any training available with a positive attitude, the more knowledge you have the easier you will find doing something new.
Support colleagues if they are struggling, this is a great opportunity to demonstrate different skills to your colleagues.
Don't get drawn into negative conversations, this will not make you or others feel good about the situation.
Once you have completed all 3 Sections of this Assessment, go to www.vision2learn.com and send your work to your tutor for marking.
Related Topics