Communication in Adult Social Care Settings Free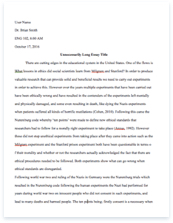 The whole doc is available only for registered users
A limited time offer! Get a custom sample essay written according to your requirements urgent 3h delivery guaranteed
Order Now
Ai Identify four different reasons why people communicate.
1. In order to pass on any information.
2. To be able to build, develop and maintain relationships.
3. To ensure the individual's needs and preferences are met.
4. To maintain effective team working.
Aii Explain how effective communication can affect relationships in an adult social care setting between: a) Colleagues and other professionals
It is important to communicate effectively between colleagues and other professionals to be able to provide the best possible care for the individual. You must share relevant information with each other in a professional and confidential way to ensure the individual's needs are met. All those working with the individual are just as important as each other and everyone makes an essential difference. b) Individuals using the service and their carers
It is important to communicate effectively between the service users and the cares as the service user needs to be sure that the carer is working in their best interest and that all identified outcomes are met. It is vital that the service user feels re-assured and understands what the carer is doing. It is also important that the carer understands the service user's needs and preferences through communicating and understanding their response.
Aiii Identify three ways of finding out the communication and language needs of an individual. For each method, describe how effective it is at establishing the needs of the individual.
Observe the individual
By observing the individual you may notice how they communicate and realise which language they speak. You can discover whether they are visually impaired, hard of hearing or have any other disabilities.
Read the individual's records/history
By researching the individuals history (records) will help you identify the individual and what needs they require. This information should state any disabilities they may have and what type of support they need. This should also state the language they speak, where they are from and which religion they are.
Communicate with the individual's family, friends and colleagues
Ask the individual's family, friends and colleagues and/or other professionals working with the individual. These people should have sufficient information regarding the individual as they will have built a relationship with them over time. This may allow you to discover which needs they require and any preferences they desire.
Aiv Describe three factors to consider when promoting effective communication.
There are numerous of factors to consider when promoting effective communication such as;
The eyes
By looking at the individual's eyes when communicating, you can notice if they are cooperating with you, understand how they might be feeling which will help you to provide the best outcome for the situation.
Voice tone
When talking to the individual, it is important to speak slowly and clearly with an appropriate tone in a professional and calm manner. If you were to talk quite quickly and or loudly then this may cause the individual to think you are angry which may upset them. Your voice is a powerful tool and by using it effectively can make the individual feel safe and valued.
Body language (movement and posture)
We send messages from our body by the way we move and position ourselves. When communicating with the individual it is important to notice how they are being for example; if they were to lean forward then it is possible that they are interested in what you have to say, whereas if they were to lean back or maybe look away then you would assume that they aren't interested or may not understand you. The carer must also notice which body language they display as this could offend, frighten or intimidate them.
Av Describe three verbal and three non-verbal communication methods and styles that a social care worker may use in an adult care setting.
Verbal
1. Use of vocabulary
2. Use of tone
3. Volume of voice
Non-verbal
1. Written communication
2. Symbols/pictures
3. Facial expressions/body language
Avi Explain why it is important to respond to an individual's reactions during communication.
It is important when communicating that you respond to the individual, this will encourage them to communicate and will let them know that you understand them. You will also recognise if they become emotional so that you can adapt your method of communication and support to their needs.
Avii Explain how an individual's background can influence their communication methods.
It is important to understand the individual's background and how this could affect a way in which they communicate for example: if the individual is from a different culture then they may not be able to speak to men, they may not be allowed to speak at all as the man in the family speaks for them. Also body language such as hand gestures may appear aggressive. The individual could have worked in the health profession and may believe they know it all which could cause all types of problems.
Aviii Identify three examples of barriers to communication and explain how you could overcome each barrier.
Language barrier
The individual may speak a different language so you may need to provide an interpreter/translator. Another option is to use pictures and symbols or a type of body language.
Cultural barrier
The individual may be from a different culture so you would need to research into this. You can find out information from the individual's records, family, friends and colleagues. The norms of social interaction vary greatly in different cultures.
Psychological barrier
The individual's mental state may affect the way they communicate, for example: if they were angry, they may say things they don't mean, if they were stressed then they may not understand what you are saying. They may lose concentration by being preoccupied due to personal concerns. More often than not people with low self-esteem may be less self-assured, less confident, causing them to feel uncomfortable when communicating.
Aix Describe two strategies that you could use to clarify misunderstandings.
1. By being understanding and politely discussing the situation in order to resolve it. 2. By using a calm, professional manner and appropriate body language.
Ax A social care worker wants to enable more effective communication with individuals using the service. Explain how they could access extra support or services that may be helpful.
There are many services and types of support which you can access such as: THE DEAF ASSOCIATION, THE BLIND INSTITUTE or THE STROKE UNIT etc… these services can provide you with lots of information, extra strategies and promote effective ways you can communicate with the individual. Support can also be found on the INTERNET and LOCAL HEALTH CLINICS.
Task B Case study
You are a social care worker and a service user, Hannah, tells you that she is unhappy taking her new medication as she thinks she does not need it and so she is throwing it away. You know from her care plan that Hannah does need to take the medication regularly and gets confused. Hannah begs you to keep this confidential and not tell anyone especially her daughter, who she sees regularly, as her daughter will be very angry.
Bi How would you explain the term 'confidentiality' to Hannah? I would explain to Hannah that it is important she takes her medication and by not doing so could be detrimental to her health. Due to Hannah not wanting to take it, I would explain to her that I would have to tell my manager but as far as anyone else-including her daughter- is concerned, would be up to her if she wanted to tell them.
Bii Identify the range of people who may need to know about Hannah's situation, and describe any tensions that may occur if the information is shared. The main people would be those who deal directly with her care; GP and other health professionals. If the information was shared with anybody else such as: her daughter then this could cause a great deal of stress for Hannah. Biii Describe ways to maintain confidentiality in day to day communication. Do not share information with people who do not need it-only authorised people such as: their GP and other health professionals need their information. Keep information in a safe place, personal records and other information should be kept in a secure place such as: a locked filing cabinet or office. Handing over information-you need to make sure when giving or receiving information that you are in an appropriate place away from others who could hear. Permission to pass on information-be sure to get permission when passing on information to others.
Biv Explain when and how a social care worker should get advice about confidentiality.
If an individual has disclosed confidential information to a care worker that results to them being in danger for example; suicidal or being abused etc… then the care worker should always seek advice from their senior or manger. It is vital that the information stays within the workplace.
Related Topics