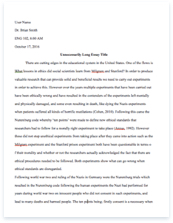 The whole doc is available only for registered users
Pages: 3
Word count: 686
Category: Learning
A limited time offer! Get a custom sample essay written according to your requirements urgent 3h delivery guaranteed
Order Now
Collaborative learning requires working together toward a common goal. This type of learning has been called by various names: cooperative learning, collaborative learning, collective learning, learning communities, peer teaching, peer learning, or team learning. What they have in common is that they all incorporate group work. However, collaboration is more than co-operation. Collaboration entails the whole process of learning. This may include students teaching one another, students teaching the teacher, and of course the teacher teaching the students, too. More importantly, it means that students are responsible for one another's learning as well as their own and that reaching the goal implies that students have helped each other to understand and learn.
The basis of both collaborative and cooperative learning is constructivism: knowledge is constructed, and transformed by students. The learning process must be understood as something a learner does by activating already existent cognitive structures or by constructing new cognitive structures that accommodate new input.
Collaborative learning shifts the responsibility for learning to the student, in the role of "researcher" and self-directed learner. In order to work towards a collaborative learning approach, the teacher must fully understand their students' preferred learning styles and their own conceptions of learning. This can help the teacher decide where and how to start an online cooperative/collaborative project.
One of the benefits of collaborative learning is the fact that students are actively exchanging, debating and negotiating ideas within their groups increases students' interest in learning. Importantly, by engaging in discussion and taking responsibility for their learning, students are encouraged to become critical thinkers, this implies that every group member will learn their assigned concept and will be responsible for explaining/teaching this to other members of the group.
Whenever a teacher is interested in implementing cooperative learning, the first step is to consider each stage involved in the group work so that the teacher is ready to give support whenever needed. This means keeping in mind the topics, activities or projects which are part of the regular curriculum and deciding which ones would best adapt to the collaborative work the teacher would like to implement. This also means considering how the students will be organised in groups during the collaboration.
It is also important to make sure our students understand why we are asking them to participate in a project and the underlying learning process. Plan time into the beginning of the project to advise and explain to your students about the project.
On the other hand, time may be needed to get the students "trained" in working together. Thinking about each stage of the collaboration requires the teacher to think "outside the box". Activities should be considered from the point of view of individual tasks which, as a combined effort, make a whole.
It is important that the activities and tasks are adapted to the students' skills and abilities. This can be more difficult if the partner classes have different levels, however it does not have to be an obstacle for collaborative learning.
Collaborative learning is about teaching each other so varying skills and abilities can be incorporated into the activities but teachers should be aware of group size as well, too. Usually having more than four members per group decreases the chance for collaborative work.
At the end, tasks should encourage students to reflect and discuss "why" – that is, they should reflect on how they came to their solutions of each problem they encountered. Students should learn to listen carefully to comments, opinions, suggestions and criticisms from other members of the group and learn to "re-think" their own judgments and opinions, when and if necessary. The collaborative learning activities should provide students with opportunities to analyse, synthesize, and evaluate their ideas together. This means facilitating discussion and interaction so that students are forced to go beyond mere statements of opinion.
This is one of the most important factors to collaborative learning. Students should know and understand that their interaction in the group is linked to the others in such a way that success can only be achieved by everyone contributing their part. Knowing that one's participation is essential for the whole group can be a powerful motivational factor.
Related Topics