President of The United States On Immigration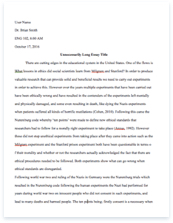 The whole doc is available only for registered users
A limited time offer! Get a custom sample essay written according to your requirements urgent 3h delivery guaranteed
Order Now
Has made immigration one of the biggest talking points of his campaign and presidency. He has used divisive and hateful rhetoric which has been spread and popularized by right-wing media. This has created a heated debate about illegal immigration and has led to the deployment of 5,000 U.S. military troops at southwestern border to Mexico and the incarceration of thousands of immigrant children in tent camps. Donald Trump famously described Mexicans crossing the border into the U.S. as "people that have lots of problems, and they're bringing those problems with us. They're bring drugs. They're bringing crime. They're rapists. And some, I assume, are good people." The right-wing media took those words and built a false narrative around them, which continues to negatively impact stereotypes of brown people and immigrants.
The White House, continuing to cater to the right-wing media fear and paranoia towards people of color, has increased tensions at the border with their rhetoric and, arguably, unconstitutional actions towards immigrants seeking asylum into the United States. There are no facts to support claims that asylum seekers are criminals or drug dealers. In fact, a 2015 study by The University of Texas at Austin showed that immigrant teens are statistically less likely than U.S.-born peers to be involved in any violent or delinquent behaviors, such as selling drugs or carrying guns. Immigrant teens were also less likely to use alcohol, marijuana or illegal drugs. The same study also indicated that immigrant youths are more likely to report positive parental relationships and positive school engagement (UTNews). The right-wing media and the U.S. government aren't actually targeting "criminals" with their actions and rhetoric. They are targeting people of color.
In a statement released on July 6, 2015, Donald Trump said that "Tremendous infectious disease is pouring across the border." "The United States has become a dumping ground for Mexico and, in fact, for many other parts of the world." This statement, and the rhetoric spewed by the right-wing media, have only increased fervor amongst Trump's base and increased hateful and stereotypical education across a new generation of Americans. Popular Fox News host Laura Ingraham claimed, without evidence, that the migrant caravan was a national health crisis. "It's a health issue too, because we don't know what people have coming in here. We have diseases in this country we haven't had for decades," she said. David Ward, an ex-ICE agent, continued the false narrative when he went on Fox News and claimed that the migrant caravan of Central American asylum seekers was going to bring smallpox to America. "They are coming in with diseases such as smallpox, leprosy, and TB that are going to infect our people in the United States," Ward said.
The smallpox virus was eliminated with a major global vaccine and the World Health Assembly officially declared the world free of the disease in 1980 (CDC). The president of the U.S. or the right-wing media knowing or spreading the facts seem to be of no concern to them in this matter. They seem content to simply conjure up a fear and hate frenzy amongst their base with their constant xenophobic fantasies. Another popular misconception being distributed by the media is that there has been a dramatic surge in immigrants crossing the southwestern border of the U.S. illegally. The president of the U.S. and many major news organizations have called it an "invasion". They are constantly trying to convey that these people are coming into the country at a higher number than ever before. That is simply not true. Illegal immigration is actually near an all-time low.
One of the most common ways to measure the amount of people crossing into the United States illegally is by charting the number of people apprehended at or near the border. According to U.S. Customs and Border Protection, monthly apprehensions along the Southwestern border have dramatically decreased since the year 2000 and are at their lowest levels since 1971 (U.S.C.B.P). The right-wing media has been very selective in the types of statistics that they discuss in order to maintain their narrative. The White House and Department of Homeland Security have continued to report that there has been a surge in illegal border crossings over the past several months. What they don't disclose is that those figures are only accurate when compared to the same months in 2017. In May 2018, for example, 51,912 migrants were arrested or denied entry at the southwestern U.S. border, compared to 19,940 migrants in May 2017 (U.S.C.B.P.). This does show a significant increase, when compared to only that same month on the previous year. Expanding on the data, however, shows that the number of migrants arrested or detained at the border was 55,442 in May 2016, 40,681 in May 2015 and 68,804 in May 2014 (U.S.C.B.P.).
These figures are consistent with the constant downtrend of migrants being arrested or detained at the border since the year 2000. There is no real surge in illegal migrant crossings at the U.S. border. Thankfully, not every popular voice on the right support Trump's agenda. Anti-government militia leader Ammon Bundy caused a stir when he appeared to break from his Conservative counterparts' views in a recent Facebook video that he posted about Trump and the migrant caravan. "He basically called them all criminals and said they're not coming in here. It seems that there's been that group stereotype," Bundy said in the 17-minute clip. This is a hopeful sign that even conservatives may be growing tired of the messages of hate and fear than they are constantly having shoved in their face.
The United States is currently going through a mass expulsion of immigrants, as well as a mass expulsion of our values and knowledge of what made America great in the first place. As long as the public continues to let right-wing media, like Fox News, spoon feed them their information, they are going to continue to succumb to the stereotypes, fears and prejudices about what they imagine Mexicans, immigrants or people of color to be. We are a nation of immigrants who are being led astray by the media and our leadership. The only way to combat the lies and hateful rhetoric is with more facts and a bigger push by the media to tell the stories of immigrants and people of color throughout American history who have paved the way for our country's successes
Related Topics