Persuasive Speech Argumentative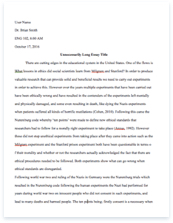 The whole doc is available only for registered users
A limited time offer! Get a custom sample essay written according to your requirements urgent 3h delivery guaranteed
Order Now
Introduction:
A very good morning I bid to my lecturer, Miss Chai and all my dear friends. Before I begin my speech, let me ask you some questions. When was the last time you drank the alcoholic drink? Was it last year, last month, last week or yesterday?
Do you know that the alcohol drinks can either save or destroy your whole life? Main point:
What is alcoholic drink
Alcohol plays a part in many of our lives, yet it's surprising how little people know about its contents. An alcoholic drink is a drink that typically contains 3% – 40% alcohol (ethanol). Alcoholic drinks are divided into three classes that are beers, wines, and spirits. According to James C. Garbutt, MD, professor of psychiatry at the University of North Carolina at Chapel Hill School of Medicine, the alcohol does all kinds of things in the body and we cannot fully aware of all its effects. A researcher at the university's Bowles Center for Alcohol Studies also says that "Alcohol is a pretty complicated little molecules." Depending on whom you ask, alcohol is can be a blessing or a curse. Even Harvard School of Public Health calls it "both a tonic and a poison," depending on the dose. Besides that, Chris Sorek, DrinkAware also says that drinking too much of any alcoholic drink can have a number of undesirable short and long-term effects. Research has already found that the alcohol consumption is linked to more than 60 diseases.
Diseases
According to the Harvest, more than 100 scientific studies show that a glass of red wine per day can reduce the risk of heart disease. This is because it contains high concentration of polyphenols that can reduce blood pressure. However if you binge-drink which means you consume more than five drinks in two hours, the rates of high blood pressure will increase and you're more likely to have a stroke. Besides that, scientists believe that the habitual drinking will increase the risk of cancer because the body will convert alcohol into acetaldehyde, a potent carcinogen. Some sip of alcoholic drinks is good for health, but don't binge drinking, it will surely destroy your future.
Relationship
Drinking maybe can help to reduce inhabitations and help people bond. Many social events revolve around drinking. Nowadays, society uses the alcoholic drinks is not only to strengthen the bond between friends and family, they also use it to gain the benefits in their business. However, in the opposite side, drinking will also break the bonds. Binge-drinking is a fire to bring conflict to people. Sometimes, too much of drink will bring the violence between friends and friends, family and family, wife and husband. They do not have self-confidence and also they can't control themselves to hit each other or fight with their wife and children. Due to binge-drinking, the relationship between the family members and also the friends will totally broke. The most serious part is you might be send to the jail due to the violence. So, you need to control your drinks. It is not only for your own good and also the other people.
Fun and Money
Drinking can be a nice way to unwind after a tough or stressful day. Some people believe that drink can temporary help you to forget all the unhappy things at that moment and will motion to do the works after. In addition, drinking can be fun since you drink with your close friends and can share your secret with them while drinking. However, habitual binge drinking will cost you a lot. As we know that alcoholism is an expensive habit. Depending on your lifestyle and your poison of choice, you could be spending from RM 70 to RM 300 a week on alcohol drinks. The habitual binge drinking might cause your family lose the reputation in the society and children force to drop out of school and go out to find out money to support the whole family. So, you need think carefully before you have drinks.
How to reduce drinking alcoholic?
Talk to the doctor
The doctor can give you some medicines that will help you safely reduce your addiction to alcohol. Family member and friends
The family members and friends can give the moral supports to reduce your reliable on alcohol. Set a drinking goal
Choose a limit for how much you will drink. You may choose to cut down or not to drink at all. Drink a lot of water
Use water to replace your alcoholic drink. Water will help keep you hydrated, make you feel better, and help flush out toxins from your body. Conclusion:
Some sip of alcohol will lead you a better life. However, the habitual binge drinking will change your whole life from heaven fall into hell.
References:
1. David Freeman, 12 Health Risks of Chronic Heavy Drinking
http://www.webmd.com/mental-health/addiction/features/12-health-risks-of-chronic-heavy-drinking 2. Sarah Collins, Feb 18, 2014 The Advantages & Disadvantages of Drinking Alcoholic Beverages http://www.livestrong.com/article/517854-the-advantages-disadvantages-of-drinking-alcoholic-beverages/
3. News, Saturday, 19 December 2009 Whisky hangover 'worse than vodka', study suggests http://news.bbc.co.uk/2/hi/health/8416431.stm
4. Healthwise Staff, E. Gregory Thompson, MD – Internal Medicine, Peter Monti, PhD – Alcohol and Addiction, March 12, 2014 http://www.webmd.com/mental-health/addiction/how-to-stop-drinking-alcohol
Related Topics