Personalisation and person-centred care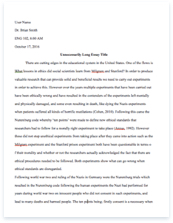 The whole doc is available only for registered users
A limited time offer! Get a custom sample essay written according to your requirements urgent 3h delivery guaranteed
Order Now
Do personalisation and person-centred care ensure service provision that takes into account a service user's identity?
This essay will try to establish what identity is and if personalisation and person-centred care can ensure a service user's identity is taken into account when accessing health and social care services. It will look at the work of Berger and Luckman and their suggestion that identity is always 'socially constructed', and will also explore Goffman's concepts of 'stigma' and 'spoiled identity' which explore stereotyping. Recent developments towards 'normalisation' and personalisation and person-centred care policies will look at examples of what these changes mean for service users, including Mitchell and that of Jane and her family who do not necessarily think all the changes they face are beneficial. It will be seen that whilst the intentions of service providers is to improve and empower service users to make choices which best suit themselves, thus building and improving their identities, it is not always true in every case.
It could be argued that a person's sense of personal identity depends on how they see themselves and how other people view them. The sociologists Peter Berger and Thomas Luckman suggested that identity is always socially constructed and that children first learn who they are and about the world through their parents or 'significant others'. They also learn how they should behave within that world (K217 Chapter 5, p7). Later on they encounter schools, universities and different types of work environments in what they called 'institutional sub-worlds' where they experience specialist use of language, roles, expectations and cultures. To successfully take part in these new domains, Berger and Luckman suggested that they learned their place within these sub-worlds and adopted  their identity. They saw the role of society as crucial in creating and maintaining identity and suggested that individuals can, to some extent, decide which identities they adopt.
In addition to unique personal identities, individuals may also have shared identities, whereby some are singled out as 'different'. For example, sexual orientation, ethnicity, mentally ill or disabled. Such examples can be significant in how people are viewed and how they are treated (K217 Chapter 5, p6). Although identity would appear to be a personal issue, social factors can be influential in the formation and acceptance or rejection of different identities. One example could be that of the homeless or those who live on the streets. Joe Bloggs (block 2 forum, 2011) argues that to some, these people may be seen as failing to help themselves, or are responsible for their own predicament. Others may claim that their identity is a deliberate act in order to extract money for alcohol and drugs. Such stereotypical views would appear to confirm the opinion of Berger and Luckman, in that the identity of the homeless is socially constructed, and that those who fail to live-up to society's expectations can face disapproval and possible intervention by the legal system or by health and social care services.
The sociologist Erving Goffman suggested that the social construction of identities is essential for successful interactions and claimed that upon meeting someone you can usually work out how to relate to them without discovering anything about them, for example, patients and doctors or civilian and policeman. For those who have difficulty recognising these familiar patterns of interactions, such as those with autistic spectrum disorders, they can find it difficult in engaging with others. Such shared and generalised social identities can lead others to stereotype and assume negative labels (K217 Chapter 5, p10). Goffman's work on stigma, in which he referred to as 'spoiled identity', explored  stereotyping and led to his categorisation of three types of stigmatised identity. He named these as physical deformities, mental disorders and ethnic and cultural differences. Such grouping of identities may have direct relevance to the experiences of users of health and social care services. One example of mental disorder can be seen in an article by Jane Bloggs(block 2 forum, 2011) in which an apparent anorexic can draw assumptions about the cause of her condition which lead to a stigmatised identity.
Goffman referred to the non-stigmatised in society as the 'normals' who create rationales to explain why those with stigmatised identities present a danger or burden to others. They may also apply labels such as 'cripple' or 'lunatic' and make generalised assumptions about their characteristics. The stigmatised may respond by trying to hide aspects of their identities, such as playing sports or by developing a positive interpretation of their identity. If it is the case, as suggested by Goffman, that some in society view others to be 'normal' or 'different' then what implications does this have for peoples experiences of health and social care and how society thinks about the idea of independence over dependence for those who use and rely on medical and care services (K217 Chapter 6, p25). This would imply that for those whose identity of being sick, ill or mentally or physically disabled becomes an important aspect of engaging with such services (K217 Chapter 5, p13).
A recent development in the history of health and social care services is the concept of 'person-centred' care as a way of improving the experience of care and the belief that individuals should have more choice and control over the type of care received. This idea specifically focuses on key issues such as, listening to what people who use services have to say, treating them with respect, communicating honestly, relating to each person as an  individual and acknowledging different parts of their identity and focusing on what people can do, rather than what they cannot do (K217 Chapter 7, p51). This personalised approach to care assumes that people can take decisions about how their needs can best be met, provided that they have the relevant information and support required to do so.
It also requires that service providers and practitioners understand the situation of the service user in offering flexible and responsive services. This focus on outcomes is designed to hold meaning for the service user by creating an environment that is designed to help them and their families, advocates and professionals develop and support their capabilities, rather than their so-called deficiencies (K217 Chapter 7, p53). This could also imply by definition that the identity of the service user is protected and promoted in order to maintain a positive sense of wellbeing.
These recent changes have brought about change from the more traditional model whereby agencies provide services in line with what they are able to provide as opposed to the service users specific needs'. This has also led to the recent concept of 'personalisation' of care, whereby individual and personal budgets aim to give people more control over how they spend state funds to which they are entitled (K217 Chapter 7, p56). One example of this can be seen in the case of a Mitchell, (K217 activity 7.3, task C) and how in 2004 his family approached the local Primary Care Trust (PCT) to extend payments into a family-led trust, thus securing an individual budget for Mitchell in 2008 so that he could employ carers directly or from an agency of his choice.
The family describe how that prior to this the hospital-based team would provide staff within a 'onesize-fits-all' framework, which did little to recognise Mitchell's individuality or the specific needs of the family. They felt that because the staff were technically part of the hospital, they were informed by the same policies and procedures as the staff on the  wards. The family describe how they wanted to put Mitchell at the centre of his care package, seeing him as a whole person and empowering the family. Such changes also represent a change towards greater independence, thus allowing Mitchell to move obtain a less stigmatised identity as proposed by Goffman.
This personalised approach to Mitchell's care could be seen as fitting into the 'consumer empowerment model' as argued by Hunter and Ritchie in which it assumes that everyone can and wants to make choices about their care, provided that sufficient consumer information is available (K217 Chapter 7, p58). Underpinning this consumer empowerment model is a belief that the 'care market' will become more responsive towards service users as power is shifted away from professionals. This shift could be seen as a key element for service users to build and strengthen their own identity and wellbeing as a member of society. However, some vulnerable people may not always have a family support network in place and may face particular difficulties when confronted with the option or possibility of personalisation policies, and may require support or advocacy to achieve a 'person-centred' care situation.
Person-centred care has also acted as a recent driver for change within institutional settings, with the concept of 'normalisation' as one set of ideas that explicitly sees the role of services as being to counteract negative labels and stigmatisations as argued by Goffman. This was in response to the situation of people being labelled as 'mentally retarded' or 'sub-normal', who were placed in large overcrowded institutions. The process of 'normalisation' is designed to allow people to experience patterns of life and experience everyday living as considered normal in society (K217 Chapter 6, p39). These ideas were developed further by the sociologist Wolf Wolfensberger in his theory of  'social role valoration' which involved the creation of 'socially valued roles' for marginalised people to experience life that is as culturally normal as possible (K217 Chapter 6, p40).
Orchard Hill is one example of this process in action and is the last learning disability hospital in England to close. The final ten residents were to move into their own purpose-built one-bedroom flat within the community. Both parents and staff are now asking how different their lives will be when each person has their right to privacy, choice and independent living (K217 activity 5.2). Julia Hancock, an Occupational Therapist who has worked at Orchard House for nearly thirty years talks about how life was very institutionalised and describes how the residents lived in wards of about fifteen with three staff on duty. She explained how activities would all be completed at set times and in set ways with little flexibility to support individuality. In more
recent times the charity Choice Support took over the management of existing staff in a transfer of services from Sutton council in 2009 with the specific aim of assisting the move of the final ten residents to purpose-built community housing by 2010. These changes being a direct result of government policy in the 1990s requiring that long-stay hospitals close, in a move away from institutional care and towards the support of peoples' individuality and differences.
But such an assumption is not always seen as positive by some. For David Lee, whose daughter Jane has been at Orchard Hill for many years, he speaks fondly of the staff, facilities and system available to Jane and her family. For David, the current environment provides well for Jane's needs and he wishes for this to continue. It could be argued that there are no advantages for Jane living independently and that no stigma exists about the current arrangements for Jane or her family. In addition, moving Jane could be negative for her and her family's identity. Hilary Brown and Jan Walmsley argue that  normalisation ideas can too easily be taken to mean that what's 'ordinary' is what's best for people, and also that it can be used to excuse failures to provide services that an individual genuinely needs (K217 Chapter 6, p43). However, for others, including the government and some disability activist groups, this move towards independent living fits with the belief that 'normalisation' and integration in society is 'valued' and allows the development of a positive identity.
When considering the examples discussed and how recent developments in the history of health and social care services, it could be argued that an individual's identity is given more consideration and protection – This being based on evidence that takes account of individual differences in which the idea of independence of choice and services over dependence and prescribed services is seen as producing the best outcomes for service users. To obtain society's desired expectations, this 'consumer empowerment model' can be seen in action when looking at the examples of both Mitchell and Jane and how for Mitchell it produced positive change with the securing of securing an individual budget. This by definition could be said to have recognised his identity. However, for Jane and her family, whilst some of the recent changes to a more person-centred approach in what was previously an institutionalised setting, her family do not feel that furthering her independence into new community accommodation is beneficial to her or her needs. Therefore, this essay concludes that whilst many initiatives provided by the health and social care system assume what's 'ordinary' is what's best for a service user, this is not always the case because of unique individual identities and perspectives.
References
Activity 5.2 (2010) 'Spoiled identities' Exploring identity, difference and inequality, Milton Keynes, The Open University.
Activity 7.1 (2010) 'What is person-centred care?' Exploring identity, difference and inequality, Milton Keynes, The Open University.
Bloggs, J, (2011) 'The nature of identity'
http://learn.open.ac.uk
Leach, J, (2010) 'Who are you? Identity in health and social care' K217 Exploring identity, difference and inequality, Milton Keynes, The Open University. Bloggs, J, (2011) 'Living on the streets'
http://learn.open.ac.uk
Tilley, L, (2010) 'Providing person-centred care in practice' K217 Exploring identity, difference and inequality, Milton Keynes, The Open University. Tilley, L, & MacKian, S, with contributions from Walmsley, J, (2010) 'Living and working with normality and difference' K217 Exploring identity, difference and inequality, Milton Keynes, The Open University.
Related Topics