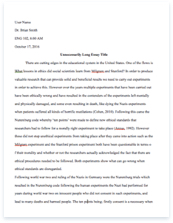 The whole doc is available only for registered users
A limited time offer! Get a custom sample essay written according to your requirements urgent 3h delivery guaranteed
Order Now
A Chronic Disease is a long-lasting condition that can be controlled but not cured. Chronic Diseases are the Leading Causes of Death and Disability in the U.S. Seven out of ten deaths among Americans each year are from chronic diseases. Heart disease, cancer and stroke account for more than 50% of all deaths each year. In 2005, 133 million Americans almost one out of every two adults had at least one chronic illness ("Chronic Diseases and Health Promotion," 2013, p. 1). I have chosen Diabetes for my personal impact paper. The purpose of this Personal Impact paper is to research the personal impact of a patient living with a chronic disease. I interviewed Alejandro Bermeo (my uncle), a fifty-nine year old male who was diagnosed with diabetes when he was forty-seven years old.
I have obtained verbal release of patient information from Alejandro. In this paper I will be interviewing Alejandro and his immediate family to research their personal impact regarding Alejandro diabetes diagnosis and the effect it has had in their life. Alejandro and Martha (my aunt) were married for twenty-nine years before he found out he had diabetes. They have two children, a daughter named Sarbelia and a son named William. Alejandro had symptoms of increased thirst (polydipsia), increased urination (polyuria), fatigue, and noticed a wound he had on his foot that was taking a long time to heal. He also had had extreme fatigue and lower extremity pain with numbness that prevented him from sleeping at night. He says he was afraid to go to the doctor because of a family history of diabetes, so he put it off for a few months.
His wife, Martha recalls how hard it was to convince him to finally make a doctors appointment, she states "I knew he thought I was complaining and bothering him all the time, but I wanted him to see how important it was for him to get the right treatment, especially if it was diabetes, I want him to be able to manage it so he can still be here for his family." Alejandro finally made a doctors appointment and after running a few lab tests, along with his symptoms, and monitoring of blood sugars, he was diagnosed with diabetes. He now knows the importance of keeping track of his blood sugars and taking his insulin as scheduled. He witnessed the impact of diabetes and the consequences it had on his older brother and older sister, who didn't take care of them selves and therefore succumbed to this chronic disease. Alejandro was afraid and was in denial about the possibility that he could also have diabetes before his diagnosis was confirmed. Alejandro states that his doctor called him and told him of his diagnosis over the phone, and it felt like his life was ending. He admits that he did not know the first thing about the disease, only the effects it had on his older brother and older sister. After speaking with his Primary Care Physician, and getting recommendations to other support services that deal with diabetes, he now sees it in a more manageable sense.
He now belongs to a support group through the Kaiser Permanente Thrive System, which is led by a Registered Nurse who is certified in diabetes education. This support group provides encouragement, up-to-date information, and allows all a chance to voice feelings or fears. His Primary Care Physician also referred Alejandro to an Endocrinologist in order to further monitor insulin levels and prescribe insulin. Alejandro met with a Dietician in order to make a lifestyle change with his eating habits. He also started an exercise program at a local gym, which his wife faithfully attends with him three days a week. He also took up playing soccer competitively on Sundays. Alejandro states "this whole way of life was all new to me, it took some time to get used to this new lifestyle, but I knew in my heart I had to do it for my family." Alejandro admits that before his diabetes diagnosis, which he rarely went to the doctor, did not hold a regular exercise routine, and was thirty pounds heavier due to his poor eating habits and sedentary lifestyle. Alejandro's family was the biggest motivation for change. He admits there were times when he wanted to give up and go back to his old lifestyle, then he remembered why he was changing and managing his illness was all for his family. He wanted to be alive to see his daughter's graduation from college, his sons wedding and grandchildren.
He wanted to grow old with his wife Martha. This is the change motivators he used to keep going with his exercises, and healthy lifestyle. Alejandro educational experience with his diabetes diagnosis was life changing according to him. He met with a lot of healthcare professionals such as his Endocrinologist, his Primary Care Physician, and The Registered Nurse in his support group; all of these people were part of his learning experience. Alejandro states "I was so grateful for all of their help and knowledge, I felt like I wasn't alone and that this diabetes was actually manageable, after I learned how to change my life in order to manage my diabetes, I didn't feel like this was a death sentence." Alejandro and Martha researched online and learned a lot from the American Diabetes Association, Kaiser Permanente, and other resources.
Alejandro states that after all these years, he is still learning about the latest tests, medication, and procedures regarding his diagnosis. Alejandro states, "I will never stop learning or researching about this, there is a lot to know and I want to make sure I have all the facts." Overall, Alejandro states that his educational experience was positive, but overwhelming in the beginning. Alejandro explains the hardest part of having diabetes is in social situations where the menu is not tailored to someone with diabetes. He says holiday gatherings, and barbeques are the hardest because of the food. However, now that his friends and family know of his diagnosis, they have started changing the menu to accommodate him. Alejandro also explains that the exercise routine was very hard to fit into his schedule in the beginning. He was very tired after work, and started with thirty-minute workouts. He says he forced himself to go and to stay motivated through the help of his wife.
Alejandro workouts increased little by little and now they consist of an hour of cardio and thirty minutes of weight lifting. At one point he asked his nephew to get him motivated and show him how to correctly perform the exercises. Alejandro says the nephew being a personal trainer taught him a lot about how exercise affects the body through reducing insulin levels. He really had to monitor his blood sugar in the beginning due to his exercise routine and losing weight, but he now says he has it under control. Alejandro also takes credit for being a pioneer for his family as far as his weight loss. He explains that when other family members saw how great he looked after his thirty-pound weight loss, that he was able to give them tips on his lifestyle change. He still attends events that are not accommodating and says he used to be embarrassed to admit that he had diabetes, but now he says he feels that it is part of him. Alejandro has health insurance through his job and this has covered his medical expenses throughout his life.
He has been with the same company for seventeen years and works a full time schedule. Alejandro says his diabetes has been more of a lifestyle challenge, and has no complaints financially. I believe Alejandro and his family have a good base of knowledge through doctors, support groups, nurses, and the Internet regarding diabetes management. He has made a positive lifestyle change in order to manage his chronic illness. For patients with this disease I would recommend the same steps Alejandro (my uncle) and his family have went through in order to learn and become motivated to manage diabetes. Working with good, knowledgeable healthcare professionals who can answer questions and explain the illness is very helpful. Starting an exercise program is essential to manage weight and blood sugar. Joining a support group is helpful and provides insight to others with the same illness. Making an appointment with a Registered Dietician is helpful for diet change. Family support is necessary in order to make the correct lifestyle changes. With proper lifestyle changes, support, blood sugar monitoring, and healthcare professionals, diabetes is a completely manageable disease.
The key factor is to make the necessary lifestyle changes in order to properly manage diabetes, having the correct knowledge and support system can make a complete difference in the outcome.
Related Topics