Performance Management Argumentative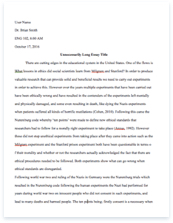 The whole doc is available only for registered users
A limited time offer! Get a custom sample essay written according to your requirements urgent 3h delivery guaranteed
Order Now
Performance management is the process through which supervisors and those they lead gain a shared understanding of work expectations and goals, exchange performance feedback, identify learning and development opportunities, and evaluate performance results.
Importance:
It is through this process that organizations are able to create and sustain a workplace environment that: Values continuous improvement
Adapts well to change
Strives to attain ambitious goals
Encourages creativity
Promotes learning and professional development
Is engaging and rewarding for employees
The Performance Management Process
The performance management process provides a vehicle through which employees and their supervisors collaborate to enhance work results and satisfaction. This process is most effective when both the employee and the supervisor take an active role and work together to accomplish the following:
1. Performance planning: Plan for the coming year in the following areas: a. Clarify the expectations and standards for the job and ensure a mutual understanding of the job responsibilities: What is the nature of the role?
What are the primary responsibilities?
What's expected of someone in this role?
What standards must be maintained?
What expectations and standards must be met?
What are the quality measures that will be used to determine success? What are the customer expectations that must be met?
What are the time expectations?
Tips for clearly communicating expectations and standards:
• Be specific – avoid overly broad and ambiguous terms
Too broad:
Provide good customer service
Be courteous and friendly
Specific:
Smile and make eye contact when a new customer enters the room Return all client calls within 24 hours.
• Check to see what clarification is needed
• Ask for a summary to ensure understanding
I want to be sure I covered everything. Would you tell me what you've heard so far so I can be sure I didn't miss anything?
b. Set performance goals: Performance goals define what results the employee will strive to achieve by the end of an established time period. Effective goals meet each of the 5 SMART criteria described as: Specific, Measurable, Ambitious, Reachable, Time-bound c. Set development goals
• What knowledge/skills will the employee work to develop or enhance in the coming year.6
2. Day-to-day coaching and feedback: Discuss performance on a regular basis (not just during formal reviews). Share feedback about the employee's successes and areas needing improvement. Seek employee input about the work process and results.
a. Discuss performance often
Effective coaching occurs through conversation. Below are key characteristics of effective performance coaching and feedback conversations: • They are dialogues, not monologues
• They occur regularly, rather than being reserved for formal reviews • They are balanced – address strengths as well as concerns • They are collegial and conducted with respect, both in words and non-verbal behavior. b. Provide appreciative feedback – recognize successes
• Pay attention – catch people in the act of doing great work • Attach praise to meaningful results
Instead of just "good job", try "the solution you offered helped us to avoid a potential problem and exceed the client's expectation." • Thank people in person
Use other forms of acknowledgement to supplement an in-person thank you, not to replace it. • Celebrate successes
Celebrate small wins along the way to your goal. This can re-energize and motivate continued commitment to success.
c. Address concerns and solve problems
Best Practices:
Be timely
Don't overreact to an isolated incident
Address a manageable number of concerns at one time
Be specific and give examples
Focus on observable actions and their impact
Focus on problem resolution rather than blame
Engage in a dialogue – not a monologue
Collaborate to accurately define the problem and brainstorm solutions Conversation steps when addressing performance concerns or problems: Present your view of the problem. If the problem is a concern you have about the other's actions, use the Action-Impact format to present your concern. Action-Impact Format:
State the Action (behavior) you observed
Describe the Impact the action had on results
Invite and hear the other's view of the problem.
Listen non-defensively and seek to understand the other's perspective Identify a definition of the problem that is agreeable to both of you. Brainstorm possible solutions.
Agree on a strategy to implement.
Schedule a follow-up meeting to check the success of the strategy. Overview of Performance Management
3. Quarterly Performance Check-in: Have a "progress check" conversation at least once per quarter. Identify successes and needed improvements in each of the following areas:
• Meeting expectations and standards
• Achieving performance goals
• Achieving development goals
4. Formal performance review: During annual performance reviews managers and employees work together to: Review the employee's work achievements and challenges over the past year Establish work expectations and performance goals for the coming year Define the employee's professional development goals and learning plan for the coming year.
The forms utilized in this process will assist managers and employees in preparing for performance review discussions. Although these forms are helpful and necessary tools, the filling out of forms is not the primary goal of a review. Reviews are most effective when forms are used to help
prepare for a conversation and document the outcomes, rather than as a substitute for conversation.
Preparing for the Review
• Review the following:
− Position description (PDQ)
− Standards and expectations
− Past year goals and objectives
− Other documentation gathered during review period
• Request the employee complete Performance Self-Assessment: Ask the employee to prepare by reflecting on the following: − Successes and challenges over the past year
− Additional support he or she would like from you
− Additional skills/knowledge he or she would like to develop or enhance • Complete Performance Evaluation form
• Come prepared to share your perceptions and feedback about the employee's performance over the past year, including:
− Key achievements and successes
− Performance concerns and/or challenges
− Changes and enhancements that you recommend (or require) − Learning opportunities relevant to the employees job function that would help enhance current skills or develop new ones − Key employee strengths and contributions over the past review period
Conducting the Review
1. Share your feedback about the employee's performance
a. Include information about strengths and successes as well as areas needing improvement b. Communicate the rating you've assigned for each of the performance indicators c. Provide rationale for each rating – Include behavioral examples whenever a rating is above or below "achieves." 2. Invite and listen to the employee's assessment of his/her performance 3. Ask the employee to share his/her feedback for you, including ideas for improvement 4. Re-enter the performance planning phase
a. Define expectations for the coming year
b. Set performance goals
c. Identify learning and development goals
Best Practices:
• Schedule evaluation meetings in advance
• Use a private, interruption-free setting
• Allow sufficient time for discussion
• Consider in advance how to present information
• Set tone for respectful, adult-to-adult interaction
• Start and end on positive note
5- Alignment with Organization Mission & Vision
Effective performance goals flow from and support the mission, vision, and goals of the team, department, and organization. By ensuring that the mission, goals and strategies of the larger organizational unit drive all performance measures and improvement initiatives, supervisors are better able to help employees see how their efforts contribute to the achievements of the team, department and Organization. Individual
Goals
Organization Mission, Vision, & Values
Organization Strategies
Department & Team Goals
Global performance management
The global performance management process showed strong similarities in terms of overall design of the processes across companies and countries. A concerted effort on the part of group HR was witnessed to introduce and maintain global performance standards, supported by global competencies both at foundational, managerial, technical and leadership level, common evaluation processes, and common approaches to rewards. Certainly where national regulatory systems varied, in particular with regard to union representation, there were differences of approach, both in terms of wage determination and also with regard to the managerial prerogative, the ability to flex the workforce in terms of performance, and specifically, underperformance. Recognition schemes too, varied by national culture, with collectivist cultures eschewing individual award schemes. The country with most differences – Japan – does still, in some of its international companies, allow local practices to develop and continue away from the home base, but there are greater moves for integration, with the introduction of global standards into performance and with it the reduction of such staples as tenure based pay, egalitarian pay structures, guaranteed lifetime employment, and cradle-to grave benefits.
Scorecard approaches
The crucial issue within performance management is the linking of individual performance objectives to business objectives. This linkage is facilitated in a number of companies through use of the balanced scorecard. Scorecard approaches are generally conducted in three stages – objectives, measures of success and key performance indicators (KPIs) – and for each stage, the objectives, measures and KPIs are further broken down into four categories – financial, commercial, process and people. The objectives in each category are few in number reflecting the need for difficult and specific goals.
Behavioral and output based measures
The management of performance in the organizations includes attention to skills, knowledge, attitudes and behavior, though interestingly, it appears that output or results measurements dominate over individual behavioral assessments, perhaps because of their greater accessibility and ease of assessment. Global competency profiling is used in both organizational designs (i.e. broad banding and succession) and also in performance management. A number of companies use competency profiles within performance reviews, each profile detailing both standards of performance and also the necessary methods and competencies required for desired performance. These competency profiles are now becoming global in nature to ensure consistency of approach in terms of both selection criteria for employees and also for performance assessment. The performance management process was generally conducted using on-line mechanisms.
Frequency of evaluation
The frequency of evaluation varied. On average, formal evaluation was bi-annual, a mid-term and an end-of-year appraisal, though in some firms, quarterly was the norm. In project-based organizations, evaluation according to project timelines was implemented. Though the norm for goal setting in recent reviews is for a participative process. All companies had split the development review from the pay review. Companies with open-door and management by walking around principles, for example, had cultures of managerial enthusiasm for encouraging feedback, with skilled and frequent discussions concerning task and project progress. This was often tied to the provision of coaching to ensure the day-to-day, week-to-week nature of performance management.
Management of potential
In addition to performance, the measurement of potential is also crucial, and a number of firms have a matrix of performance and potential in order to evaluate employees and to map development and resource allocations as well as assigning share of pay pot. Potential was generally assessed using multiple inputs, frequently 360 degree approaches, and smoothing of distributions made in collaboration between senior management and the HR department. In terms of the management of high potentials, this was a high priority for all HR functions, and there was a high degree of sophistication about this activity. In all companies there were systems in place which identified high potential individuals using clear sets of leadership competencies and assessed using multiple inputs. These individuals were given a variety of developmental activities, from training, coaching, mentoring, projects, and secondments, and they were placed on a talent inventory that matched prospective jobs to high potential individuals.
Leading global performance management inputs and measures
Strategic Planning Process: The first stage in the performance management process is detailed business planning. The business planning process is designed to elicit standardized performance and budgetary outputs from each of the business units, which are subsequently collated at a group level and provide accurate and timely data on individual business unit activity and overall (aggregated) corporate activity. The business planning process is divided into three main stages, the respective foci of each being (a) an assessment of current business unit performance against corporate objectives, (b) an evaluation of strategic options available to the business unit / group to further enhance value creation and (c) the development and refinement of detailed business plans with clear guidance for implementation and continuous improvement. Conducted throughout a six month midyear period, the business planning process is critical to the assessment of current business capability and performance, and the establishment of corporate direction and strategy.
Behavioral Performance Feedback: The behavioral performance feedback provides the individual with behavioral performance feedback, as defined by the five core leadership competencies, from superiors, colleagues and subordinates. The behavior performance feedback provides the basis for part of the individuals' performance assessment, and feeds directly into objective setting and personal development planning. It is incumbent upon the individual being assessed that they (a) nominate individuals to provide behavioral feedback, (b) complete a self-assessment form, (c) support colleagues also undergoing behavior performance assessment and (d) respond constructively to any and all feedback received. Behavior performance is assessed against the five core competency, with each competency having four questions associated with it. Each question is scored on a five point likert scale e.g. 1 = very poor, 5 = very good.
Employee Attitude Survey: utilizes an employee attitude survey to appraise the impact of leadership on individual and team performance. The survey takes the form of a 'Census' survey of all employees conducted once yearly, and a 'snap shot' of employee attitudes to specific issues, surveyed from a randomly selected employee population every other year. The main output from each survey, in addition to employee perceptions of practice, business conditions and the employment experience, is a quantitative score against each of the five competencies for each business unit management team, and the [case study company] senior leadership overall.
Customer Feedback: In accordance with the emphasis placed upon customer relations as a core element of competitive advantage, customer feedback is included within the performance management assessment process. Business units are given discretion to develop and use tools that best appraise customer opinion on the performance of as a supplier of products and services. This information forms part of the qualitative input for the performance development review.
Performance and Potential Review: The Performance and Potential Review is a one to one meeting between the individual and their line manager in which personal objectives are set, past objectives reviewed, development options reviewed and selected within the context of the individual's career aspirations. The program is a the main element of the performance assessment and objective setting, and is intended to provide the individual with clear and measurable objectives that are linked to business targets, clear feedback on performance and recommendation for personal development and growth against the five core competencies. Conducted over a period of three months, the performance and potential
References:
1. https://www.royalholloway.ac.uk/management/documents/pdf/events/2011-bam-paper-context.pdf 2. http://www.slideshare.net/Jackie72/performance-management-for-a-global-workforce-aspects-and
3. http://usfweb2.usf.edu/human-resources/Talent-Management/pdfs/overviewperformancemanagement.pdf
4. http://www.cipd.co.uk/NR/rdonlyres/1A70EDEA-85D9-481C-B75D-82FB7DD50B20/0/perfmmntglobcntxt0904.pdf
Related Topics